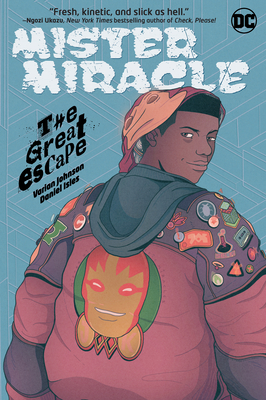 Mister Miracle: The Great Escape by Varian Johnson and Daniel Esles
Falling in love was never part of the escape plan.

Scott Free is a student at the Goodness Academy, on the planet Apokolips, ruled by Lord Darkseid. Sounds pretty cool, right? Wrong. Scott Free wants nothing more than to leave Apokolips for planet Earth; the only problem is that no one has ever left Apokolips of their own free will…or alive.
Scott Free has a plan, a foolproof plan, a plan that his found family depends on for their own freedom. But that plan never involved falling in love with the head of the Female Furies, Big Barda-the one person tasked with ensuring he never escapes.
From the Coretta Scott King Honor-winning author of The Parker Inheritance, Varian Johnson, and afrofuturist artist Daniel Isles (DirtyRobot) comes the story of an escape plan that will take a miracle to pull off. Lucky for Scott, everyone calls him MISTER MIRACLE! Okay, fine, no one calls him that…yet.
Continue reading "Review of Mister Miracle: The Great Escape by Varian Johnson (earc)"