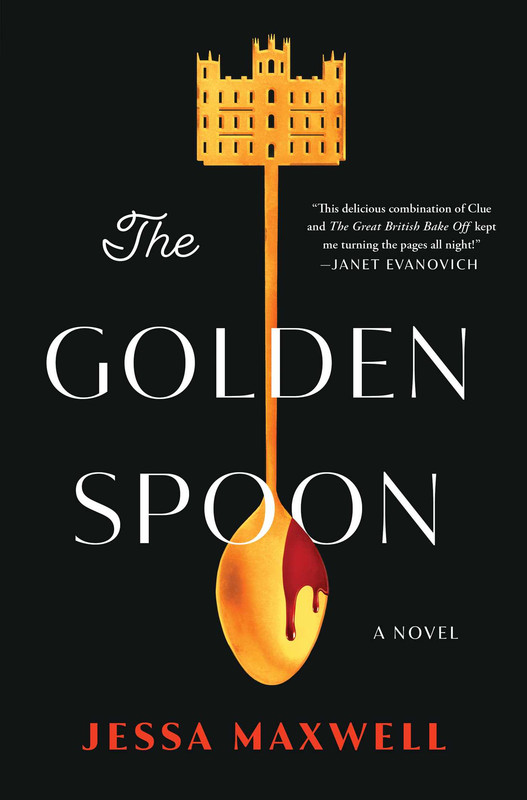 The Golden Spoon by Jessa Maxwell
A killer is on the loose when someone turns up dead on the set of a hit TV baking competition in this darkly beguiling debut mystery that is perfect for fans of Lucy Foley, Nita Prose, and Anthony Horowitz. Soon to be a limited series on Hulu.
Production for the tenth season of Bake Week is ready to begin at the gothic estate of host and celebrity chef Betsy Martin, and everything seems perfect. The tent is up, the top-tier ingredients are aligned, and the crew has their cameras at the ready.
The six contestants work to prove their culinary talents over the course of five days, while Betsy is less than thrilled to share the spotlight with a new cohost—the brash and unpredictable Archie Morris. But as the baking competition commences, things begin to go awry. At first, it's merely sabotage—sugar replaced with salt, a burner turned to high—but when a body is discovered, everyone is a suspect.
A deliciously suspenseful thriller for murder mystery buffs and avid bakers alike, The Golden Spoon will keep you guessing until the very last page.
I'm not a baker, but I actually loved all the baking in this book. It made me hungry while reading though.
I wasn't sure what to expect with this book. I'm not sure what to call it. Cozy Mystery? There is a murder mystery, but so much of the book was focused on each character and the baking contest. There are points of view for each contestant. It took me a bit, but I was able to figure out who everyone was after confusing two in the beginning. There are also chapters from Betsy, the hosting baker. The show had been going on for ten years. It takes place at Betsy's house in the countryside. The contestants stay there and they compete every day for a week. This year the producers added a co host which caused all kinds of issues. There was someone sabotaging the contest, so that became another mystery. There was even a mystery from the past that gets revisited. I'm being pretty vague so I don't give anything away.
I loved the focus on characters and loved the friendship formed between Lottie and Pradyumna. Lottie is the oldest contestant with a secret and Pradyumna is a young tech millionaire who is unhappy with his life and drinking a lot. I didn't like Betsy or Archie at all. Peter seemed really sweet. Hannah is young and immature. Stella is someone who only started baking the year before. I liked her too. Gerald was intense. I'm not sure what else to call him. He went by schedules and everything had to be planned perfectly.
If you don't like 7 points of view, this book isn't for you. But if you like baking shows, contests, and murder mysteries, I would say to give this debut a try.
I gave this book 4 stars.
Thank you to the publisher for giving me an earc through Edelweiss.
Have you read this?  Is it on your TBR?