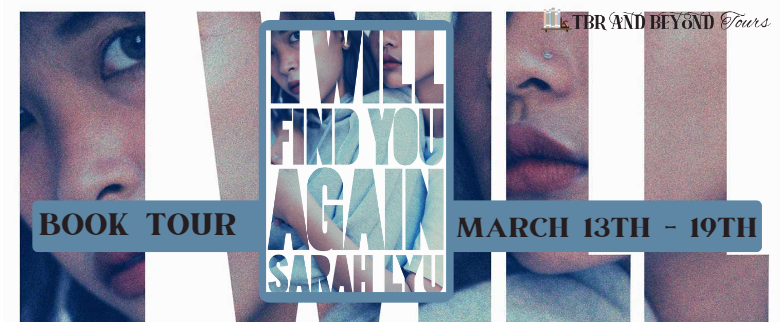 Welcome to my stop on the blog tour for I Will Find You Again by Sarah Lyu.  This tour is being hosted by TBR and Beyond Tours.
I Will Find You Again by Sarah Lyu
Genre: Young Adult Mystery Thriller
Publishing Date: March 14, 2023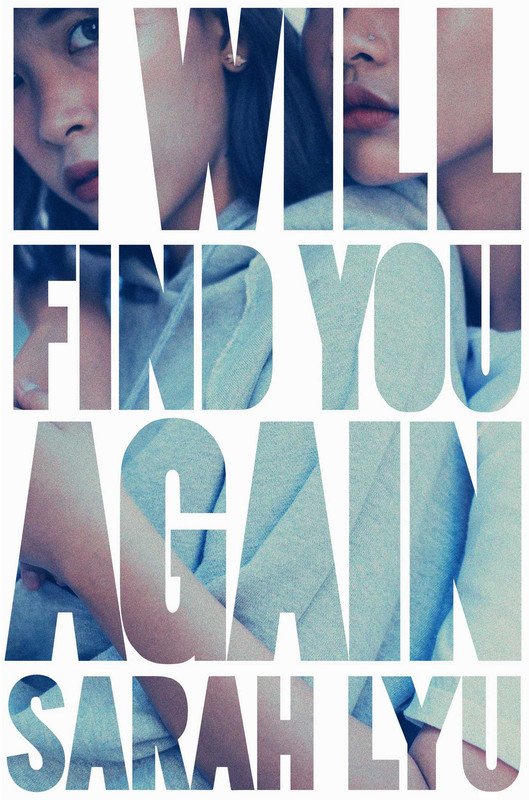 All the Bright Places meets Ace of Spades in this smart, twisty teen thriller about a girl who can't stop pushing herself to be the best—even after losing her best friend and the love of her life.
Welcome to Meadowlark, Long Island—expensive homes and good schools, ambition and loneliness. Meet Chase Ohara and Lia Vestiano: the driven overachiever and the impulsive wanderer, the future CEO and the free spirit. Best friends for years—weekend trips to Montauk, sleepovers on a yacht—and then, first love. True love.
But when Lia disappears, Chase's life turns into a series of grim snapshots. Anger. Grief. Running. Pink pills in an Altoids tin. A cheating ring at school. Heartbreak and lies. A catastrophic secret.
And the shocking truth that will change everything about the way Chase sees Lia—and herself.
Content Warning: drug use
Book Links:
Goodreads: https://www.goodreads.com/book/show/61272816-i-will-find-you-again 
Amazon: https://www.amazon.com/gp/product/1534465154/ 
Barnes & Noble: https://www.barnesandnoble.com/w/i-will-find-you-again-sarah-lyu/1141652299 
Book Depository: https://www.bookdepository.com/I-Will-Find-You-Again-Sarah-Lyu/9781534465152 
IndieBound: https://www.indiebound.org/book/9781534465152 
Sarah Lyu grew up outside of Atlanta, GA, and graduated from the University of Pennsylvania. She loves a good hike and can often be found with a paintbrush in one hand and a cup of milky tea in the other. She is the author of I Will Find You Again and The Best Lies. You can visit her at sarahlyu.com.
Author Links:
Website: https://www.sarahlyu.com/ 
Twitter: https://twitter.com/sarahlyu 
Instagram: https://www.instagram.com/sarahlyu7/ 
Goodreads: https://www.goodreads.com/author/show/15365178.Sarah_Lyu 
Facebook: https://www.facebook.com/profile.php?id=100068910032765 
TikTok: https://www.tiktok.com/@sarah.lyu 
Follow The Tour:
March 13th
Never Hollowed By The Stare – Promotional Post
And On She Reads – Review
dinipandareads – Review, Favorite Quotes
March 14th
Twirling Book Princess – Promotional Post
March 15th
Stuck in Fiction – Promotional Post
Book-Keeping -Review
March 16th
Cindy's Love of Books – Review
Boys' Mom Reads! – Review
Forever In A Story – Review, Mood Board
March 17th
Pages & Plots – Promotional Post
Charli's Book Box – Review
March 18th
Confessions of a YA Reader – Promotional Post
Midsummer Night's Read – Review
March 19th
Kait Plus Books – Promotional Post
The Nutty Bookworm Reads Alot – Review
Jen Jen Reviews – Review
Instagram:
March 13th
neverknotreading – Promotional Post
hoardingbooks.herdingcats – Review, Favorite Quotes
dinipandareads – Content Creator's Choice
March 14th
ninebookishlives – Promotional Post
allielovestoread – Review, Favorite Quotes
silveryquills – Review
spoonie.bujo – Review, Favorite Quotes
March 15th
dreamininpages – Promotional Post
gsreadingspree – Review
hollymbryan – Content Creator's Choice
March 16th
writingrosereads – Promotional Post
nikki_bookbinges – Review, Playlist
foreverinastory – Content Creator's Choice
March 17th
tbrandbeyond – Promotional Post
wellreadwyvern – Review
charlisbookbox – Content Creator's Choice
March 18th
bookdemonio – Promotional Post
booknerd_jen22 – Review, Playlist
March 19th
quirkylitlover – Review
theenchantedshelf – Review
jenjenreviews – Content Creator's Choice