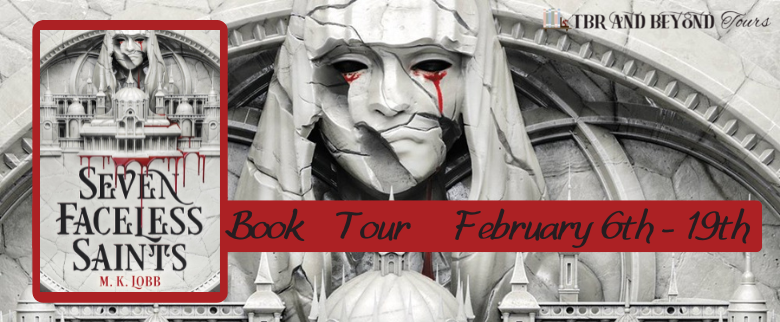 Welcome to my stop on the blog tour for Seven Faceless Saints by M.K. Lobb.  This tour is being hosted by TBR and Beyond Tours.
Seven Faceless Saints (Seven Faceless Saints #1) by M.K. Lobb
Genre: Young Adult Fantasy
Publishing Date: February 7, 2023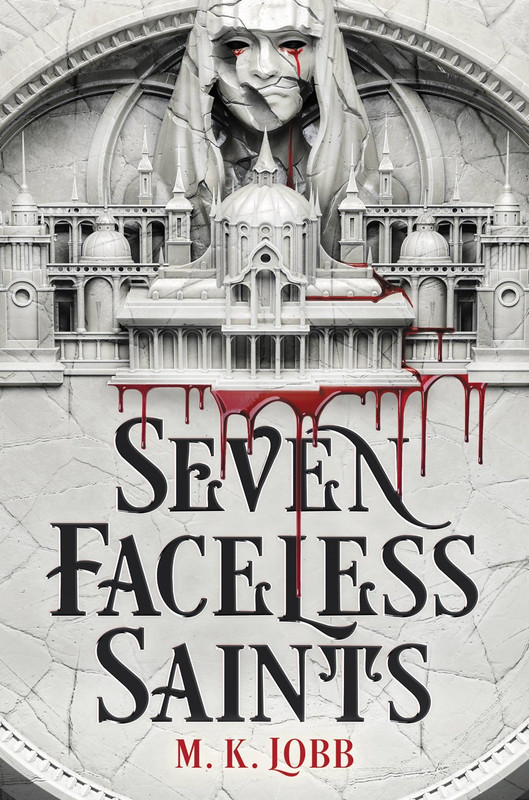 In the city of Ombrazia, saints and their disciples rule with terrifying and unjust power, playing favorites while the unfavored struggle to survive.
After her father's murder at the hands of the Ombrazian military, Rossana Lacertosa is willing to do whatever it takes to dismantle the corrupt system—tapping into her powers as a disciple of Patience, joining the rebellion, and facing the boy who broke her heart. As the youngest captain in the history of Palazzo security, Damian Venturi is expected to be ruthless and strong, and to serve the saints with unquestioning devotion. But three years spent fighting in a never-ending war have left him with deeper scars than he wants to admit… and a fear of confronting the girl he left behind.
Now a murderer stalks Ombrazia's citizens. As the body count climbs, the Palazzo is all too happy to look the other way—that is, until a disciple becomes the newest victim. With every lead turning into a dead end, Damian and Roz must team up to find the killer, even if it means digging up buried emotions. As they dive into the underbelly of Ombrazia, the pair will discover something more sinister—and far less holy. With darkness closing in and time running out, will they be able to save the city from an evil so powerful that it threatens to destroy everything in its path?
Discover what's lurking in the shadows in this dark fantasy debut with a murder-mystery twist, perfect for fans of Leigh Bardugo and Kerri Maniscalco.
Content Warning: various types of violence (shooting, poisoning, beheading), graphic descriptions of blood/bodies, death of parents/ friends/ siblings, a parent depicted with memory loss/confusion, PTSD and flashbacks, descriptions of war, prejudice, religious intolerance, hallucinations, paranoia, alcoholism, and mentions of self-harm.
Book Links:
Goodreads: https://www.goodreads.com/book/show/61237032-seven-faceless-saints 
Amazon: https://www.amazon.com/gp/product/031638688X/ 
Barnes & Noble: https://www.barnesandnoble.com/w/seven-faceless-saints-mk-lobb/1141622532 
Book Depository: https://www.bookdepository.com/Seven-Faceless-Saints-M-K-Lobb/9780316386883 
Indigo: https://www.chapters.indigo.ca/en-ca/books/seven-faceless-saints/9780316386883-item.html 
IndieBound: https://www.indiebound.org/book/9780316386883 
I wasn't sure if I would like this one, but it ended up being really good. There was a lot of info in the beginning, but I was able to understand everything pretty early on.
Damian is such a sweet boy, but also a bit uptight and a rule follower. He was in war and it really messed up him head. His father got him a security job to get him out of being there. He enjoyed being the captain of the Palazzo security and made some friends.
I loved Roz. She was a disciple, but she hated having magic. She was angry that non magic users were treated as nothing. Roz changed a lot when her father was killed. She also never heard from her best friend Damian after that. Three years later, they are the exact opposites. But that friendship and attraction is still there. Roz wants to hate Damian, but she needs him to help solve some murders. Things start to feel like they did before with them, but neither fully trusts the other. Roz is angry and Damian is broken. He believes in the saints, but she questions everything. While working together, they find out some secrets of the saints and know that everything they're told isn't true.
While I figured out the killer right away, I wasn't sure why they did it. The pacing was pretty good after the beginning. I'm definitely looking forward to the next book and getting answers to some of the questions I have.
I gave this book 4 1/2 stars rounded up to 5 on Goodreads.
Thank you to the publisher for sending me a copy for review.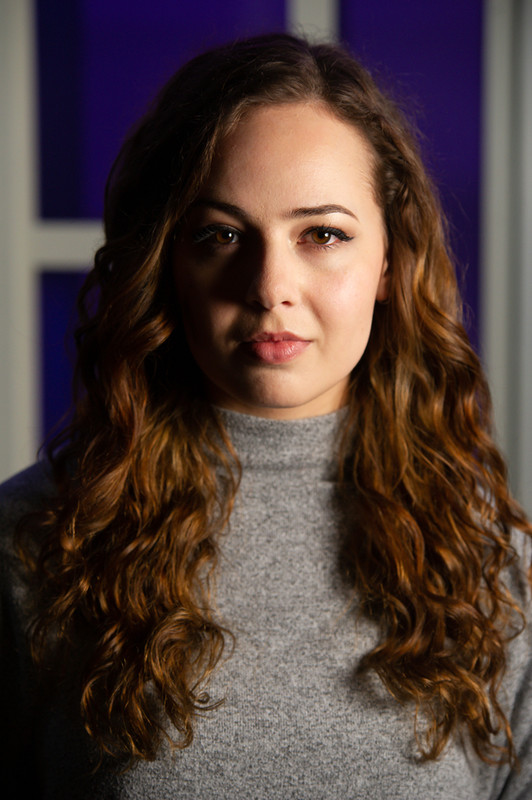 K. Lobb is a fantasy writer with a love of all things dark— be it literature, humour, or general aesthetic. She grew up in small-town Ontario and studied political science at both the University of Western Ontario and the University of Ottawa. She now lives by the lake with her partner and their cats. When not reading or writing, she can be found at the gym or contemplating the harsh realities of existence.
Her debut novel SEVEN FACELESS SAINTS will be published February 7, 2023 by Little, Brown (Hachette). The sequel, DISCIPLES OF CHAOS, will follow in early 2024. M. K. is represented by Claire Friedman at InkWell Management.
Author Links:
Website: https://mklobb.com/ 
Twitter: https://twitter.com/mk_lobb 
Instagram: https://www.instagram.com/mk_lobb/ 
Goodreads: https://www.goodreads.com/author/show/21460101.M_K_Lobb 
Follow The Tour:
February 6th
And On She Reads – Interview
The Litt Librarian – Promotional Post
February 7th
Stuck in Fiction – Promotional Post
February 8th
Forever In A Story – Review & Mood Board
forthenovellovers – Review
February 9th
DB's Guide to the Galaxy – Review
PopTheButterfly Reads – Promotional Post
February 10th
deepireads – Review, Favorite Quotes & Mood Board
Rampant Reading Reviews – Review & Favorite Quotes
February 11th
dinipandareads – Promotional Post
Boys' Mom Reads! – Review
February 12th
Eye-Rolling Demigod's Book Blog – Promotional Post
Becky's Book Blog – Promotional Post
February 13th
The Ink Slinger – Interview
& She Reads – Review & Favorite Quotes
February 14th
Binded By Letters – Review & Favorite Quotes
Midsummer Night's Read – Review
February 15th
The Book Dutchesses – Promotional Post
February 16th
Book-Keeping – Review
Read in the Clouds – Review
February 17th
My World of Books – Review
AceReader – 15 Reactions While Reading Seven Faceless Saints
February 18th
Confessions of a YA Reader – Review
Owl Abridged – Review & Favorite Quotes
February 19th
Betwixt The Sheets – Promotional Post
Quill Tree Fox – Review
Instagram:
February 6th
thereadinggargoyle – Promotional Post
hoardingbooks.herdingcats – Review & Favorite Quotes
thelittlibrarian – Content Creator's Choice
February 7th
ninebookishlives – Promotional Post
says_books – Review & Mood Board
belle.bookcorner – Review & Favorite Quote
February 8th
brinnsbooks – Review & Favorite Quotes
maryamofthebooks – Review & Playlist
foreverinastory – Content Creator's Choice
February 9th
books.by.kate – Review
popthebutterfly – Content Creator's Choice
February 10th
neverknotreading – Promotional Post
pcreads – Review & Favorite Quotes
February 11th
rampant_reading – Content Creator's Choice
daniereads87 – Review
February 12th
tbrandbeyond – Promotional Post
nikki_bookbinges – Review & Favorite Quotes
eyerollingdemigod – Content Creator's Choice
February 13th
amzreads – Promotional Post
and_shereads – Content Creator's Choice
February 14th
hodophile_z – Review & Favorite Quotes
gsreadingspree – Review
thegalaxydreamer – Content Creator's Choice
February 15th
all.you.read.is.love – Review
lisashelves – Review & Favorite Quotes
February 16th
hooked.by.books – Review
get.outside.and.read – Top 5 Reasons to Read Seven Faceless Saints
hollymbryan – Content Creator's Choice
February 17th
thesleepybookworm – Review
sahibooknerd – Content Creator's Choice
February 18th
thebookwebb – Promotional Post
dreaminginpages – Review
brittyoreads – Review
christinaa.abridged – Content Creator's Choice
February 19th
writingrosereads – Promotional Post
theink.slinger – Content Creator's Choice