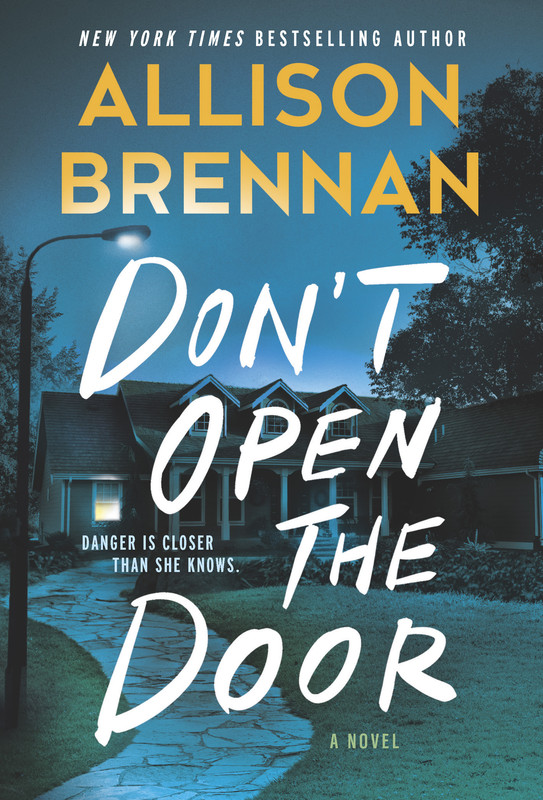 Don't Open the Door by Allison Brennan 
A child is shot while playing video games at home. His mother will stop at nothing to find out who did it—and why.
After their ten-year-old son, Chase, was senselessly murdered, Regan's life unraveled. Her corporate lawyer husband, Grant, blamed the death on Regan's work as a US marshal. Unable to reconcile their grief, they divorced, and Regan quit her job and moved away.
Now she's back after a voice mail from her former boss Tommy said he had important news to share about Chase's killing. Regan is stunned to learn Tommy is dead too. When she reaches out to Grant, his panicked reaction raises her suspicions. Then a lawyer with ties to her ex also turns up murdered, and the police make Grant their top suspect.
Unsure of his guilt or innocence, Regan risks everything to find Grant before the police do so she can finally get the answers to all that has haunted her since losing Chase. But the truth is not even close to what she imagines—and now she fears she has no one to trust.
This is a book two, but I don't think there are any spoilers from the first book below. I'm just not positive.
Regan wasn't doing well back in Flagstaff, but she liked being with her dad. She was happy to leave Virginia behind even though she really didn't feel like she had closure from her son's murder. Her not ex husband, Grant, blamed her and it hurt. Regan was a US Marshal. She knew there were risks, but none of it ever added up. The man that shot her son was killed in prison. The reasons the FBI gave didn't make sense. Regan's best friend Tommy took a leave from work and was trying to solve Chase's murder. Tommy called Regan and said he had enough to bring in for a new investigation to start. But Tommy was killed by a sniper that morning. The gunman took all his papers, laptop, and phone. And then he had orders to clean up all the lose ends. That meant than anyone that Tommy talked to about the case would be killed. Regan found out that Grant had been talking with Tommy for a few weeks. She needed to find out what he knew, but he was avoiding her. Regan worked with Charlie, another marshal and friend, and they tried to put all the pieces together. Regan knows that she might finally get answers and will know for sure that Chase wasn't murdered because of her.
I really enjoyed this. The pacing was great and there was a lot to the story.
I gave this book 4 stars.
Thank you to the publisher and Netgalley for my earc.
Have you read this?   Is it on your TBR?