Can't Wait Wednesday/Waiting on Wednesday is hosted by Wishful Endings and was previously hosted by Breaking the Spine.   It was created to show off a future release that you are excited for.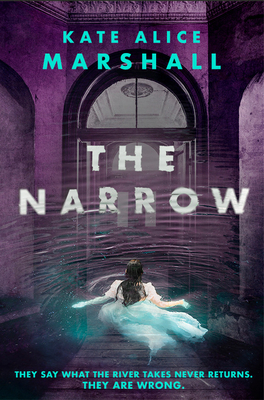 The Narrow by Kate Alice Marshall
A ghost haunting her boarding school uncovers a teen girl's best kept secrets in the Queen of Scream's deliciously terrifying new novel.

Everyone has heard the story of the Narrow. The river that runs behind the Atwood School is only a few feet across and seemingly placid, but beneath the surface, the waters are deep and vicious. It's said that no one who has fallen in has ever survived.

Eden White knows that isn't true. Six years ago, she saw Delphine Fournier fall into the Narrow–and live.

Delphine now lives in careful isolation, sealed off from the world. Even a single drop of unpurified water could be deadly to her, and no one but Eden has any idea why. Eden has never told anyone what she saw or spoken to Delphine since, but now, unable to cover her tuition, she has to make a deal: her expenses will be paid in return for serving as a live-in companion to Delphine.

Eden finds herself drawn to the strange and mysterious girl, and the two of them begin to unravel each other's secrets. Then Eden discovers what happened to the last girl who lived with Delphine: she was found half-drowned on dry land. Suddenly Eden is waking up to wet footprints tracking to the end of her bed, the sound of rain on the windows when the skies are clear, and a ghostly silhouette in her doorway. Something is haunting Delphine–and now it's coming for Eden, too.
Expected publication August 1, 2023
Is this on your TBR yet?