Goodreads Monday was hosted by Lauren's Page Turners.   It's now hosted by Budget Tales Book Blog.  All you have to do is show off a book from your TBR that you're looking forward to reading.
It's getting hard to remember which ones I've done already, so I'm sorry if you see a book pop up on these more than once.  It will happen.  Probably a lot.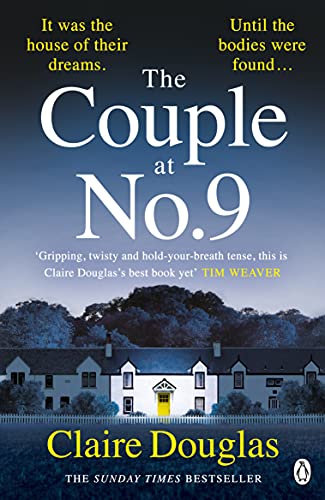 The Couple at No. 9 by Claire Douglas
It was the house of their dreams. Until the bodies were found . . .

BODIES FOUND UNDER PATIO

When pregnant Saffron Cutler moves into 9 Skelton Place with boyfriend Tom and sets about renovations the last thing she expects is builders uncovering a body – two bodies, in fact.

POLICE INVESTIGATE

Forensics indicate the bodies have been buried at least thirty years. Nothing Saffy need worry herself over. Until the police launch a murder investigation and ask to speak to the cottage's former owner – her grandmother, Rose.

OWNER QUESTIONED

Rose is in a care home and Alzheimer's means her memory is increasingly confused. She can't help the police but it is clear she remembers something.

A KILLER AT LARGE?

As Rose's fragmented memories resurface, and the police dig ever deeper, Saffy fears she and the cottage are being watched.

What happened thirty years ago?

Why did no one miss the victims?

What part did her grandmother play?

And is Saffy now in danger?
Have you read this?  Is it on your TBR?