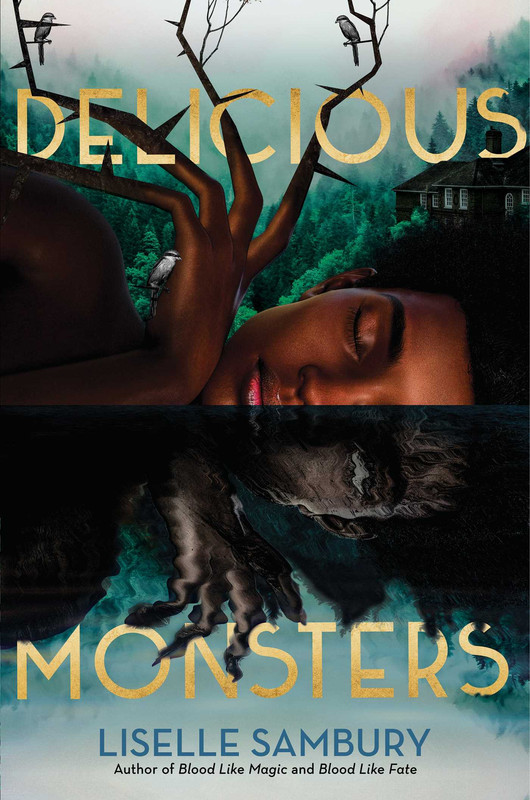 Delicious Monsters by Liselle Sambury
The Haunting of Hill House meets Sadie in this evocative and mind-bending psychological thriller following two teen girls navigating the treacherous past of a mysterious mansion ten years apart.

Daisy sees dead people—something impossible to forget in bustling, ghost-packed Toronto. She usually manages to deal with her unwanted ability, but she's completely unprepared to be dumped by her boyfriend. So when her mother inherits a secluded mansion in northern Ontario where she spent her childhood summers, Daisy jumps at the chance to escape. But the house is nothing like Daisy expects, and she begins to realize that her experience with the supernatural might be no match for her mother's secrets, nor what lurks within these walls…

A decade later, Brittney is desperate to get out from under the thumb of her abusive mother, a bestselling author who claims her stay at "Miracle Mansion" allowed her to see the error of her ways. But Brittney knows that's nothing but a sham. She decides the new season of her popular Haunted web series will uncover what happened to a young Black girl in the mansion ten years prior and finally expose her mother's lies. But as she gets more wrapped up in the investigation, she'll have to decide: if she can only bring one story to light, which one matters most—Daisy's or her own?

As Brittney investigates the mansion in the present, Daisy's story runs parallel in the past, both timelines propelling the girls to face the most dangerous monsters of all: those that hide in plain sight.
Expected publication February 28, 2023
This was so freaking good! I read three books by Liselle Sambury this year and loved all of them. Definitely an auto buy now.
Please make sure you read all the author's content warnings before you pick this book up. It covers a lot of topics of different types of abuse and it could be tough to read at times.
Daisy and her mom Grace moved around from apartment to apartment. Always small places, but always in Toronto. Grace always told Daisy that things would get better for them. She was going to get "the house" and it would make everything great. Daisy can see and talk to ghosts. She just got out of a relationship that she shouldn't have been in. She has one real friend. When Grace gets the call that Peter had died, she found out that the house was left to her. She lets Daisy choose if she wants to go or not. It's in a small town over 8 hours away. Daisy is always struggling and decides it would be worth the chance. Noah wanted nothing to do with her and she followed everything he said and did. Now she was free. But she wasn't. Grace wasn't a very good mom. Daisy's dad was absent and her grandma was verbally abusive. Daisy's real purpose seems to be keeping her mom happy. Maybe the house can do that. But things are weird with Grace. She says they're living in the smaller house and turning the big one into a bed and breakfast. Daisy is never allowed to go into the house. She makes two friends, King and Ivy. King is wonderful and caring. He's also psychic. Ivy is a whole other story. She is fun, but she's not really good. But Daisy gets both of them to go into the house with her. She couldn't know that the house was filled with ghosts. And it was basically alive.
Brittney and Jayden are college students working on a season of their popular show, Haunted. Brittney wants to do a story on forgotten black girls. They aren't allowed to do it that way, but Brittney finds a way to focus on a forgotten black girl anyway. They are going to interview people about the famous haunted mansion and what happened there 10 years earlier. Are there ghosts? Is the house alive? They are determined to find out, but Brittney also wants to make sure the focus is on Daisy and Grace's story.
The story goes back and forth between Daisy and Brittney. The whole story starts to unfold and we finally found out what the real horrors of the house were. It's a large book, but the pacing was good and I read it quickly. It's definitely dark and hard to put down.
I gave this book 5 stars.
Thank you to Simon and Schuster for my review copy.
Have you read this?  Is it on your TBR?