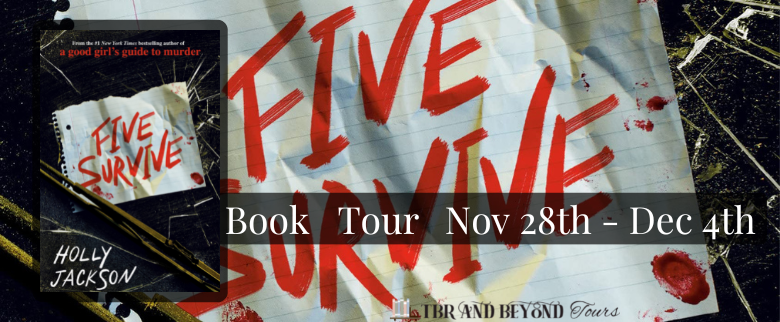 Welcome to my stop on the blog tour for Five Survive by Holly Jackson.   This tour is being hosted by TBR and Beyond Tours.
Five Survive by Holly Jackson
Genre: Young Adult Thriller
Publishing Date: November 29, 2022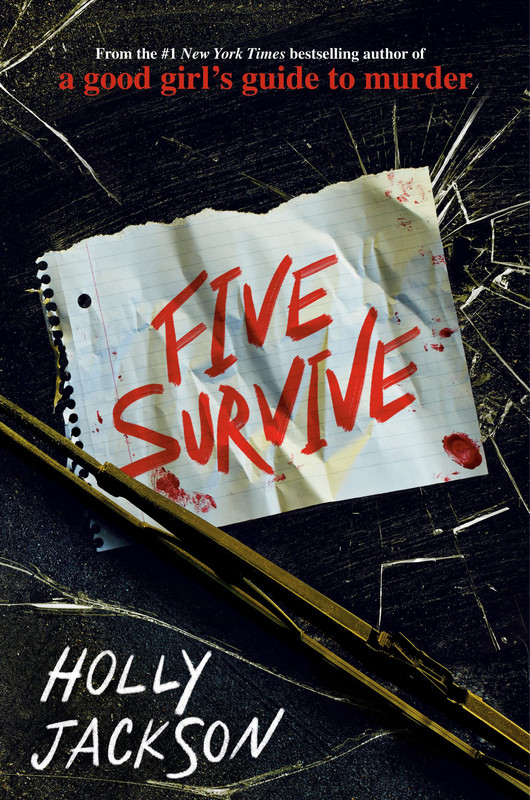 Eight hours. Six friends. Five survive. A road trip turns deadly in this addictive YA thriller from the bestselling author of the worldwide phenomenon A GOOD GIRL'S GUIDE TO MURDER.

Red Kenny is on a road trip for spring break with five friends: Her best friend – the older brother – his perfect girlfriend – a secret crush – a classmate – and a killer.

When their RV breaks down in the middle of nowhere with no cell service, they soon realize this is no accident. They have been trapped by someone out there in the dark, someone who clearly wants one of them dead.

With eight hours until dawn, the six friends must escape, or figure out which of them is the target. But is there a liar among them? Buried secrets will be forced to light and tensions inside the RV will reach deadly levels. Not all of them will survive the night. . . .
Content Warning: guns, death threats, mob violence, death, injury
Book Links:
Goodreads: https://www.goodreads.com/book/show/60788826-five-survive 
Amazon: https://www.amazon.com/Five-Survive-Holly-Jackson/dp/0593374169/ 
Barnes & Noble: https://www.barnesandnoble.com/w/five-survive-holly-jackson/1141932413 
Book Depository: https://www.bookdepository.com/Five-Survive/9780593704899 
Indigo: https://www.chapters.indigo.ca/en-ca/books/five-survive/9780593374160-item.html 
IndieBound: https://www.indiebound.org/book/9780593374160 
This was weird timing because my husband and I just started talking about an RV in the future. And now this one makes me rethink it all.
The setting for this was pretty perfect. I started to feel that closing in feeling while reading. I'm claustrophobic (which scares with an RV), so that got to me more than anything. The book honestly started a bit slow. I wasn't sure what to think of the first 25%. But after that, I got way more into it. I related a bit to Red. The way her mind drifts from topic to topic and how she forgets what she was just saying. That's very me. It's something I hate, but it was nice to see it in a book. I struggle with that daily, some more than others. But it's always there. Red's mind also seemed to focus on certain bad things and things from the past. I'm the same way. I felt for her through the whole book. Her jumbled thoughts made it hard to follow at times, but I think that's the point.
Red's mom was killed five years earlier. She was shot and Red feels guilty about the way things ended with them. She blames herself. She doesn't have money, so her best friend, Maddy, talked everyone into going to spring break in an RV. Maddy's brother and girlfriend go with as chaperones (sort of). They're both older. The younger ones are Red, Maddy, Arthur, and Simon. They're all in high school. Oliver is a bit of a control freak and he made me crazy throughout the book. I hated how Red and Maddy followed what he said. There are six people in total. As the title says, five survive. But you really don't know who until the end.
When the RV breaks down, they think it's just a blown tire. But then all the tires go out. There is somebody out there and they want a secret. There are some big ones that come out during the time they're stuck. There is a lot of tension and things from the past start to come out. But no one is sure whose secret this person wants. Or how he knows what they're doing or talking about.
I gave this book 4 stars. The later part would get 5 stars, but the beginning was more 3. So I went in the middle.
Thank you to the publisher and Netgalley for my earc.
Quotes:
Shame was a red feeling, a hot one, just like guilt and anger.
She was always fine, when people asked.
She couldn't control him anymore, no one could.  He was loose and he was wild.
All of them changed, by this RV, by each other.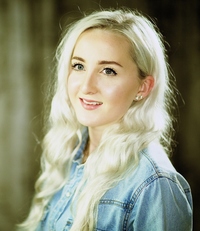 Holly Jackson was born in 1992. She grew up in Buckinghamshire and started writing stories from a young age, completing her first (poor) attempt at a book aged fifteen.

'A Good Girl's Guide to Murder' is a YA Mystery Thriller and her debut novel. She lives in London and aside from reading and writing, she enjoys binge-playing video games and pointing out grammatical errors in street signs.
Author Links:
Twitter: https://twitter.com/hojay92 
Instagram: https://www.instagram.com/hojay92/ 
Goodreads: https://www.goodreads.com/author/show/18229614.Holly_Jackson 
Follow The Tour:
November 28th
Books, Coffee & Passion – Review
everywhere and nowhere – Review
A Short Book Lover – Review
Books-N-Bullsh!t – Mood Board & Favorite Quotes
Mallory Books – Review & Playlist
November 29th
Charli's Book Box – Review
Jen Jen Reviews – Review
deepireads – Review & Favorite Quotes
Twirling Book Princess – Promotional Post
Anotherbookworm – Review, Top 5 Reasons to Read Five Survive & Mood Board
November 30th
Stuck in Fiction – Promotional Post
Bookcheshirecat – Review & Mood Board
The Book Review Crew – 15 Reactions While Reading Five Survive
Book-Keeping – Review
teatimelit – Review
December 1st
The Bookish Coven – Review
The Blind Scribe – Review & Playlist
Book Trek – Review & Favorite Quotes
Books with Michelle – Review & Favorite Quotes
The Girl Who Reads – Review
Book Notes by Athina – Promotional Post
December 2nd
The Book Dutchesses – Promotional Post
Books and Babble – Review
Books Tales by me – Review & Mood Board
Confessions of a YA Reader – Review & Favorite Quotes
Thorana Reads – Review & Favorite Quotes
December 3rd
The Clever Reader – Top 5 Reasons to Read Five Survive
Whispering Stories – Review
Avni Reads – Review
I'm All Booked Up – 15 Reactions While Reading Five Survive
bookloversbookreviews – Promotional Post
December 4th
Kait Plus Books – Promotional Post
The Thought Scribbler's Blog – Promotional Post
Reading Stewardess – Review
Rae's Reading – Review & Favorite Quotes
Vivaciously Vintage – Review, Playlist (Content Creator's choice)
Instagram:
November 28th
jl_books – Promotional Post
planwithemm – Review & Journal Spread
laurensbookvibes – Review
tinybooknest – Top 5 Reasons to Read Five Survive & Mood Board
bookdust.blog – Review
kate_everywhere – Blogger's Choice
bookdreamr – Blogger's Choice
November 29th
writingrosereads – Promotional Post
harshalreads – Review & Playlist
hooked.by.books – Review
booking.with.janelle – Review & Favorite Quotes
deepireads – Blogger's Choice
anotherbookworm__ – Blogger's Choice
November 30th
lisashelves – Review & Favorite Quotes
cozybooktraveller – Book Look & Top 5 Reasons to Read Five Survive
justa.gal.andherbooks – Review
says_books – Review
reading.late.into.the.night – Blogger's Choice
hollymbryan – Blogger's Choice
readbycait – Blogger's Choice
December 1st
belle.bookcorner – Review & Favorite Quotes
nissa_the.bookworm – Review
bookish.kels – Review
bookswithmichellee – Blogger's Choice
bookstagramofmine – Blogger's Choice
booknotes_athina – Blogger's Choice
December 2nd
ninebookishlives – Promotional Post
whimsicalyme – Top 5 Reasons to Read Five Survive
neverknotreading – Review & Favorite Quotes
daniereads87 – Review
booksrn_rashi – Review
bookstalesbyme – Blogger's Choice
thornareads – Blogger's Choice
December 3rd
quirkylitlover – Review
booksatlunch – Journal Spread & Top 5 Reasons to Read Five Survive
casreadz – Review
avnireads – Blogger's Choice
imallbookedup – Blogger's Choice
bookloversbookreviews – Blogger's Choice
December 4th
timeswithbooks – Top 5 Reasons to Read Five Survive
mostlyreadthings – Promotional Post
tahaslibrary – Top 5 Reasons to Read Five Survive & Mood Board
booksandsnapshots – Review
naturegracereader – Review
lunatonks_777 – Blogger's Choice
offictionandfantasy – Blogger's Choice