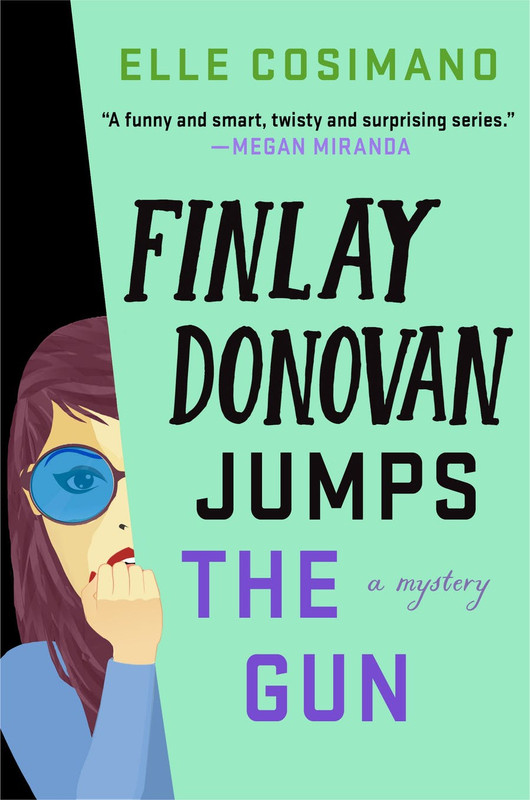 Finlay Donovan Jumps the Gun by Elle Cosimano
Author and single mom Finlay Donovan has been in messes before―after all, she's a pro at removing bloodstains for various unexpected reasons―but none quite like this. When Finlay and her nanny/partner-in-crime Vero accidentally destroyed a luxury car that they had "borrowed" in the process of saving the life of Finlay's ex-husband, the Russian mob did her a favor and bought the car for her. And now Finlay owes them.
Mob boss Feliks is still running the show from behind bars, and he has a task for Finlay: find and identify a contract killer before the cops do. The problem is, the killer might be an officer themself.
Luckily, hot cop Nick has just been tasked with starting up a citizen's police academy, and combined pressure from Finlay's looming book deadline and Feliks is enough to convince Finlay and Vero to get involved. Through firearm training and forensic classes (and some hands-on research with a tempting detective), Finlay and Vero use their time in police academy to sleuth out the real contract killer to free themselves from the mob's clutches―all the while dodging spies, confronting Vero's past, and juggling the daily trials of parenthood.
From USA Today bestseller and Edgar-Award nominee Elle Cosimano, comes Finlay Donovan Jumps the Gun—the highly anticipated, hilarious, and heart-pounding next installment in the beloved Finlay Donovan series…
This is a book three, so there will be spoilers below from the first two books.
I'm loving this series. I read all three in a row and hate that I now have to wait for over a year for book four.
Finlay was shot at in the car they "borrowed" in book two. They weren't sure what to do because they would have to return it with bullet holes. But they were surprised by Feliks's lawyer. She brought the title signed to a shell company that Feliks set up for Finlay. Finlay is told that she needs to find easyclean (hope I have the name right). They were after Feliks and now Finlay and Vero owe him. They set things up so that it would be impossible to refuse. Cam told Finlay that he thought it was probably a cop. When Finlay and Vero are invited to join a citizen's police academy. At first Finlay said no. She's trying to keep some distance from Nick. But Vero convinced her that it would be the best way to find the dirty cop. They had to perform a bunch of challenges, learn how to shoot a gun, and take other classes. They were a team and Vero was determined to win. Finlay figured out a couple people that she thought could be the killer. But she had to figure out a way to discover the identity while still cleaning up past messes that keep coming up. And Steven is acting weird, trying to get Finlay back. There was still Julian. Even though they broke up, she still thinks about him. Her writer's block was struggling with the romance in her book and it's because Finlay wasn't sure what she wanted.
I gave this book 5 stars.
Thank you to the publisher and Edelweiss for my earc.
Have you read the first two books yet?  Is the third on your TBR?