I am thrilled to be hosting a spot on the BRIARCLIFF PREP by Brianna Peppins Blog Tour hosted by Rockstar Book Tours. Check out my post and make sure to enter the giveaway!
About The Book:
Title: BRIARCLIFF PREP
Author: Brianna Peppins
Pub. Date: November 15, 2022
Publisher: Disney-Hyperion
Formats: Hardcover, eBook
Pages: 400
Find it: Goodreads, Amazon, Kindle, B&N, iBooks, Kobo, TBD, Bookshop.org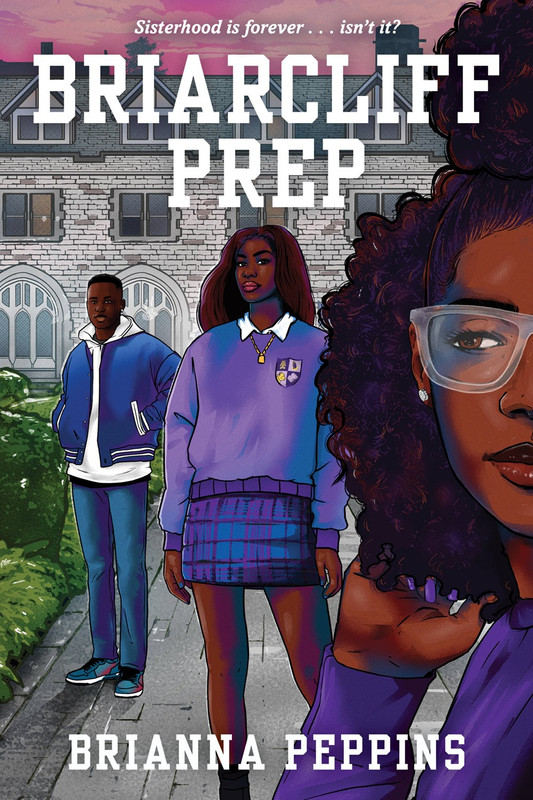 Set at a luxe, aspirational boarding school inspired by the author's beloved alma mater Spelman College, this debut is a captivating celebration of the friends we choose, the family we protect, and the love we owe ourselves.

It's fourteen-year-old Avielle "Avi" LeBeau's turn to do what everyone in her family has done: leave home to attend Briarcliff Prep―a Historically Black Boarding School (HBBS). And as scared as she is to say goodbye to her parents and move to Georgia, she knows her fearless big sister Belle will be there to show her the ropes.

Before long, Avi settles into life at Briarcliff. New friends (and foes), challenging classes (at times too challenging), and maybe a cute tutor-turned-something-more (if her brothers don't get in the way). Meanwhile, Belle does what she always does: she runs the campus's social scene, especially now that she's dating Logan, the pride and joy of Briarcliff's sibling school Preston Academy.

But something about Logan doesn't sit well with Avi, no matter how many times Belle reassures her Logan is a good guy. And when Avi stumbles across the truth, her relationship with Belle is put to the test. If Avi reveals what she knows, their sisterhood might never recover. But if she doesn't, she might lose Belle forever.

Debut author Brianna Peppins deftly balances a celebration of sisterhood, self-discovery, and Black joy with an empathetic exploration of teen dating violence in this novel that is, at its heart, a love letter to Black girls.
This book was really good, but also hard to read. I definitely loved the characters. The family was incredible. I'm an only child, so it's always cool to read a book with a lot of siblings.
First, a bit of a warning. There is abuse in this book. If you can't read those types of books, I recommend not reading the rest of my review.
Avi is finally starting at Briarcliff Prep where her sister is a senior. Her twin brothers go to the boys school there. There are two younger siblings still at home. The school is in Georgia and is a historically black boarding school. Avi is scared, but she makes friends quickly. She focuses on her writing and trying to get on the school paper. And she meets a boy that she starts to crush on. Algebra is hard, but luckily the boy is good at it. But things are weird with her sister Belle and her boyfriend Logan. Avi doesn't like him. He's that perfect boy at school that everyone loves, but no one really knows. Avi sees that he's controlling, but it's Belle's relationship. Then she thinks she saw him push Belle. Belle denied it, but it worried Avi all the time. Belle started changing who she was for him. Everything was what he wanted, even the way she wore her hair. The abuse gets worse and Avi promises not to tell. But when is it so bad that someone else needs to step in? This was the big question for Avi. Belle makes excuses for him and tries to tell her to stay out of it. It causes problems in their relationship too.
As I mentioned above, I loved the characters (except for Logan and Fallon). The friendships Avi made were wonderful and had me wishing I went to boarding school for high school. The family had so much love and it was always obvious even when they were fighting.
I think that this is such an important book. There is a lot of abuse in teen relationships and most never talk about it. Or they do once they're older. Some don't see it as abuse because they weren't punched. The the squeezing arms to leave bruises along with the pushing/pulling is abuse too. It's nice to see a book that tackles the subject, but still focuses on other things.
I gave this book 4 1/2 stars rounded up to 5 on Goodreads.
Thank you to the publisher for sending me a finished copy for review.
Brianna Peppins is the author of young adult contemporary novels, including Briarcliff Prep and As Long as We're Together. She was raised in PG County, Maryland and graduated from Spelman College with a B.A. in Psychology. When not writing, Brianna takes special interest in spending time with her loved ones, social justice issues and is a self-proclaimed movie aficionado.
Website | Twitter | Instagram | TikTok | Goodreads | Amazon 
1 winner will receive a finished copy of BRIARCLIFF PREP, US Only.
Ends December 6th, midnight EST.
Follow The Tour:
Week One:
| | | |
| --- | --- | --- |
| 11/1/2022 | | Excerpt/IG Post |
| 11/2/2022 | | Excerpt/IG Post |
| 11/3/2022 | | Excerpt/IG Post |
| 11/4/2022 | | IG Review |
| 11/5/2022 | | IG Review/TikTok Post |
Week Two:
| | | |
| --- | --- | --- |
| 11/6/2022 | | Review/IG Post |
| 11/7/2022 | | Review/IG Post |
| 11/8/2022 | | Excerpt/IG Post |
| 11/9/2022 | | Review/TikTok Post |
| 11/10/2022 | | Review/IG Post |
| 11/11/2022 | | IG Review/TikTok Post |
| 11/12/2022 | | IG Review |
Week Three:
| | | |
| --- | --- | --- |
| 11/13/2022 | | IG Post/TikTok Post |
| 11/14/2022 | | Review |
| 11/15/2022 | | Excerpt/IG Post |
| 11/16/2022 | | Review/IG Post |
| 11/17/2022 | | IG Review |
| 11/18/2022 | | IG Review |
| 11/19/2022 | | Review/IG Post |
Week Four:
| | | |
| --- | --- | --- |
| 11/20/2022 | | IG Review |
| 11/21/2022 | | IG Spotlight |
| 11/22/2022 | | Review/IG Post |
| 11/23/2022 | | YouTube Review/IG Post |
| 11/24/2022 | | Review/IG Post |
| 11/25/2022 | | TikTok Review/IG Post |
| 11/26/2022 | | Review  |
Week Five:
| | | |
| --- | --- | --- |
| 11/27/2022 | | TikTok Review/IG Post |
| 11/28/2022 | | IG Review |
| 11/29/2022 | | IG Review/TikTok Post |
| 11/30/2022 | | Review/IG Post |