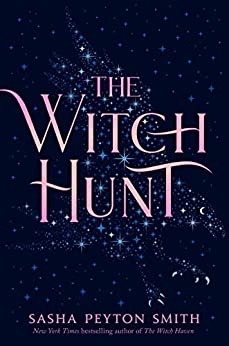 The Witch Hunt by Sasha Peyton Smith
The lush and pulse-pounding sequel to the New York Times bestselling The Witch Haven follows Frances and her fellow witches to the streets of Paris where family secrets, lost loves, and dangerous magic await.
Months after the devastating battle between the Sons of St. Druon and the witches of Haxahaven, Frances has built a quiet, safe life for herself, teaching young witches and tending the garden within the walls of Haxahaven Academy. But one thing nags; her magic has begun to act strangely. When an opportunity to visit Paris arises, Frances jumps at the chance to go, longing for adventure and seeking answers about her own power.
Once she and her classmates Maxine and Lena reach the vibrant streets of France, Frances learns that the spell she used to speak to her dead brother has had terrible consequences—the veil between the living and the dead has been torn by her recklessness, and a group of magicians are using the rift for their own gain at a horrifying cost.
To right this wrong, and save lives and her own magical powers, Frances must hunt down answers in the parlors of Parisian secret societies, the halls of the Louvre, and the tunnels of the catacombs. Her only choice is to team up with the person she swore she'd never trust again, risking further betrayal and her own life in the process.
Expected publication: October 11th 2022 by Simon Schuster Books for Young Readers
This is a sequel, so there are spoilers from the first book below.
Frances has been working at Haxahaven for the past year and a half. She still struggles with the deaths she caused. And her magic isn't working right. She received an address in the mail. Since she was going to Paris with Maxine and Lena, Frances decides she will go to that address and see if the person can help her with her magic issues. She's also hoping to spend time with Oliver. The three take a long boat ride and arrive in Paris. They are staying with Maxine's family. Frances, Maxine, and Lena all work together to see what they can do. Frances learns that the veil is open and she and Finn are the cause of it. When boys start showing up murdered at a church, Frances is sure they are connected. There is a secret society of men and she just happens to find a person that can help her with that. But she doesn't want his help. There is another person that could maybe help, but he's not showing much interest in her. Frances wants to figure everything out on her own, but in the end, she'll need a lot of help. She will do anything to close the veil.
While I loved the magic in this duology, what I loved most were the relationships with the characters. I wanted to hate Finn, but I honestly liked him a lot. Maxine is definitely a favorite. The pacing was good throughout the book. I found myself reading longer than I planned.
I gave this book 4 stars.
Thank you to the publisher for sending me a physical arc for review.
Have you read The Witch Hunt yet?  Is it on your TBR?