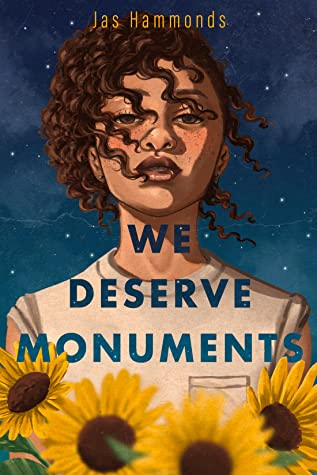 We Deserve Monuments by Jas Hammonds
What's more important? Knowing the truth or keeping the peace?

Seventeen-year-old Avery Anderson is convinced her senior year is ruined when she's uprooted from her life in DC and forced into the hostile home of her terminally ill grandmother, Mama Letty. The tension between Avery's mom and Mama Letty makes for a frosty arrival and unearths past drama they refuse to talk about. Every time Avery tries to look deeper, she's turned away, leaving her desperate to learn the secrets that split her family in two.

While tempers flare in her avoidant family, Avery finds friendship in unexpected places: in Simone Cole, her captivating next-door neighbor, and Jade Oliver, daughter of the town's most prominent family—whose mother's murder remains unsolved.

As the three girls grow closer—Avery and Simone's friendship blossoming into romance—the sharp-edged opinions of their small southern town begin to hint at something insidious underneath. The racist history of Bardell, Georgia is rooted in Avery's family in ways she can't even imagine. With Mama Letty's health dwindling every day, Avery must decide if digging for the truth is worth toppling the delicate relationships she's built in Bardell—or if some things are better left buried.
Expected publication: November 29th 2022 by Roaring Brook Press
This book had me sobbing towards the end.
Avery had what she thought was a good life in DC. She had two friends, one became a girlfriend. But the relationship ended and things felt weird. She wanted to finish her senior year and get into a good college. Avery's grandma is dying from cancer and her mom decides to move them in with Mama Letty in a small town in Georgia. Avery's mom and grandma had a falling out and Avery hasn't seen her in 10+ years. She doesn't want to be there. Not only do Avery's mom and Mama Letty fight, but Avery and her mom start fighting too. It's always super tense. Mama Letty isn't the nicest person, but Avery started to get her to warm a bit. She wanted to know all about Mama Letty and her grandfather that she never met. She found out things that were terrible and started to understand why Mama Letty was the way that she was. Avery doesn't want to make friends, but she becomes close to Simone and Jade. Simone lives next door. Jade's family is old money and they live on a plantation. Her parents are terrible people and it causes problems between her and Avery at times. Avery starts to have feelings for Simone and tries to hide it. Things in this small town are still not progressive. Simone and Jade have a no dating anyone pact. The longer Avery is in Georgia, the more she starts to open up and be herself. She doesn't have to be perfect anymore.
I loved Mama Letty. Her relationship with Avery made me cry. The book had some chapters that were about other people in the past and I enjoyed those. It really added to the story. This was an emotional read and very character driven. It was easy to love all of them. I wanted to know about the unsolved crime and I'm glad there was something about it towards the end.
I gave this book 5 stars. It's a great debut novel.
Thank you to the publisher for sending me a link for netgalley.
Warnings for racism, homophobia, murder, cancer.
Have you read this book yet?  Is it on your TBR?