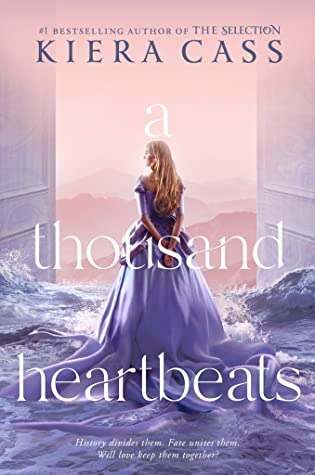 A Thousand Heartbeats by Kiera Cass
#1 New York Times bestselling author of The Selection series Kiera Cass is back with her most epic novel yet—a sweeping enemies-to-lovers standalone romance.
"Love has a sound. It sounds like a thousand heartbeats happening at the same time."
Princess Annika has lived a life of comfort—but no amount of luxuries can change the fact that her life isn't her own to control. The king, once her loving father, has gone cold, and Annika will soon be forced into a loveless marriage for political gain.
Miles away, small comforts are few and far between for Lennox. He has devoted his life to the Dahrainian army, hoping to one day help them reclaim the throne that was stolen from them. For Lennox, the idea of love is merely a distraction—nothing will stand in the way of fighting for his people.
But when love, against all odds, finds them both, they are bound by its call. They can't possibly be together—but the irresistible thrum of a thousand heartbeats won't let them stay apart.
Kiera Cass brings her signature sparkling romance to this beautiful story of star-crossed lovers and long-held secrets.
Expected publication: November 29th 2022 by Harperteen
Annika and Lennox were so easy to like. Annika especially. She was a princess and strong, but also kind. Lennox was a killer. He took lives that changed everything. But his family was forgotten. Annika's family took it and erased them from history. Lennox wanted that life. His father died after going after the king. His mom ended up with a man who started to rule their people. He was abusive to Lennox and his mom did nothing to stop it. Annika was going to be forced to marry Nickolas to merge bloodlines and bring people together. Nickolas was horrible though and Annika hated him. But she loved her country enough to go through with it. Her brother was meant to be king, but he didn't want it. He thought Annika would be better.
Nickolas is sent on a mission and he decides he wants to take back his home. He captures the princess, but she later escapes. When they are both trapped on an island during a hurricane, both of them open up to each other. They realize that they've met before and they've had this love since they were children. But they also know that they both won't be able to live. Nickolas's people plan on attacking and taking over. Annika is put in a tough position that she wasn't prepared for, but she also excelled at. But she can't stop thinking about Lennox while planning her wedding to Nickolas. Lennox can't stop thinking about Annika and is willing to betray his people to keep her safe.
This was a great enemies to lovers story. Lennox ended up being incredibly sweet. Annika had so much strength and love for everyone. I also loved Annika's brother and her maid. Lennox finally opened himself up and made some friends that I liked too. I enjoyed the histories for both of their families and there was enough action to keep things interesting.
I gave this book 4 stars.
Thank you to the publisher for sending me an earc through netgalley.
Have you read this yet?  Is it on your TBR?