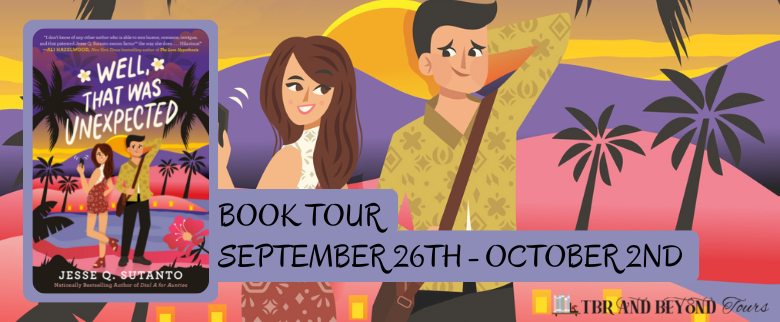 Welcome to my stop on the blog tour for Well, That Was Unexpected by Jesse Q. Sutanto.  This tour is being hosted by TBR and Beyond Tours.
Well, That Was Unexpected by Jesse Q. Sutanto
Genre: Young Adult Contemporary Romance
Publishing Date: September 27, 2022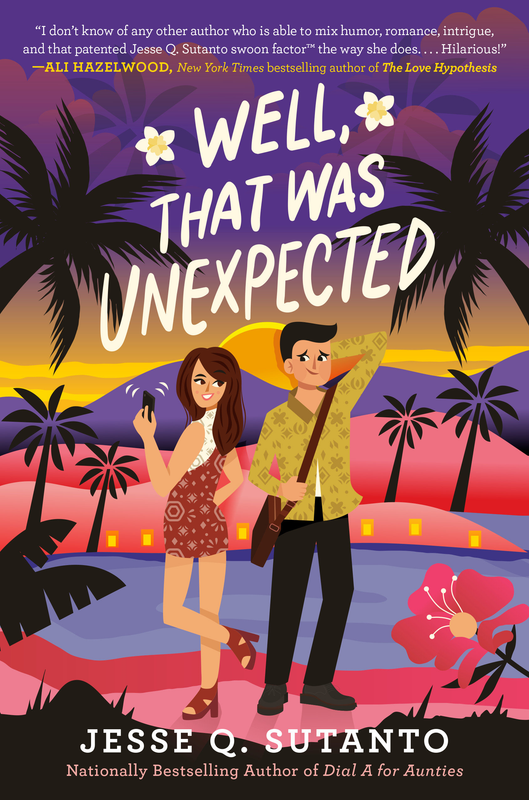 An outrageous, laugh-out-loud YA rom-com about a girl who's whisked from LA to her mother's native Indonesia to get back to her roots and finds herself fake-dating the son of one of the wealthiest families there, from the author of Dial A for Aunties.
After Sharlot Citra's mother catches her in a compromising position, she finds herself whisked away from LA to her mother's native Indonesia. It'll be exactly what they both need. Or so her mother thinks.
When George Clooney Tanuwijaya's father (who is obsessed with American celebrities) fears he no longer understands how to get through to his son, he decides to take matters into his own hands.
To ensure that their children find the right kind of romantic partner, Sharlot's mother and George's father do what any good parent would do: they strike up a conversation online, pretending to be their children.
When the kids find out about their parents' actions, they're horrified. Not even a trip to one of the most romantic places on earth could possibly make Sharlot and George fall for each other. But as the layers peel back and the person they thought they knew from online is revealed, the truth becomes more complicated. As unlikely as it may seem, did their parents manage to find their true match after all? 
Book Links:
Goodreads: https://www.goodreads.com/book/show/59382071-well-that-was-unexpected 
Amazon: https://www.amazon.com/gp/product/0593433971/ 
Barnes & Noble: https://www.barnesandnoble.com/w/well-that-was-unexpected-jesse-q-sutanto/1140956682 
Book Depository: https://www.bookdepository.com/Well-That-Was-Unexpected-Jesse-Q-Sutanto/9780593433973 
Indigo: https://www.chapters.indigo.ca/en-ca/books/well-that-was-unexpected/9780593433973-item.html 
IndieBound: https://www.indiebound.org/book/9780593433973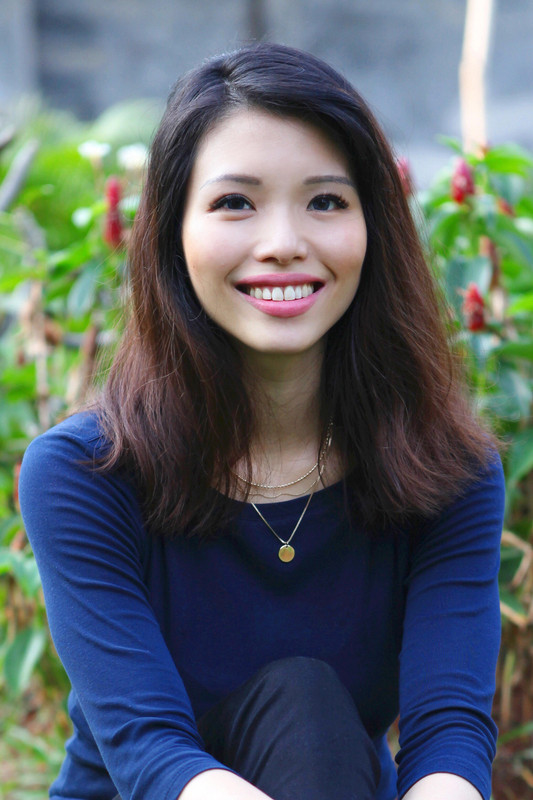 I grew up going back and forth between Jakarta and Singapore and consider both places my homes. I was fortunate enough to do my Masters in Creative Writing at the University of Oxford, which is surely one of the most gorgeous places in the world.
I am passionate about women's rights and diversity in publishing. I regularly do giveaways where I critique queries or the first few pages, and I am especially interested in helping writers from marginalized communities. If you are a writer from a marginalized community, do hit me up! I love hearing from other writers, even if it's just to say a quick hello.
Author Links:
Website: https://www.jesseqsutanto.com/ 
Twitter: https://twitter.com/thewritinghippo 
Instagram: https://www.instagram.com/jesseqsutanto/ 
Goodreads: https://www.goodreads.com/author/show/19278992.Jesse_Q_Sutanto 
Facebook: https://www.facebook.com/JesseQSutanto/ 
Follow The Tour:
September 26th
The Book Dutchesses – Promotional Post
Cindy's Love of Books – Review
Epic Book Society – Top 5 Reasons to Read Well, That Was Unexpected & Favorite Quotes
Melancholic Blithe – Review & Playlist
September 27th
Currant7 Recommends – Review & Favorite Quotes
Kait Plus Books – Promotional Post
B for Bookslut – Review
Books Are Magic Too – Review
September 28th
TeaTimeLit – Review
Sheaf and Ink – Promotional Post
The Literary Huntress – Review & Playlist
Jen Jen Reviews – Review
September 29th
Book Notes by Athina – Promotional Post
thisbellereadstoo – Review & Mood Board
Sophie Reads YA – Review
September 30th
Ms. G in the Library – Promotional Post
Whispering Stories – Review
The Book Review Crew – Review & Favorite Quotes
Purposelyunperfect – Book Look
October 1st
Stuck in Fiction – Promotional Post
dinipandareads – Journal Spread & Review
Confessions of YA Reader – Review
paperbacktomes – Review
October 2nd
Nine Bookish Lives – Promotional Post
TheGeekishBrunette – Review
Far from perfect – Review & Favorite Quotes
PopTheButterfly Reads – Review
Instagram:
September 26th
mindyourshelf – Review & Favorite Quotes
augustisreading – Review & Playlist
gryffindorbookisnerd – Promotional Post
tinybooknest – 15 Reactions While Reading Well, That Was Unexpected
crimson.books – Top 5 Reasons to Read Well, That Was Unexpected
September 27th
thisreadergirl – Review & Favorite Quotes
sistersshelves – Review
currant7_recommends – Blogger's Choice
booksaremagictoo – Blogger's Choice
September 28th
writingrosereads – Promotional Post
belle.bookcorner -Review & Favorite Quotes
just.a.gal.and.her.books – Review
readbycait – Blogger's Choice
sheafandink – Blogger's Choice
September 29th
lifewithprinceman – Creative Post
planwithemm – Journal Spread & Review
hodophile_z – Review
booknotes_athina – Blogger's Choice
September 30th
dhirviepages – Review & Favorite Quotes
musfira._ – Journal Spread
get.outside.and.read – Review & Favorite Quotes
reading.late.into.the.night – Blogger's Choice
purposelyunperfect – Blogger's Choice
October 1st
thebookishbrief – Promotional Post & Tik Tok
stratospherekawaiigirl – Promotional Post
laurensbookshelves – Review
paperbacktomes – Blogger's Choice
October 2nd
tbrandbeyond – Promotional Post
cozybooktraveller – Top 5 Reasons to Read Well, That Was Unexpected & Playlist
booksandsnapshots – Review
ninebookishlives – Blogger's Choice
popthebuttefly – Blogger's Choice