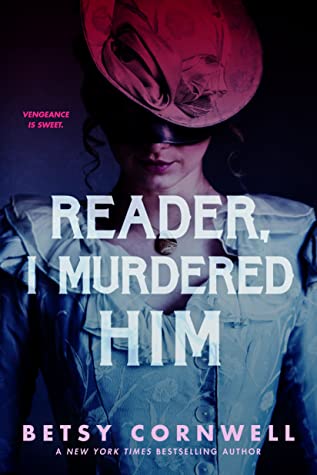 Reader, I Murdered Him by Betsy Cornwell
In this daring tale of female agency and revenge from a New York Times bestselling author, a girl becomes a teenage vigilante who roams Victorian England using her privilege and power to punish her friends' abusive suitors and keep other young women safe.
Adele grew up in the shadows–first watching from backstage at her mother's Parisian dance halls, then wandering around the gloomy, haunted rooms of her father's manor. When she's finally sent away to boarding school in London, she's happy to enter the brightly lit world of society girls and their wealthy suitors.
Yet there are shadows there, too. Many of the men that try to charm Adele's new friends do so with dark intentions. After a violent assault, she turns to a roguish young con woman for help. Together, they become vigilantes meting out justice. But can Adele save herself from the same fate as those she protects?
With a queer romance at its heart, this lush historical thriller offers readers an irresistible mix of vengeance and empowerment.
Expected publication: November 15th 2022 by Clarion Books
This is definitely a story about strong females taking on a world made for men.
Adele's mom was a dancer and prostitute. Adele grew up in the world of men using women for sex and a bit on how to get what she wanted. But her mom died when she was young and she was sent away with a man that might have been her father. He took her from France and to England where she was pretty unhappy. Her father was never nice to her and there was a lot of mental abuse. She loved her governess, but she was sent away from her too. After being at a horrible school with abuse, Adele is sent to a finishing school where she will not only learn school subjects, but also how to come out and find a rich man to marry. Adele finds herself attracted to one of her friends and she decided to try to help her more than herself. Most of the girls were being wed off to much older men. When her friend was attacked, Adele came to her rescue and killed a man. Luckily the young man she was dancing with decided to back her up. The police will listen to a man, but not a woman. Adele decides then that she will protect all her friends no matter what. She learns how to fight and sneaks out at night. She will save as many as possible. She also found someone to love, but society wouldn't agree with it. As rebellious as Adele is, she still wants to follow her mother's wishes for her.
This is a bit dark and definitely shows all types of abuse to women and that women have no power over themselves in the world. It also hits on how money is power and the rich white men were the ones with all the control.
I gave this book 4 stars.
Thank you to the publisher and Netgalley for my earc.
Have you read this yet?  Is it on your TBR?