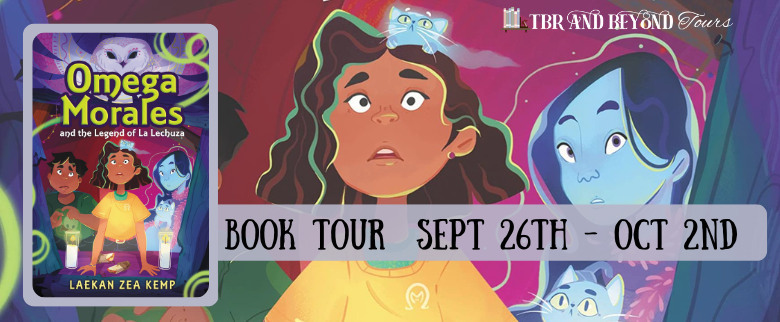 Welcome to my stop on the blog tour for Omega Morales and the Legend of La Lechuza by Laekan Zea Kemp.  This tour is being hosted by TBR and Beyond Tours. 
Omega Morales and the Legend of La Lechuza by Laekan Zea Kemp
Genre: Middle Grade Fantasy
Publishing Date: September 27, 2022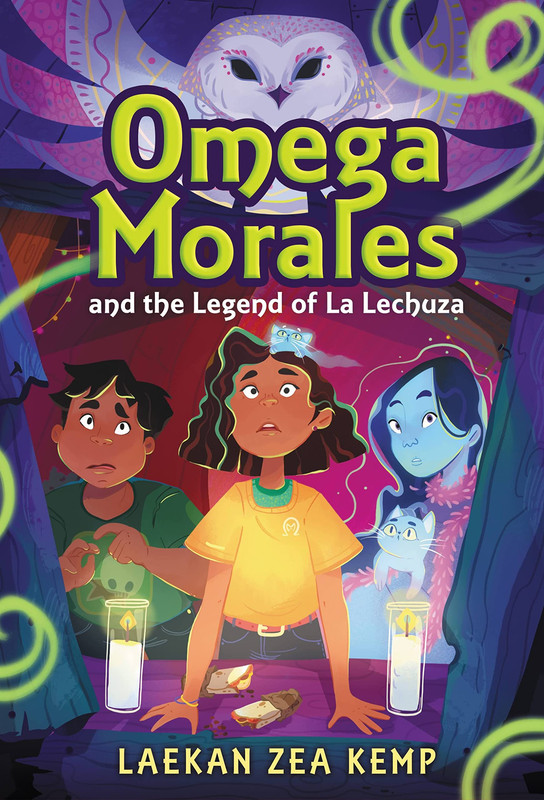 Fans of The Girl Who Drank the Moon, Paola Santiago and the River of Tears, and Disney's Encanto will be captivated by this fantastical novel about a girl who must learn to trust her ancestral powers when she comes face-to-face with the Mexican legend La Lechuza. 
Omega Morales's family has been practicing magic for centuries in Noche Buena. But over the years, the town's reputation for the supernatural is no longer one the people carry with pride. So Omega's family keeps to themselves, and in private, they're Empaths—diviners who can read and manipulate the emotions of people and objects around them. But Omega's powers don't quite work, and it leaves her feeling like an outsider in her own family.
When a witch with the power to transform herself into an owl—known in Mexican folklore as La Lechuza—shows up unannounced, Omega, her best friend Clau (who happens to be a ghost), and her cousin Carlitos must conduct a séance under a full moon in order to unravel the mystery of the legend.
Suddenly Omega's magic begins to change, and the key to understanding her powers is more complicated than she thought. Omega will have to decide what's more important—trusting the instincts of others or learning to trust in herself.
Content Warning: bullying and grief
Book Links:
Goodreads: https://www.goodreads.com/book/show/60021190-omega-morales-and-the-legend-of-la-lechuza 
Amazon: https://www.amazon.com/gp/product/0316304166/ 
Barnes & Noble: https://www.barnesandnoble.com/w/omega-morales-and-the-legend-of-la-lechuza-laekan-zea-kemp/1140835397 
Book Depository: https://www.bookdepository.com/Omega-Morales-Legend-La-Lechuza-Laekan-Z-Kemp/9780316304160 
Indigo: https://www.chapters.indigo.ca/en-ca/books/omega-morales-and-the-legend/9780316304160-item.html 
IndieBound: https://www.indiebound.org/book/9780316304160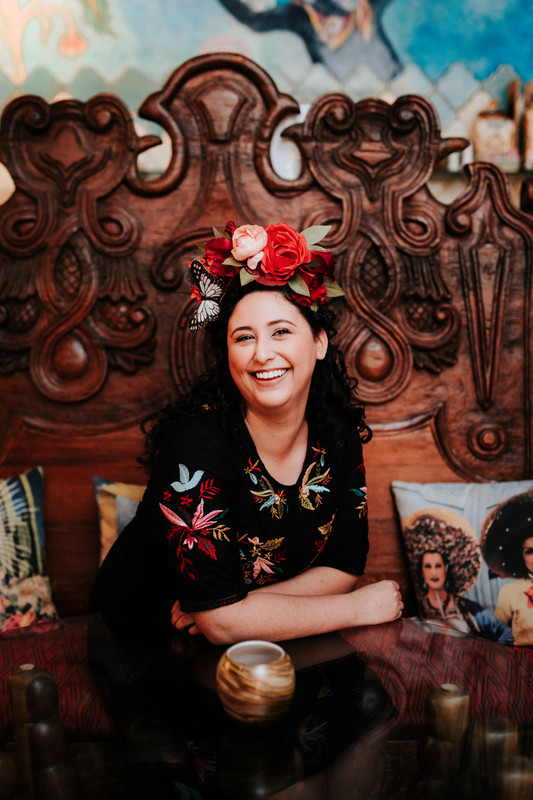 Laekan Zea Kemp is a writer living in Austin, Texas. Her debut novel, Somewhere Between Bitter and Sweet was a 2021 Pura Belpré Honor Recipient. In addition to writing she's also the creator and host of the Author Pep Talks podcast, as well as a contributor to the Las Musas podcast. She has three objectives when it comes to storytelling: to make people laugh, cry, and crave Mexican food. Her work celebrates Chicane grit, resilience, creativity, and joy while exploring themes of identity and mental health.
Author Links:
Website: http://www.laekanzeakemp.com/ 
Twitter: https://twitter.com/LaekanZeaKemp 
Instagram: https://www.instagram.com/laekanzeakemp/ 
Goodreads: https://www.goodreads.com/author/show/6577467.Laekan_Zea_Kemp 
Follow The Tour:
September 26th
The Bookwyrm's Den – Review
The Litt Librarian – Promotional Post
September 27th
The Book Dutchesses – Promotional Post
The Momma Spot – Review
September 28th
Confessions of a YA Reader – Promotional Post
Boys' Mom Reads! – Review
Jenerally Reading – Review & Favorite Quotes
September 29th
Eye-Rolling Demigod's Book Blog – Review
PopTheButterfly Reads – Review
September 30th
The Nutty Bookworm Reads Alot – Review
dinipandareads – Review & Favorite Quotes
Unconventional Quirky Bibliophile – Review & Mood Board
October 1st
Reading Stewardess – Review
Stuck in Fiction – Promotional Post
October 2nd
Nine Bookish Lives – Promotional Post
Jen Jen Reviews – Review
Instagram:
September 26th
writingrosereads – Promotional Post
thelittlibrarian – Blogger's Choice
September 27th
fictionalfey – Book Look
bookdragonstbr – Blogger's Choice
September 28th
get.outside.and.read – Review & Favorite Quotes
books_and_dice – Review & Favorite Quotes
jenerallyreading – Blogger's Choice
September 29th
dhirviepages – Review & Favorite Quotes
eyerollingdemigod – Blogger's Choice
popthebutterfly – Blogger's Choice
September 30th
tbrandbeyond – Promotional Post
laurensbookvibes – Review
quirkybibliophile – Blogger's Choice
October 1st
hodophile_z – Review
ninebookishlives – Blogger's Choice
October 2nd
bookdragon217 – Review
jenjenreviews – Blogger's Choice