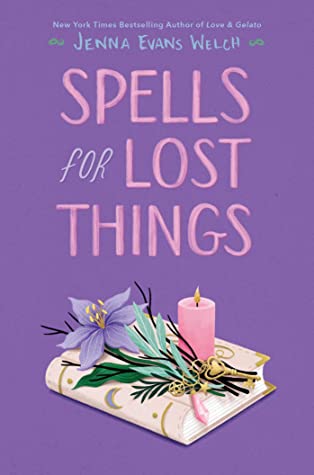 Spells for Lost Things by Jenna Evans Welch
From the New York Times bestselling author of Love & Gelato comes a poignant and romantic novel about two teens trying to find their place in the world after being unceremoniously dragged to Salem, Massachusetts, for the summer.
Willow has never felt like she belonged anywhere and is convinced that the only way to find a true home is to travel the world. But her plans to act on her dream are put on hold when her aloof and often absent mother drags Willow to Salem, Massachusetts, to wrap up the affairs of an aunt Willow didn't even know she had. An aunt who may or may not have been a witch.
There, she meets Mason, a loner who's always felt out of place and has been in and out of foster homes his entire life. He's been classified as one of the runaways, constantly searching for ways to make it back to his mom; even if she can't take care of him, it's his job to try and take care of her. Isn't it?
Naturally pulled to one another, Willow and Mason set out across Salem to discover the secret past of Willow's mother, her aunt, and the ambiguous history of her family. During all of this, the two can't help but act on their natural connection. But with the amount of baggage between them—and Willow's growing conviction her family might be cursed—can they manage to hold onto each other?
I didn't expect to cry while reading this book, but here I sit with tears in my eyes. This was really good.
Willow lives with her mom in California. They moved there after her parents got divorced and she doesn't feel at home. Her mom works all the time and they barely talk. Willow wants to do her senior year in Paris where her cousin lives, but her mom said no. When her mom finds out that her sister died, she asks Willow to go with her to Salem. Willow had no idea that her mom ever lived in Salem or that she had a sister. When they get there, Willow gets to meet her great aunts who are all witches. They don't want the house sold, but Sage left it to Rosemary and she had to decide. Rosemary wouldn't even go inside it. She forbid Willow to go in and said it would be listed asap. But the aunts gave Willow a key and told her to find the book of shadows.
Mason is in foster care, moving into yet another home. But this one is different. His foster mom, Emma, was friends with his mom. She has a husband and they have four daughters. The oldest doesn't live with them, but she's visiting for the summer. Mason's mom is an addict, but he's positive that she'll get clean and come back for him. He searches for her everywhere, but no one seems to know where she is. Mason loves his mom and astronomy. Those are the things that make him feel good.
Willow and Mason meet on accident one night and they both thought about each other. When they see each other again, they both decide to spend time together. They search for the clues that Sage left. They do a spell together and both of them open up to each other. But Willow will be going back to California and Mason wants to find his mom. So they both know this will be short even though they feel like something special is starting.
I definitely cried a few times towards the end of this book. I felt horrible for Mason with his mom. I felt bad because Willow was missing her mom even when they were together. And I felt for Rosemary who lost so much and was so afraid of losing her daughter too. Parts of this were hard to read, but the book was really good.
I gave this book 4 1/2 stars rounded up to 5 on Goodreads.
Thank you to the publisher for sending me an arc for review.
Have you read this?  Is it on your TBR?