Goodreads Monday was hosted by Lauren's Page Turners.   It's now hosted by Budget Tales Book Blog.  All you have to do is show off a book from your TBR that you're looking forward to reading.
It's getting hard to remember which ones I've done already, so I'm sorry if you see a book pop up on these more than once.  It will happen.  Probably a lot.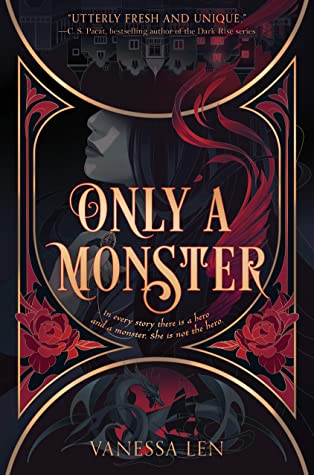 Only A Monster by Vanessa Len
With the sweeping romance of Passenger and the dark fantasy edge of This Savage Song, this standout YA contemporary fantasy debut from Vanessa Len, is the first in a planned trilogy.
It should have been the perfect summer. Sent to stay with her late mother's eccentric family in London, sixteen-year-old Joan is determined to enjoy herself. She loves her nerdy job at the historic Holland House, and when her super cute co-worker Nick asks her on a date, it feels like everything is falling into place.
But she soon learns the truth. Her family aren't just eccentric: they're monsters, with terrifying, hidden powers. And Nick isn't just a cute boy: he's a legendary monster slayer, who will do anything to bring them down.
As she battles Nick, Joan is forced to work with the beautiful and ruthless Aaron Oliver, heir to a monster family that hates her own. She'll have to embrace her own monstrousness if she is to save herself, and her family. Because in this story . . .
. . . she is not the hero.
Have you read this yet?  Is it on your TBR?