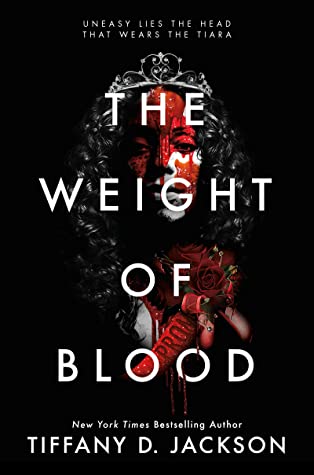 The Weight of Blood by Tiffany D. Jackson
New York Times bestselling author Tiffany D. Jackson ramps up the horror and tackles America's history and legacy of racism in this suspenseful YA novel following a biracial teenager as her Georgia high school hosts its first integrated prom.
When Springville residents—at least the ones still alive—are questioned about what happened on prom night, they all have the same explanation . . . Maddy did it.
An outcast at her small-town Georgia high school, Madison Washington has always been a teasing target for bullies. And she's dealt with it because she has more pressing problems to manage. Until the morning a surprise rainstorm reveals her most closely kept secret: Maddy is biracial. She has been passing for white her entire life at the behest of her fanatical white father, Thomas Washington.
After a viral bullying video pulls back the curtain on Springville High's racist roots, student leaders come up with a plan to change their image: host the school's first integrated prom as a show of unity. The popular white class president convinces her Black superstar quarterback boyfriend to ask Maddy to be his date, leaving Maddy wondering if it's possible to have a normal life.
But some of her classmates aren't done with her just yet. And what they don't know is that Maddy still has another secret . . . one that will cost them all their lives.
This was so good!
The Weight of Blood is basically a Carrie retelling with some twists. The book was gorier (than the movie, I never read Carrie) and covered a lot about racial issues and racism.
The book takes place in two timelines. The current timeline is a podcast type show that's being done of the prom murders from a decade ago. The rest of the book takes place in a small Georgia town in 2014. Springville doesn't see their town as racist, but they still have segregated proms. Since the school isn't involved, there is no legal issue. Maddy lives with her strict, religious father. She was told that her mom died and they didn't talk about her. Maddy is white passing, but only her father was white. Her mom was black. Maddy's father is obsessed with her pretending to be white. He helps her straighten her hair and tells her to stay out of rain. They need to keep her secret. But there is a day at school that rained when it wasn't supposed to. Maddy's hair got super curly and thick. Everyone started talking asking if anyone knew Maddy was black. She starts getting harassed more than before. When a video of some students throwing pens into her hair goes viral, the school gets bad attention. Then a popular girl at school shows up in blackface pretending to be Maddy. Things got really bad then. The girl was suspended and she wants revenge. Another popular student, Wendy, feels bad and wants to do something to help. She asks her boyfriend Kenny to take Maddy to prom. He starts spending time with Maddy and realizes how great she is. He finds himself falling for her before prom even while dating Wendy. Kenny is also black, but Wendy is white. Kenny is the star football player with a scholarship. Wendy is trying to get enough money to surprise Kenny and go to school with him. Wendy was a big reason why they decided to have an integrated prom, but there was still a separate prom for the white kids that want "tradition". Almost everyone ends up dead that night and Maddy was to blame.
I gave this book 5 stars. Definitely a tough read, but also important to see how racism didn't go away and how it affects kids and even a town.
Thank you to the publisher and Edelweiss for my earc.
Have you read this yet?  Is it on your TBR?  Have you read any other Tiffany Jackson books?