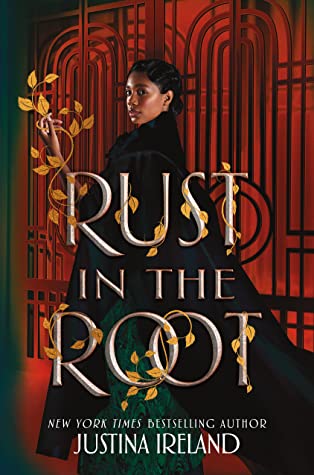 Rust in the Root by Justina Ireland
The author of the visionary New York Times bestseller Dread Nation returns with another spellbinding historical fantasy set at the crossroads of race and power in America.
It is 1937, and Laura Ann Langston lives in an America divided—between those who work the mystical arts and those who do not. Ever since the Great Rust, a catastrophic event that blighted the arcane force called the Dynamism and threw America into disarray, the country has been rebuilding for a better future. And everyone knows the future is industry and technology—otherwise known as Mechomancy—not the traditional mystical arts.
Laura disagrees. A talented young mage from Pennsylvania, Laura hopped a portal to New York City on her seventeenth birthday with hopes of earning her mage's license and becoming something more than a rootworker
But six months later, she's got little to show for it other than an empty pocket and broken dreams. With nowhere else to turn, Laura applies for a job with the Bureau of the Arcane's Conservation Corps, a branch of the US government dedicated to repairing the Dynamism so that Mechomancy can thrive. There she meets the Skylark, a powerful mage with a mysterious past, who reluctantly takes Laura on as an apprentice.
As they're sent off on their first mission together into the heart of the country's oldest and most mysterious Blight, they discover the work of mages not encountered since the darkest period in America's past, when Black mages were killed for their power—work that could threaten Laura's and the Skylark's lives, and everything they've worked for.
This took me a bit to get into and understand the magic, but it was really good once I got it.
Laura leaves her home for NYC. She wants to get a mage's license and open a bakery. She fantasizes about serving famous people and that everyone would love what she makes. But after a handful of months, she's almost out of money and loses the place she was living. When she finds out that she can apply to the Bureau of Arcane's Conservation Group, she visits someone called Skylark. At first, Skylark sends her away. But then she's told that she needs an apprentice right away so they can go to the blight in Ohio. Skylark knows that Laura is keeping something from her, but she helps her get clothes and gives her a monthly salary. But she's also throwing Laura into things way too fast. The bureau members from Chicago went to Ohio and they haven't been seen again. There are other mages and apprentices that join Skylark and Laura (Peregrine). When they get to the blight, it's like nothing they've dealt with before. It feels like their energy is being drained and that they are almost falling apart. They can't find many other people, just piles of leaves and rot. Peregrine has more than one specialty with her magic. They aren't supposed to do what is called Craft, but Peregrine is strong and they need to use whatever they can to survive and maybe even save the earth. Especially when they find out what is really happening in Ohio.
I really liked so much of this book. The characters were great and I liked most of them. I liked the magic and the society issues (racism) included in it. There was a little politics, too, but not too much.
I gave this book 4 stars.
Thank you to the publisher and Netgalley for my earc.
Have you read this yet?  Is it on your TBR?