I am thrilled to be hosting a spot on the SERWA BOATENG'S GUIDE TO VAMPIRE HUNTING by Roseanne A. Brown Blog Tour hosted by Rockstar Book Tours. Check out my post and make sure to enter the giveaway! 
About The Book:
Title: SERWA BOATENG'S GUIDE TO VAMPIRE HUNTING (Serwa Boateng #1)
Author: Roseanne A. Brown
Pub. Date: September 6, 2022
Publisher: Rick Riordan Presents
Formats: Hardcover, eBook
Pages: 400
Find it: Goodreads, Amazon, Kindle, B&N, iBooks, Kobo, TBD, Bookshop.org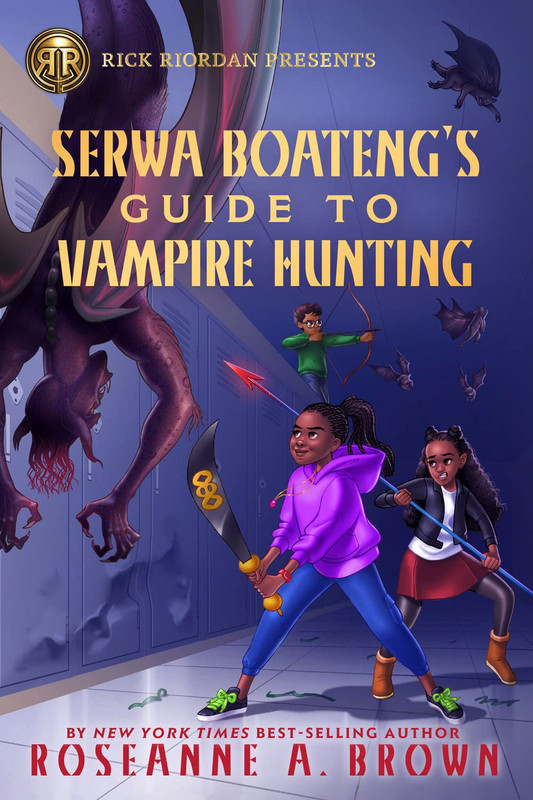 Best-selling author Rick Riordan presents best-selling YA author Roseanne A. Brown's middle grade debut about a pre-teen vampire slayer with a strong helping of Ghanaian folklore.

For most kids, catching fireflies is a fun summer activity. For twelve-year-old Serwa Boateng, it's a matter of life and death.

That's because Serwa knows that some fireflies are really adze, shapeshifting vampires from the forests of Southeastern Ghana. Adze prey on the blood of innocents, possessing their minds and turning them into hulking monsters, and for generations, slayers like Serwa and her parents have protected an unknowing public from their threats.

Serwa is the best adze slayer her age, and she knew how to use a crossbow before she could even ride a bike. But when an obayifo (witch) destroys her childhood home while searching for a drum, do Serwa's parents take her with them on their quest to defeat her? No. Instead, they dump Serwa with her hippie aunt and cryptic-obsessed cousin in the middle of Nowheresville, Maryland "for her own safety." Now, instead of crossbows and battle armor, she's dealing with mean girls and algebra, and for the first time in her life she doesn't have to carry a staff everywhere she goes, which is . . . kind of nice, actually.

Just as Serwa starts to get the hang of this whole normal girl who doesn't punch vampires every day thing, an adze infiltrates her school. It's up to her to whip some of her classmates into monster-fighting shape before all of them become firefly food. And when she uncovers a secret that upends everything she thought she knew about her family's role in the slayer vs. adze war, Serwa will have to decide which side of herself–normal girl or slayer–is the right one.

After all, seventh grade is hard enough without adding vampires to the mix.
I loved this!
It's impossible not to adore Serwa right away. She's 12 years old and has never gone to school. Her parents are slayers and she spends her time practicing with them. She feels ready to take her test now, but she only gets one shot and her parents keep telling her no. They are in their safe house when a powerful witch shows up. Their wards didn't keep them protected. They had to fight and leave. Serwa's parents are tasked with finding the witch and they won't let Serwa go with. It's the first time she'll really be away from them. Her parents let her stay with her "aunt" and "cousin" in a small town in Maryland. They had stayed with them when they came from Ghana, but Serwa doesn't remember them. Roxy is the same age as her. This town is supposed to be safe from black magic, so Serwa's parents feel it's the best place she could be. At first, Serwa hates it. She has to go to middle school and she doesn't really fit in. After messing up with a food fight, Serwa is paired up with Roxy, Eunju, Mateo, and Gavin to do community with with a teacher, Mr. Riley. Serwa sees an adze (vampire) and needs to figure out who the host is. Because it attacked in school, the kids saw Serwa use a sword. She's not supposed to talk about magic, but she knows she can't defeat the adze on her own. So she decides to train them to be slayers. While the group trains, Serwa finds that she has friends for the first time. She wants to protect them and the town she didn't want to go to. Her parents have been keeping secrets from her and Serwa is confused by this feeling she has. Her whole life changes when she finds out what it is.
I gave this book 5 stars and I'm very much looking forward to the next book.
Thank you to the publisher for my finished copy for review.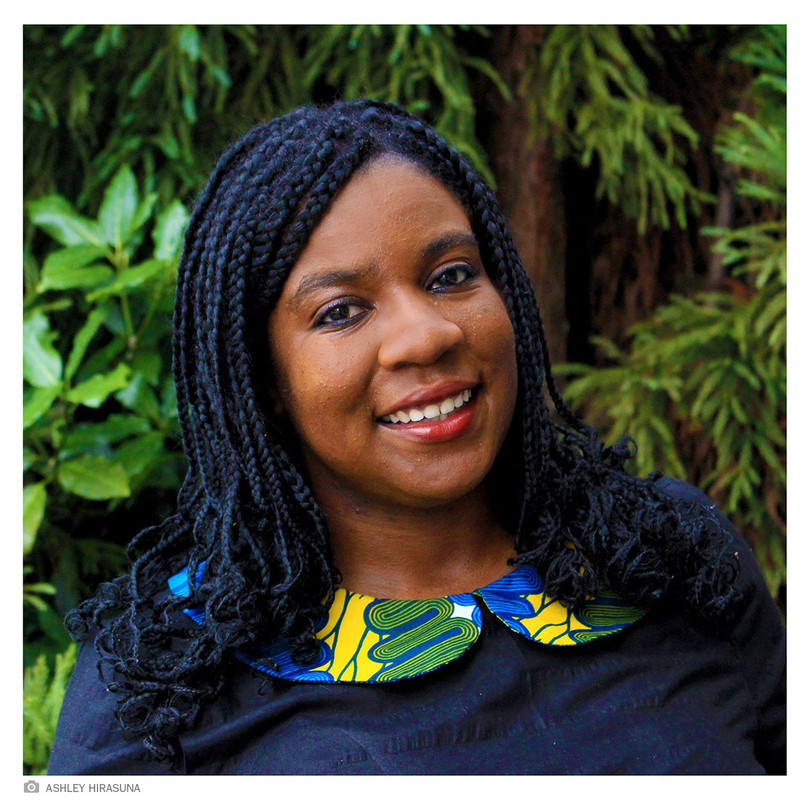 About Roseanne A. Brown:
Roseanne "Rosie" A. Brown was born in Kumasi, Ghana and immigrated to the wild jungles of central Maryland as a child. She graduated from the University of Maryland with a Bachelor's in Journalism and was also a teaching assistant for the school's Jiménez-Porter Writers' House program. Her debut novel A Song of Wraiths and Ruin was an instant New York Times Bestseller, an Indie Bestseller, and received six starred reviews. She has worked with Marvel, Star Wars, and Disney among other publishers.
Website | Twitter | Facebook | Instagram | TikTok | Goodreads | Amazon | BookBub
1 winner will receive a finished copy of SERWA BOATENG'S GUIDE TO VAMPIRE HUNTING, US Only.
Ends October 7th, midnight EST.
Follow The Tour:
Tour Schedule:
Week One:
| | | |
| --- | --- | --- |
| 9/1/2022 | | Review/IG Post |
| 9/2/2022 | | Review/IG Post |
| 9/3/2022 | | Review/IG Post |
Week Two:
| | | |
| --- | --- | --- |
| 9/4/2022 | | Excerpt/IG Post |
| 9/5/2022 | | Review/IG Post |
| 9/6/2022 | | Review/IG Post |
| 9/7/2022 | | IG Review |
| 9/8/2022 | | Review/IG Post |
| 9/9/2022 | | Review/IG Post |
| 9/10/2022 | | IG Review |
Week Three:
| | | |
| --- | --- | --- |
| 9/11/2022 | | TikTok Review/IG Post |
| 9/12/2022 | | Review |
| 9/13/2022 | | Review |
| 9/14/2022 | | Review/IG Post |
| 9/15/2022 | | Review/IG Post |
| 9/16/2022 | | Review  |
| 9/17/2022 | | IG Review |
Week Four:
| | | |
| --- | --- | --- |
| 9/18/2022 | | Review  |
| 9/19/2022 | | Review  |
| 9/20/2022 | | Review/IG Post |
| 9/21/2022 | | IG Spotlight |
| 9/22/2022 | | Excerpt/IG Post |
| 9/23/2022 | | IG Review |
| 9/24/2022 | | IG Review |
Week Five:
| | | |
| --- | --- | --- |
| 9/25/2022 | | Review/IG Post |
| 9/26/2022 | | Review/IG Post |
| 9/27/2022 | | Review |
| 9/28/2022 | | YouTube Review/IG Post |
| 9/29/2022 | | IG Review/TikTok Post |
| 9/30/2022 | | Review/IG Post |