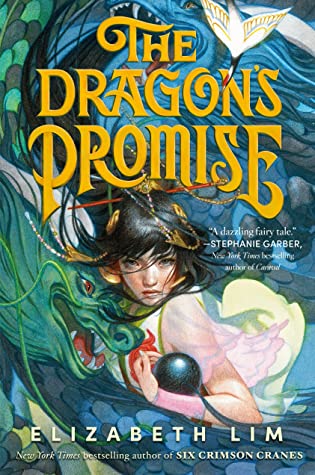 The Dragon's Promise by Elizabeth Lim
From the New York Times Bestselling author of Six Crimson Cranes comes a thrilling new adventure! A journey to the kingdom of dragons, a star-crossed love, and a cursed pearl with the power to mend the world or break it… Fans of Shadow and Bone will devour this soaring fantasy.
Princess Shiori made a deathbed promise to return the dragon's pearl to its rightful owner, but keeping that promise is more dangerous than she ever imagined.
She must journey to the kingdom of dragons, navigate political intrigue among humans and dragons alike, fend off thieves who covet the pearl for themselves and will go to any lengths to get it, all while cultivating the appearance of a perfect princess to dissuade those who would see her burned at the stake for the magic that runs in her blood.
The pearl itself is no ordinary cargo; it thrums with malevolent power, jumping to Shiori's aid one minute, and betraying her the next—threatening to shatter her family and sever the thread of fate that binds her to her true love, Takkan. It will take every ounce of strength Shiori can muster to defend the life and the love she's fought so hard to win.
I believe this is a duology and I thought it was a good ending for the series.
This is a book two, so there are spoilers for book one below.
Shiori has the dragon's pearl and she's determined to return it to the owner. She goes into the dragon kingdom with her dragon friend, but she isn't really welcome. Things get pretty dangerous, but she does meet a young boy that uses magic. She helps free him and he ends up liking her. Shiori is only gone for a small amount of time in the kingdom, but at home, it's been six months. They were worried she wouldn't return at all. The crack in the mountain is getting worse and the demons are close to getting out. Takkan waited for Shiori and plans on helping her get the pearl to the owner and stop the demons from escaping. Shiori also gets help with Kiki and her brothers. There are multiple adventures to different dangerous places. Shiori starts to wonder if getting rid of magic at home was the right thing or not.
I don't want to give up too much from the book. The relationship with Shiori and Takkan was the standout. The plot was decent paced, but I did like the first book more. I wish the brothers would have had a bigger part.
I gave this book 4 stars.
Thank you to the publisher and Netgalley for my earc.
Have you read this?  Is it on your TBR?