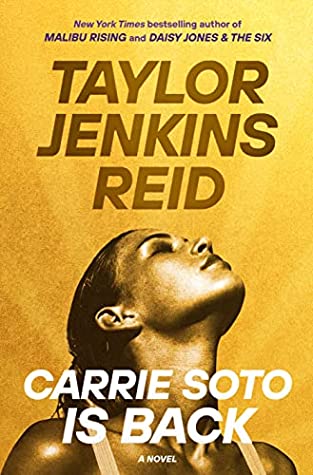 Carrie Soto Is Back by Taylor Jenkins Reid
In this powerful novel about the cost of greatness, a legendary athlete attempts a comeback when the world considers her past her prime—from the New York Times bestselling author of Malibu Rising.
Carrie Soto is fierce, and her determination to win at any cost has not made her popular. But by the time she retires from tennis, she is the best player the world has ever seen. She has shattered every record and claimed twenty Grand Slam titles. And if you ask Carrie, she is entitled to every one. She sacrificed nearly everything to become the best, with her father, Javier, as her coach. A former champion himself, Javier has trained her since the age of two.
But six years after her retirement, Carrie finds herself sitting in the stands of the 1994 US Open, watching her record be taken from her by a brutal, stunning player named Nicki Chan.
At thirty-seven years old, Carrie makes the monumental decision to come out of retirement and be coached by her father for one last year in an attempt to reclaim her record. Even if the sports media says that they never liked "the Battle-Axe" anyway. Even if her body doesn't move as fast as it did. And even if it means swallowing her pride to train with a man she once almost opened her heart to: Bowe Huntley. Like her, he has something to prove before he gives up the game forever.
In spite of it all, Carrie Soto is back, for one epic final season. In this riveting and unforgettable novel, Taylor Jenkins Reid tells her most vulnerable, emotional story yet.
I love Taylor Jenkins Reid's books, but I was a little worried about this one being about tennis. I know nothing about tennis and it's never really interested me. But I did not have to worry. I loved everything about this book.
If you've read Malibu Rising, you got a preview of who Carrie Soto is. She was the other woman. The tennis player. The person who is often brash and honestly kind of mean. But in this book, we get to see why Carrie ended up the way she did. And she's not quite as bad as I thought. Carrie's dad was a great tennis player in Argentina. When Carrie is born, he's sure that she will be even better than him. He starts training her early on and he is right. Carrie is special. But she sacrifices most of her childhood to be great. That means no real friends, no real school, no special treats, and working out all the time. Carrie does great in tennis and wins all kinds of slam titles. Carrie retired when she had to have knee surgery. But at 37 years old, another pro is going to break her record. Carrie can't stand the thought of it and decides to come out of retirement. She asks her dad to be her coach and he agrees. The workouts are hard. Her body isn't the same as it was. She slower and struggles with the speed of the younger girls. But Carrie is someone who wants to win no matter what. She doesn't know how to lose. Her dad is ok either way as long as she plays her best. But Carrie needs to win at least one slam her year back. She has four tries to do it.
There is something about Taylor Jenkins Reid's books that just suck me in. I'm usually a plot driven person. But her characters are always written so well. I want to know more about them. I don't need action or huge plots in every chapter. The focus is always on the people and how I feel about them. I don't know that I could be friends with a person like Carrie, but I definitely understood her more. I loved the side characters too. Like always, I want more from those people. I don't want to the story to end. I love that about her books.
I gave this book 5 stars.
Thank you to the publisher and Netgalley for my earc.
Have you read this?  Have you read any other TJR books?