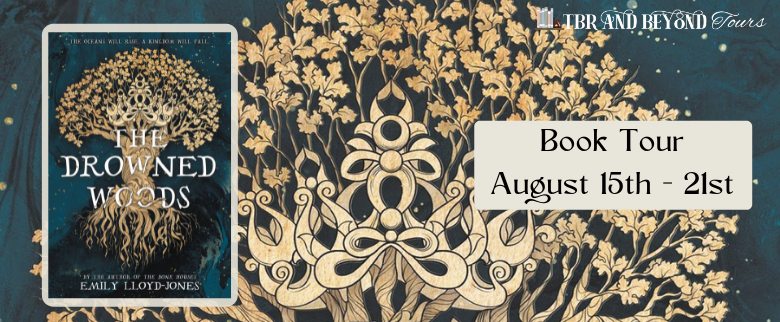 Welcome to my stop on the blog tour for The Drowned Woods by Emily Lloyd-Jones.  This tour is being hosted by TBR and Beyond Tours.
The Drowned Woods by Emily Lloyd-Jones
Genre: Young Adult Fantasy
Publishing Date: August 16, 2022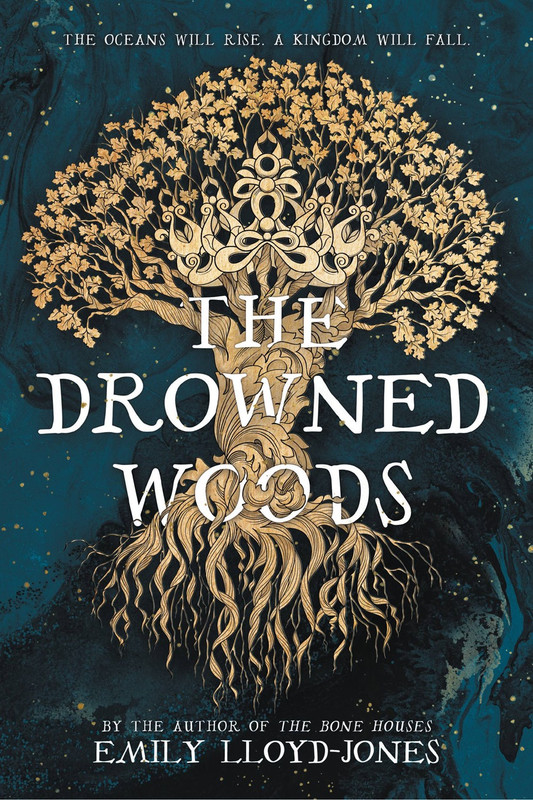 A magical, ethereal fantasy from IndieBound bestselling author Emily Lloyd-Jones.
Once upon a time, the kingdoms of Wales were rife with magic and conflict, and eighteen-year-old Mererid "Mer" is well-acquainted with both. She is the last living water diviner and has spent years running from the prince who bound her into his service. Under the prince's orders, she located the wells of his enemies, and he poisoned them without her knowledge, causing hundreds of deaths. After discovering what he had done, Mer went to great lengths to disappear from his reach. Then Mer's old handler returns with a proposition: use her powers to bring down the very prince that abused them both.
The best way to do that is to destroy the magical well that keeps the prince's lands safe. With a motley crew of allies, including a fae-cursed young man, the lady of thieves, and a corgi that may or may not be a spy, Mer may finally be able to steal precious freedom and peace for herself. After all, a person with a knife is one thing…but a person with a cause can topple kingdoms.
The Drowned Woods—set in the same world as The Bone Houses but with a whole new, unforgettable cast of characters—is part heist novel, part dark fairy tale.
Book Links:
Goodreads: https://www.goodreads.com/book/show/57314572-the-drowned-woods 
Amazon: https://www.amazon.com/gp/product/0759556318/ 
Barnes & Noble: https://www.barnesandnoble.com/w/the-drowned-woods-emily-lloyd-jones/1140658086 
Book Depository: https://www.bookdepository.com/Drowned-Woods-Emily-Lloyd-Jones/9780759556317? 
Indigo: https://www.chapters.indigo.ca/en-ca/books/drowned-woods/9780759556317-item.html 
IndieBound: https://www.indiebound.org/book/9780759556317 
Mer was taken from her family when she was 8 years old. She was a water diviner. Her parents tried to hide her magic as long as possible, but word got out and the prince wanted her. A man named Renfrew came to get her. He trained her and became someone like a father to her. After the prince branded Mer, she fled and never stayed in one place for long. She knew that he would always be looking for her.
Fane had magic, too, but his wasn't one he was born with. Fane got his magic from the otherfolk in the woods. Fane could sense iron, but he also had other magic that he didn't want to use. Because of that magic, he really didn't touch people. His corgi traveled everywhere with him. Fane was fighting one day when Renfrew and Mer found him and offered a job. Renfrew found Mer first and told her that he left the prince after finding out his plans to take over other lands. He told Mer and Fane that there is a magic well on an island and that would be the way to bring down the prince. They had two others with them that Renfrew found to help. Mer ended up need to find her ex girlfriend and she joined the crew. They had to get through caves to get to the island unseen. Others have tried to get to the well, but none have ever survived.
I enjoyed this. The corgi was the best. There was some romance, but not a lot. The pacing was a bit slow, but it didn't drag too much.
I gave this book 4 stars.
Thank you to the publisher and Netgalley for my earc.
Quotes:
It was the day the girl learned that water could save a life-or take it.  It was a lesson she couldn't forget.
Mer liked animals.  There was a simplicity to them, an innocence she never found in people.
Fane was all rough, unfinished edges-a sculpture abandoned by its artist.
Loss had a way of eroding one's sense of self.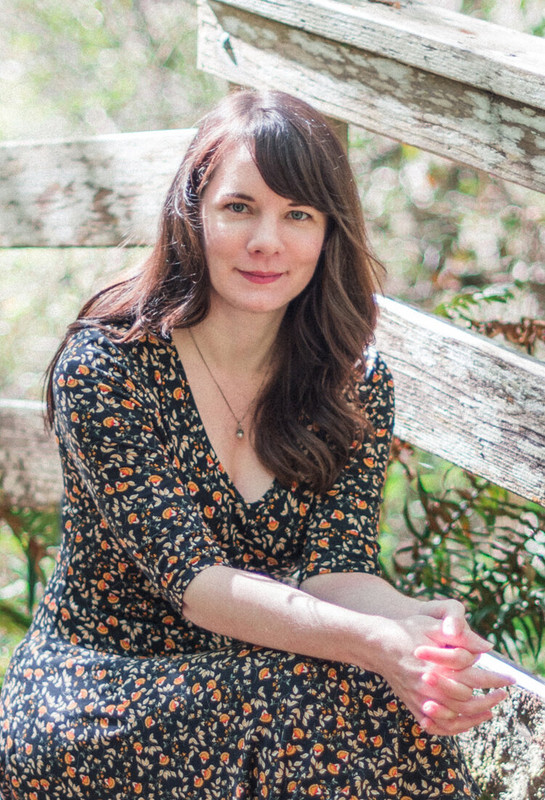 Emily Lloyd-Jones grew up on a vineyard in rural Oregon, where she played in evergreen forests and learned to fear sheep. She has a BA in English from Western Oregon University and a MA in publishing from Rosemont College. She currently resides in Northern California, where she enjoys wandering in redwood forests. Her young adult novels include Illusive, Deceptive, The Hearts We Sold, The Bone Houses, and the forthcoming The Drowned Woods. Her debut middle grade, Unseen Magic, will release in 2022.
Author Links:
Website: https://emilylloydjones.com/ 
Twitter: https://twitter.com/em_llojo 
Instagram: https://www.instagram.com/em_llojo/ 
Goodreads: https://www.goodreads.com/author/show/6868825.Emily_Lloyd_Jones 
Follow The Tour:
August 15th
Brinns Books – Review & Favorite Quotes
Whimsical Dragonette – Review & Favorite Quotes
Gwendalyn's Books – Review
& She Reads – Review
August 16th
Stuck in Fiction – Promotional Post
Pages & Plots – Review
A Court of Coffee and Books – Review & Favorite Quotes
Thindbooks Blog – Review
August 17th
The Book Dutchesses – Promotional Post
Books Over Everything – Review
One More Chapter – Review
Avni Reads – Review & Favorite Quotes
August 18th
Abigail's Lost in a Book – Review
Confessions of a YA Reader – Review & Favorite Quotes
Balancing Books And Beauties – Review
Lost Girl in Bookland – Review
The Bookish Coven – Review & Favorite Quotes
August 19th
Nine Bookish Lives – Promotional Post
The Clever Reader – Review
Midsummer Night's Read – Review
Metaphors and Miscellanea – Review & Favorite Quotes
August 20th
dinipandareads – Review & Favorite Quotes
Books and Bookish – Review & Favorite Quotes
bookloversbookreviews -Promotional Post
Beneath A Thousand Skies – Review
August 21st
The Nerdy Nook – Review & Favorite Quotes
Books We Lovee – Review
itsKooreviews – Review & Favorite Quotes
Rampant Reading Reviews – Review & Favorite Quotes
Instagram:
August 15th
thisreadergirl – Review
theliteraryhedgehog – Promotional Post
get.outside.and.read – Top 5 Reasons to Read The Drowned Woods
brinnsbooks – Blogger's Choice
gwendalyn_books_ – Blogger's Choice
and_shereads – Blogger's Choice
August 16th
jacleomik33 – Review
hoardingbooks.herdingcats – Review & Favorite Quotes
feliciareads11 – Blogger's Choice
acourtofcoffeeandbooks – Blogger's Choice
thindbooks – Blogger's Choice
August 17th
whisperingprose – Review
bookish.by.trade – Top 5 Reasons to Read The Drowned Woods
books_over_everything – Blogger's Choice
_leahreads – Blogger's Choice
avnireads – Blogger's Choice
August 18th
writingrosereads – Promotional Post
abigailslostinabook – Blogger's Choice
confessionsofayareader – Blogger's Choice
balancing_books_and_beauties – Blogger's Choice
lost_girl_in_bookland – Blogger's Choice
the_bookish_coven – Blogger's Choice
August 19th
wraithreads – Review & Mood Board
kaylareadss_ – Review & Favorite Quotes
ninebookishlives – Blogger's Choice
thecleverreader – Blogger's Choice
metaphorsandmisc – Blogger's Choice
August 20th
the_ya_assassin – Top 5 Reasons to Read The Drowned Woods
kathreadsya – Review
dinipagesreads – Blogger's Choice
bookishandbooks – Blogger's Choice
bookloversbookreviews – Blogger's Choice
August 21st
tbrandbeyond – Promotional Post
mulberryreads – Review
hturningpages – Top 5 Reasons to Read The Drowned Woods
bookswelovee – Blogger's Choice
itskooreviews – Blogger's Choice
rampant_reading – Blogger's Choice