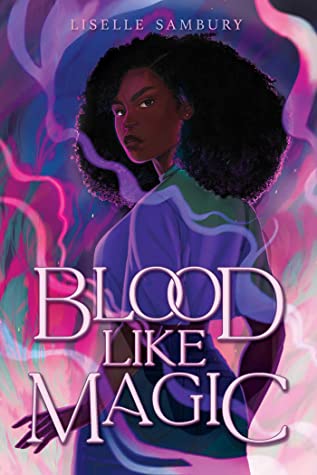 Blood Like Magic by Liselle Sambury
An urban fantasy debut following a teen witch who is given a horrifying task: sacrificing her first love to save her family's magic. The problem is, she's never been in love—she'll have to find the perfect guy before she can kill him.
After years of waiting for her Calling—a trial every witch must pass in order to come into their powers—the one thing Voya Thomas didn't expect was to fail. When Voya's ancestor gives her an unprecedented second chance to complete her Calling, she agrees—and then is horrified when her task is to kill her first love. And this time, failure means every Thomas witch will be stripped of their magic.
Voya is determined to save her family's magic no matter the cost. The problem is, Voya has never been in love, so for her to succeed, she'll first have to find the perfect guy—and fast. Fortunately, a genetic matchmaking program has just hit the market. Her plan is to join the program, fall in love, and complete her task before the deadline. What she doesn't count on is being paired with the infuriating Luc—how can she fall in love with a guy who seemingly wants nothing to do with her?
With mounting pressure from her family, Voya is caught between her morality and her duty to her bloodline. If she wants to save their heritage and Luc, she'll have to find something her ancestor wants more than blood. And in witchcraft, blood is everything.
I'm really glad I waited to read this until close to book two's release date. I loved this.
Voya lives with her large, extended family. There is her grandma, mom, aunt, dad with his new wife and daughter, an uncle, and three cousins. I might be missing someone. Voya is closest to her grandma and her cousin Keis. The family lives in a community of witch families in Canada. The book takes place in the future where there are genetic modifications and things for people that have money. The members of their family live under a matriarch which is the grandma. When a witch first hits puberty (bleeding), she has to do her Calling. An ancestor shows up and gives them a challenge they must complete. Once completed, they get granted a power. They don't know what it will be until then. Voya struggles with decision making and her trial doesn't seem like something she should have gotten. Voya's family are no impure. They don't sacrifice/kill people to get stronger magic. But Voya's challenge is to destroy her first love. Voya hasn't been in love yet or even really dated. While helping her cousin get an internship at NuGene. The company is run by a man named Justin and he has three sponsor kids that work with him. Luc is the one heading a new genetic matching program. He's super mean to Voya and Keis and embarrasses them at the Q&A. Voya is upset when Luc ends up being her romantic genetic match. She isn't sure how she can fall in love with someone who doesn't even want to see her. And then there's the whole killing thing. If Voya fails, her family will lose their magic and her little sister will die. Voya has always done everything to put her family first. But after spending time with Luc, her decision gets harder and harder. She finds out information from their family's past and it makes things even harder for her.
I loved the family and magic in this one. It's a fairly large book at almost 500 pages, but I found myself wanting to keep reading much longer than normal. I was torn on the sci fi part, but it worked really well combined with the fantasy/magic.
I gave this book 5 stars. Please make sure you read the author's warnings at the beginning of the book. There are quite a few including slavery, whipping, and an eating disorder.
Have you read this?  Is it on your TBR?