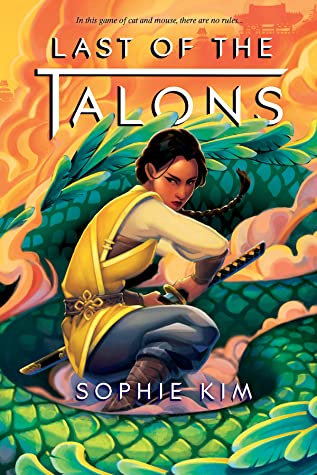 Last of the Talons by Sophie Kim
"Last of the Talons is a stunning blend of dark romance and Korean mythology. Sophie Kim writes enemies to lovers with heart-pounding intensity, blurring the line between love and hate. Bloodthirsty, addictive, and searingly romantic." —Axie Oh, New York Times bestselling author of The Girl Who Fell Beneath the Sea
After the destruction of her entire Talon gang, eighteen-year-old Shin Lina—the Reaper of Sunpo—is forced to become a living, breathing weapon for the kingdom's most-feared crime lord. All that keeps her from turning on her ruthless master is the life of her beloved little sister hanging in the balance. But the order to steal a priceless tapestry from a Dokkaebi temple incites not only the wrath of a legendary immortal, but the beginning of an unwinnable game…
Suddenly Lina finds herself in the dreamlike realm of the Dokkaebi, her fate in the hands of its cruel and captivating emperor. But she can win her life—if she kills him first.
Now a terrible game of life and death has begun, and even Lina's swift, precise blade is no match for the magnetic Haneul Rui. Lina will have to use every weapon in her arsenal if she wants to outplay this cunning king and save her sister…all before the final grain of sand leaks out of the hourglass.
Because one way or another, she'll take Rui's heart.
Even if it means giving up her own.
Lina is the last member of the Talons. She's a reaper and is feeling guilt over the death of her friends. She now has to work for the people who killed them. They use her young sister to keep her in line. When Lina steals a tapestry, Rui (the pied piper) comes for her. It was his tapestry. He already took the leader. He makes a deal with Lina. If she can kill him in 14 days, she'll live. If not, he'll kill her. Lina meets members of a resistance group and they try to find a way for her to kill Rei. For some reason, he lets her go anywhere she wants. He knows what she's doing and doesn't really stop her (except for smoking). Lina and Rei spend time together and he seems to like her. They have great banter. But Lina needs to put her sister above everything else. She also doesn't like that Rei controls humans that he kidnaps. The second half of the book was much better for me. The beginning was harder to get into. The story goes back in time often as Lina starts to tell the story about the day her friends were killed.
I gave this book 4 stars.
Thank you to Entangled Teen and Netgalley for my earc.
Have you read this yet?  Is it on your TBR?