Goodreads Monday was hosted by Lauren's Page Turners.   It's now hosted by Budget Tales Book Blog.  All you have to do is show off a book from your TBR that you're looking forward to reading.
It's getting hard to remember which ones I've done already, so I'm sorry if you see a book pop up on these more than once.  It will happen.  Probably a lot.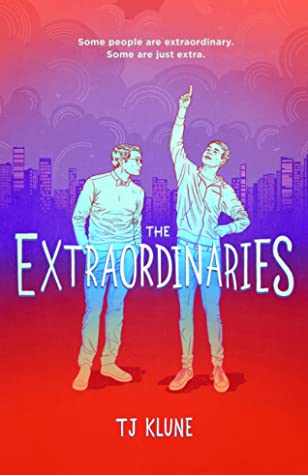 The Extraordinaries by TJ Klune
Some people are extraordinary. Some are just extra. TJ Klune's YA debut, The Extraordinaries, is a queer coming-of-age story about a fanboy with ADHD and the heroes he loves.
Nick Bell? Not extraordinary. But being the most popular fanfiction writer in the Extraordinaries fandom is a superpower, right?
After a chance encounter with Shadow Star, Nova City's mightiest hero (and Nick's biggest crush), Nick sets out to make himself extraordinary. And he'll do it with or without the reluctant help of Seth Gray, Nick's best friend (and maybe the love of his life).
Rainbow Rowell's Fangirl meets Marissa Meyer's Renegades in TJ Klune's YA debut.
Have you read this yet?  Is it on your TBR?