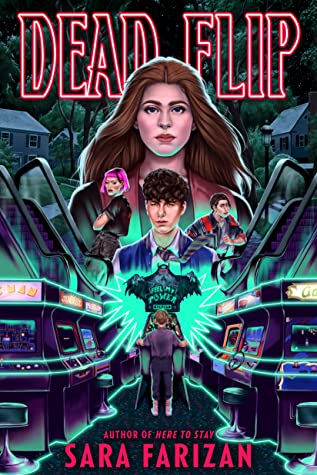 Dead Flip by Sara Farizan
Edge-of-your-seat YA horror perfect for fans of Stranger Things
 
Growing up, Cori, Maz, and Sam were inseparable best friends, sharing their love for Halloween, arcade games, and one another. Now it's 1992, Sam has been missing for five years, and Cori and Maz aren't speaking anymore. How could they be, when Cori is sure Sam is dead and Maz thinks he may have been kidnapped by a supernatural pinball machine?
 
These days, all Maz wants to do is party, buy CDs at Sam Goody, and run away from his past. Meanwhile, Cori is a homecoming queen, hiding her abiding love of horror movies and her queer self under the bubblegum veneer of a high school queen bee. But when Sam returns—still twelve years old while his best friends are now seventeen—Maz and Cori are thrown back together to solve the mystery of what really happened to Sam the night he went missing. Beneath the surface of that mystery lurk secrets the friends never told one another, then and now. And Sam's is the darkest of all . . .
 
Award-winning author of If You Could Be Mine and Here to Stay Sara Farizan delivers edge-of-your-seat terror as well as her trademark referential humor, witty narration, and insightful characters.
Dead Flip goes back and forth in time. Current time is 1993. But the chapters from middle school were in 1987. Sam, Maz, and Cori were best friends growing up. They did everything together. But things were changing now that they were getting older. Cori started going to parties and spending time with the popular girls. Maz wanted to grow up and change. But Sam liked the life they all had. When Maz and Cori wanted to go to a party and cut trick or treating short (they felt like they were too old), Sam freaked out and ran away. He felt like he was losing his friends. Sam ran back to the local store they hung out at. There was a weird pinball machine there that he liked to play, even though he knew there was something off about it. Sam disappeared that night. Maz and Cori felt terrible. They grew apart and had their own lives. Maz didn't want to give up on Sam, but everyone assumed he was dead.
Fast forward to 1993 and Sam is somehow back. He's still 12 years old and explains that the pinball machine took him. There were others trapped there too. Maz is thrilled to have Sam back, but Cori was skeptical. Cori was right to be worried. Her boyfriend was found frozen, almost in a coma but not. Sam wouldn't eat any food. He got jealous quickly and felt left behind again. Sam couldn't always seem to control his anger and things got really bad. Cori and Maz start doing some research into the pinball machine and the original owner. They wanted to find a way to keep Sam with them so he didn't have to go back.
I gave this book 3 1/2 stars rounded up to 4 on Goodreads.
Thank you to Algonquin Young Readers for my review copy.
Have you read Dead Flip?  Is it on your TBR?