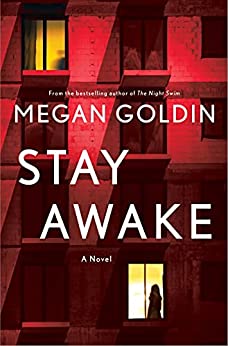 Stay Awake by Megan Goldin
Liv Reese wakes up in the back of a taxi with no idea where she is or how she got there. When she's dropped off at the door of her brownstone, a stranger answers―a stranger who now lives in her apartment and forces her out in the cold. She reaches for her phone to call for help, only to discover it's missing, and in its place is a bloodstained knife. That's when she sees that her hands are covered in black pen, scribbled messages like graffiti on her skin: STAY AWAKE.
Two years ago, Liv was living with her best friend, dating a new man, and thriving as a successful writer for a trendy magazine. Now, she's lost and disoriented in a New York City that looks nothing like what she remembers. Catching a glimpse of the local news, she's horrified to see reports of a crime scene where the victim's blood has been used to scrawl a message across a window, the same message that's inked on her hands. What did she do last night? And why does she remember nothing from the past two years? Liv finds herself on the run for a crime she doesn't remember committing as she tries to piece together the fragments of her life. But there's someone who does know exactly what she did, and they'll do anything to make her forget―permanently.
In the vein of SJ Watson's Before I Go to Sleep and Christopher Nolan's cult classic Memento, Megan Goldin's Stay Awake is an electrifying novel that plays with memory and murder.
I'm not sure that this review will be very long. It's definitely best if I don't write too much and ruin anything.
Stay Awake is about a girl named Liv. She lived with her best friend, Amy, and had a boyfriend named Marco. In the present timeline, Liv is back in New York, but she has no memories from the past two years. Every time she goes to sleep, she forgets everything from the day before. Liv writes messages on her hands to stay awake, not to go to sleep, not to trust, etc. She lives on caffeine. The insomnia likely makes it worse. Liv wakes up confused and has a bloody knife in a shirt. She has no idea what happened. She goes back to her apartment but there is a couple living there. She tries calling Marco and Amy, but they don't answer. She's confused and goes around the city following messages on her hands. She goes to a bar that was written down, but she doesn't remember it. The bartender knows her and says she was there a lot.
There is a man murdered at an apartment building. The security videos from the area show a woman leaving in the middle of the night. They can't see her face well, but she has super long hair. The police start looking into who she might be and it leads them to Liv. They look into her past and talk to doctors who knew her. While they search for Liv, she's running around trying to figure out if she could have killed someone. She also wonders if someone is after her.
The pacing was great and I'm surprised that the murderer wasn't who I thought. I liked the back and forth in time.
I gave this book 5 stars.
Thank you to the publisher and Netgalley for my earc.
Have you read Stay Awake?  Is it on your TBR?