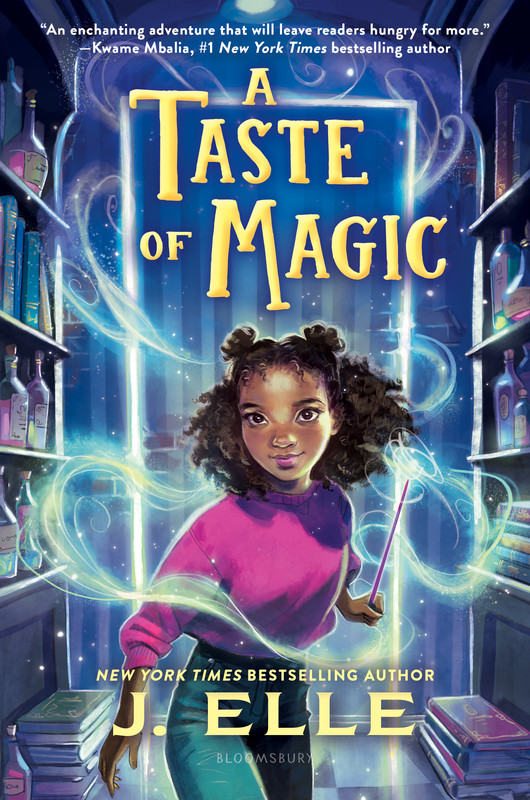 A Taste of Magic by J. Elle
NYT bestseller J. Elle makes her MG debut in the delightful story of a girl who bakes up a plan to save her inner-city magic school.
Twelve-year-old Kyana has just discovered she's a witch! This means classes every Saturday at Park Row Magic Academy, a learning center hidden in the back of the local beauty shop, and Kyana can't wait to learn spells to help out at home. The only downside is having to keep her magic a secret from her BFF, Nae. But when the magic school loses funding, the students must pay huge fees at the fancy school across town or lose their magic! Determined to help, Kyana enters a baking contest with a big cash prize. Will she be able to keep up her grades while preparing for the competition and without revealing her magic? What about when a taste of magic works its way into her cupcakes?
Exciting up-and-coming author J. Elle combines the perfect balance of real-world issues and magical mishaps to create real magic. 
Expected publication: August 30th 2022 by Bloomsbury
I loved A Taste of Magic and I'm happy to see that it's a book one. I do hope we get some sequels.
It was very easy to get attached to the characters in this. The sense of family was so strong.
Kyana lives with her mom and grandma. Her mom works multiple jobs so they can just get by. Her grandma is losing her memory and it's hard for her to be home alone for long. But they make it work. Her grandma loves to bake and has been teaching Kyana since she was pretty young. Her grandma always tells her little tips about how you just know when things are done. How it's a feeling.
On Kyana's birthday, something strange happens. She gets sparks in her fingers. Her mom lets her know that she's a witch. It doesn't pass to all family members, but she got it. There is mandatory magic training every Saturday for the Park Row kids. Ms. Moesha, the beautician, teaches it. Kyana gets a wand and starts to learn simple spells. She'll end up with a specialty. She wants charms because she thinks it can help her mom with cleaning and things so she's not so tired. But only two kids can be picked for it. Kyana becomes friends with another witch, Ashley. They start spending time together. Because of everything going on, Kyana has blown off her best friend Nae. Everything starts to go wrong with the friendship and Kyana hates that she can't just be honest with her.
When the school is told that there is no more funding, the kids have a choice. They can no longer learn and use magic or they can go to another school that costs $3000+ per student. Kyana doesn't have that kind of money. Most of the Park Row kids can't afford it. When she sees there is a baking competition with a prize of $50,000, Kyana decides to enter. She knows that money could help save her school. So she's taking on even more and it's affecting her friendship with Nae to the point that they stop talking. Kyana has such a big heart and she doesn't see herself as strong. When something goes wrong, she is really hard on herself, but she also knows she has to be the one to fix it.
I loved the family, friendships, and magic in this book. I honestly cared about each character so much. The author's note is a must read.
I gave this book 5 stars.
Thank you to the publisher and Edelweiss for my earc.
Have you read this yet?  Is it on your TBR?