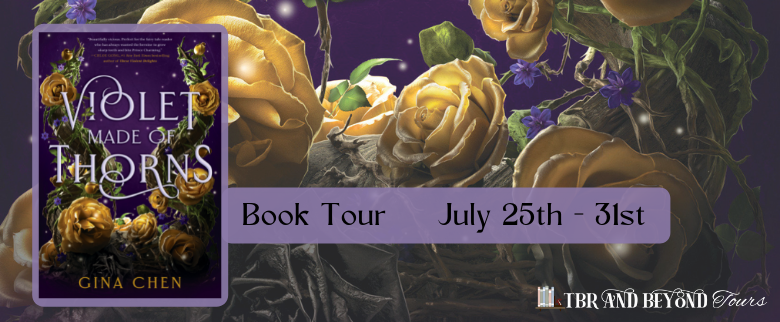 Welcome to my stop on the blog tour for Violet Made of Thorns by Gina Chen.  This tour is being hosted by TBR and Beyond Tours.
Violet Made of Thorns (Violet Made of Thorns Duology #1) by Gina Chen
Genre: Young Adult Fantasy Romance
Publishing Date: July 26, 2022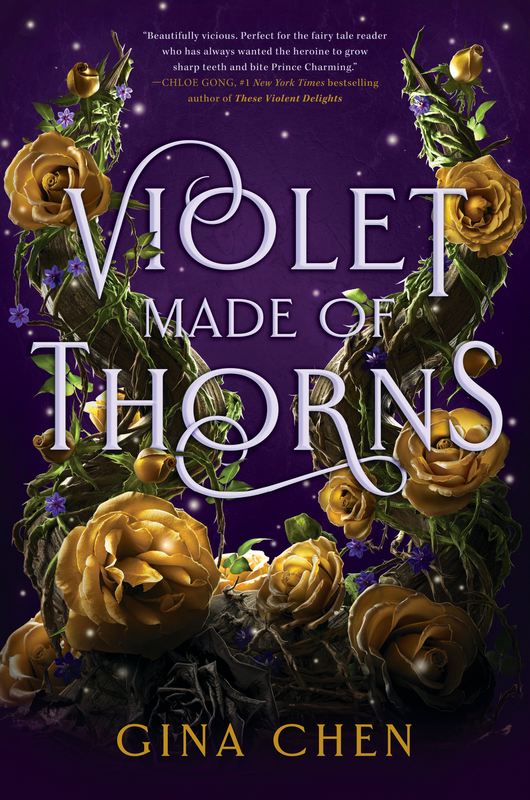 A darkly enchanting fantasy debut about a morally gray witch, a cursed prince, and a prophecy that ignites their fate-twisted destinies—perfect for fans of The Cruel Prince and Serpent & Dove.
Violet is a prophet and a liar, influencing the royal court with her cleverly phrased—and not always true—divinations. Honesty is for suckers, like the oh-so-not charming Prince Cyrus, who plans to strip Violet of her official role once he's crowned at the end of the summer—unless Violet does something about it.
But when the king asks her to falsely prophesy Cyrus's love story for an upcoming ball, Violet awakens a dreaded curse, one that will end in either damnation or salvation for the kingdom—all depending on the prince's choice of future bride. Violet faces her own choice: Seize an opportunity to gain control of her own destiny, no matter the cost, or give in to the ill-fated attraction that's growing between her and Cyrus.
Violet's wits may protect her in the cutthroat court, but they can't change her fate. And as the boundary between hatred and love grows ever thinner with the prince, Violet must untangle a wicked web of deceit in order to save herself and the kingdom—or doom them all.
Book Links:
Goodreads: https://www.goodreads.com/book/show/55923578-violet-made-of-thorns 
Amazon: https://www.amazon.com/Violet-Made-Thorns-Gina-Chen/dp/059342753X/ 
Barnes & Noble: https://www.barnesandnoble.com/w/violet-made-of-thorns-gina-chen/1140425582 
Book Depository: https://www.bookdepository.com/Violet-Made-Thorns-Gina-Chen/9780593427538 
Indigo: https://www.chapters.indigo.ca/en-ca/books/violet-made-of-thorns/9780593427538-item.html 
IndieBound: https://www.indiebound.org/book/9780593427538 
I really loved this one.
Violet was hard to like, but I liked her anyway. She's a seer that saved the prince when he was younger. Violet and the prince, Cyrus, have a love/hate relationship. Mostly a lot of hate. At least that's what Violet thinks. There has been a prophecy that basically shows that only one of them will survive. Violet was asked by the king to lie to Cyrus and everyone else. She was to tell him of his fated love. He would meet her at a certain time at the ball he is hosting. Violet knows that he needs to marry right away. It's the only way to hopefully change the prophecy a bit. But Cyrus starts to show Violet his feelings. At first, it's physical. But as much as Violet wants to deny it, she does care about him. But she doesn't think it will be enough. She wants to live. When a Fate starts showing up in her dreams, Violet starts to get influenced more. This "fate" is hurting the people around Violet, but she never really felt like she belonged. Violet was an orphan. She will never fully be one of them. And Cyrus starts to push her away and tell her that she needs to leave. He can't be around her if he's to marry someone else. Violet has to figure out a way to save the kingdom, but mostly to save herself. But she doesn't know if she could put Cyrus's life above her own.
I love a good hate to love story. While this one doesn't have a ton of love, there was definitely a lot of attraction and confusion. I like to think that Violet can be a good person that makes the right choices. I am rooting for her and Cyrus to be together. I also liked the other characters in the book. I'm curious to see what happens next.
I gave this book 5 stars.
Thank you to the publisher and Netgalley for my earc.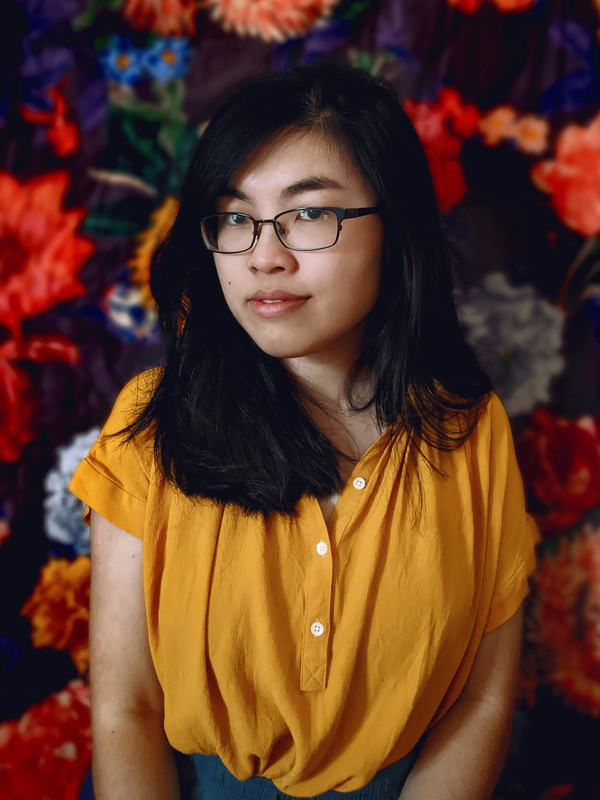 Gina Chen tells stories about fantastic worlds featuring heroines, antiheroines, and the kind of cleverness that brings trouble in its wake. A self-taught artist with a degree in computer science, she generates creative nonsense in all forms of media and always has a project stewing. Violet Made of Thorns is her debut fantasy novel. For more info, visit actualgina.com and follow @actualgina on Twitter and Instagram.
Author Links:
Website: https://actualgina.com/ 
Twitter: https://twitter.com/actualgina 
Instagram: https://www.instagram.com/actualgina/ 
Goodreads: https://www.goodreads.com/author/show/19277030.Gina_Chen 
Tumblr: https://actualgina.tumblr.com/ 
Follow The Tour:
July 25th
The Caffeinated Rareder – Review
A Realm of Books – Review
One More Chapter – Review
Rae's Reading Lounge – Review & Favorite Quotes
July 26th
The Book Dutchesses – Promotional Post
Metaphors and Miscellanea – Review & Favorite Quotes
B for Bookslut – Review
PopTheButterfly Reads – Review
A Court of Coffee and Books – Review & Favorite Quotes
July 27th
Abigail's Lost in a Book – Review
Stuck in the Stacks – Review
Pages & Plots – Review
Clouded Galaxy Reads – Review & Favorite Quotes
July 28th
The Clever Reader – Review
We Write at Dawn – Review & Favorite Quotes
Confessions of a YA Reader – Review
& She Reads – Review
Modest Hiccup – 15 Reactions While Reading Violet Made of Thorns
July 29th
Stuck in Fiction – Promotional Post
Brinns Books – Review
Kait Plus Books – Journal Spread
Books Over Everything – Review
July 30th
Binded by Letters – Review
dinipandareads – Review & Favorite Quotes
Koo's Reviews – Top 5 Reasons to Read Violet Made of Thorns
YA Sci-Fi & Fantasy Addicts – Review & Favorite Quotes
Sadie's Spotlight – Promotional Post
July 31st
Nine Bookish Lives – Promotional Post
Gwendalyn's Books – Review
thisbellereadstoo – Review & Mood Board
Betwixt The Sheets – Mood Board
Instagram:
July 25th
writingrosereads – Promotional Post
elle_mentbooks – Review
thecaffeinatedrareder – Blogger's Choice
jl_books – Blogger's Choice
_leahreads – Blogger's Choice
July 26th
thebookwebb – Promotional Post
biblio.jojo – Top 5 Reasons to Read Violet Made of Thorns
metaphorsandmisc – Blogger's Choice
popthebutterfly – Blogger's Choice
acourtofcoffeeandbooksblog – Blogger's Choice
July 27th
booking.with.janelle – Top 5 Reasons to Read Violet Made of Thorns
lisashelves – Review & Favorite Quotes
abigailslostinabook – Blogger's Choice
stuck.in.the.stacks – Blogger's Choice
cloudedgalaxyreads – Blogger's Choice
July 28th
belle.bookcorner – Review & Favorite Quotes
dhirviepages – Review & Favorite Quotes
wraithreads – Promotional Post, Tik Tok
we.write.at.dawn – Blogger's Choice
and_shereads – Blogger's Choice
modesthiccup – Blogger's Choice
July 29th
the_ya_assassin – Top 5 Reasons to Read Violet Made of Thorns
bookish.by.trade – Journal Spread
read.cells – Top 5 Reasons to Read Violet Made of Thorns & Playlist
brinnsbooks – Blogger's Choice
books_over_everything – Blogger's Choice
July 30th
thisreadergirl – Review
thegalaxydreamer – Blogger's Choice
itskooreviews – Blogger's Choice
evelina.everest – Blogger's Choice
sadiesspotlight – Blogger's Choice
July 31st
tbrandbeyond – Promotional Post
lady_westfall19 – Review
ninebookishlives – Blogger's Choice
gwendalyn_books – Blogger's Choice
theink.slinger – Blogger's Choice