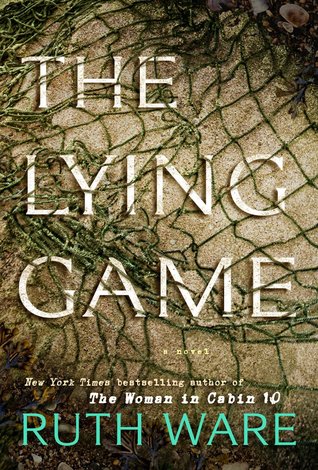 The Lying Game by Ruth Ware
From the instant New York Times bestselling author of blockbuster thrillers In a Dark, Dark Wood and The Woman in Cabin 10 comes Ruth Ware's chilling new novel.
On a cool June morning, a woman is walking her dog in the idyllic coastal village of Salten along a tidal estuary known as the Reach. Before she can stop him, the dog charges into the water to retrieve what first appears to be a wayward stick, but to her horror, turns out to be something much more sinister…
The next morning, three women in and around London—Fatima, Thea, and Isabel—receive the text they had always hoped would NEVER come, from the fourth in their formerly inseparable clique, Kate, that says only, "I need you."
The four girls were best friends at Salten, a second rate boarding school set near the cliffs of the English Channel. Each different in their own way, the four became inseparable and were notorious for playing the Lying Game, telling lies at every turn to both fellow boarders and faculty, with varying states of serious and flippant nature that were disturbing enough to ensure that everyone steered clear of them. The myriad and complicated rules of the game are strict: no lying to each other—ever. Bail on the lie when it becomes clear it is about to be found out. But their little game had consequences, and the girls were all expelled in their final year of school under mysterious circumstances surrounding the death of the school's eccentric art teacher, Ambrose (who also happens to be Kate's father).
Kate, Isa, Fatima, and Thea went to school together. Kate lived in the area with her father and her sort of step brother. Her father was an artist and taught at the school. The girls quickly became friends. They had this game they played called the lying game. They got points for different lies they told and if the people believed them or not. But they were not allowed to lie to each other. The four girls spent most of their weekends at Kate's. Kate's father Ambrose became a father for them. At least for Isa. Her father was absent, dealing with her mother's illness. Isa also had a crush on Luc, the brother.
They do something to help Kate when things went bad. They all promised to keep it a secret. The girls barely talked anymore, but they all got a text from Kate that she needed them. All three rushed over to the mill (along with Isa's baby). Someone found a bone and Kate was worried that the secrets of their past would all come out. The girls are all worried. Isa's relationship is suffering from it. She has been lying to her partner all these years and she was afraid that she was going to lose everything. All because of a choice they made to help a friend when they were fifteen years old.
I enjoyed this quite a bit. It did feel a bit slow at times, so it took me longer to read. I liked the story and the twists.
I gave this book 4 stars.
Have you read The Lying Game?  Is it on your TBR?