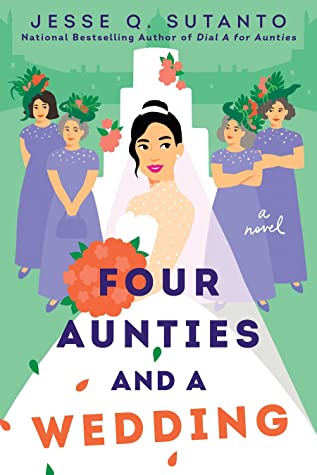 Four Aunties and a Wedding by Jesse Q. Sutanto
Meddy Chan has been to countless weddings, but she never imagined how her own would turn out. Now the day has arrived, and she can't wait to marry her college sweetheart, Nathan. Instead of having Ma and the aunts cater to her wedding, Meddy wants them to enjoy the day as guests. As a compromise, they find the perfect wedding vendors: a Chinese-Indonesian family-run company just like theirs. Meddy is hesitant at first, but she hits it off right away with the wedding photographer, Staphanie, who reminds Meddy of herself, down to the unfortunately misspelled name.
Meddy realizes that is where their similarities end, however, when she overhears Staphanie talking about taking out a target. Horrified, Meddy can't believe Staphanie and her family aren't just like her own, they are The Family–actual mafia, and they're using Meddy's wedding as a chance to conduct shady business. Her aunties and mother won't let Meddy's wedding ceremony become a murder scene–over their dead bodies–and will do whatever it takes to save her special day, even if it means taking on the mafia.
The aunties are back, fiercer than ever and ready to handle any catastrophe–even the mafia–in this delightful and hilarious sequel by Jesse Q. Sutanto, author of Dial A for Aunties.
I laughed so much while reading this.
I loved Dial A for Aunties, so I had a feeling I would love the sequel too. And I definitely did.
Meddy and Nathan are getting married at Oxford. Meddy thought the worst thing would be her Ma and aunt's outfits, but things just couldn't go right for her big day. After finding a wedding group that would travel, things seemed to be all set. Meddy found the perfect dress. But things go down from there. Her family surprises Meddy by learning British slang. They really don't understand what they're saying and they even try to use accents. And it's really bad. Meeting Nathan's parents didn't go well. Meddy met them before and knew they were fairly conservative. The aunts and Ma do not make a good impression on them.
Meddy started to think of the photographer, Staphanie, as a friend. Her two best friends fly in and they all go out drinking. Staphanie was walking away on the phone when Meddy remembered she had something for her. What she overheard was Staphanie talking to someone about the wedding and taking someone out. Meddy must have heard wrong, but Staphanie said that her family was mafia and they had a target. Meddy couldn't tell Nathan or the police because they knew about the previous death. Meddy does tell her family and they all start figuring out what to do. They find out who they think the target is and try to protect her. But as typical of Meddy's family, things just get worse and worse. All she wanted was a good wedding and it was terrible.
The aunts and Ma make me laugh so much. I would really love another book with them.
I gave this book 4 1/2 stars rounded up to 5 on Goodreads.
Have you read this yet?  Is it on your TBR?