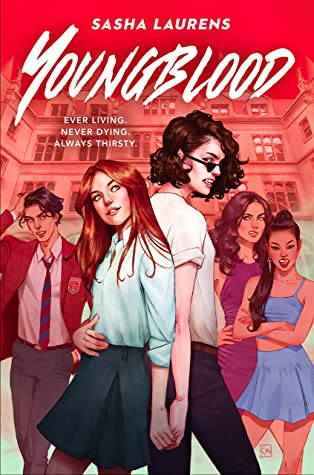 Youngblood by Sasha Laurens
For fans of Vampire Diaries and dark academia, two queer teen bloodsuckers at an elite vampire-only boarding school must go up against all of Vampirdom when they uncover a frightening conspiracy on campus.
Kat Finn and her mother can barely make ends meet living among humans. Like all vampires, they must drink Hema, an expensive synthetic blood substitute, to survive, as nearly all of humanity has been infected by a virus that's fatal to vampires. Kat isn't looking forward to an immortal life of barely scraping by, but when she learns she's been accepted to the Harcote School, a prestigious prep school that's secretly vampires-only, she knows her fortune is about to change.
Taylor Sanger has grown up in the wealthy vampire world, but she's tired of its backward, conservative values—especially when it comes to sexuality, since she's an out-and-proud lesbian. She only has to suffer through a two more years of Harcote before she's free. But when she discovers her new roommate is Kat Finn, she's horrified. Because she and Kat used to be best friends, a long time ago, and it didn't end well.
When Taylor stumbles upon the dead body of a vampire, and Kat makes a shocking discovery in the school's archives, the two realize that there are deep secrets at Harcote—secrets that link them to the most powerful figures in Vampirdom and to the synthetic blood they all rely on.
I liked Youngblood quite a bit more than A Wicked Magic which I read last year.
Kat is a young vampire that has been living with humans her whole life. She and her mom move around often. Kat has great best friends, but she wants to be around other vampires. She applies in secret to the Harcorte School. Her mom told her no and she knows they can't afford it, but Kat applies anyway. She and her mom can barely afford their Hema, a blood substitute so that they don't feed on humans that may be infected with CFaD. This disease will kill any vampire that drinks that blood, so Hema was created to keep them safe. But it's very expensive. Kat is surprised when she's accepted into the school on a full ride. The benefactor will even pay for her clothes. She and her mom fight, but Kat goes anyway.
Taylor is the only person who is openly gay at Harcorte. It's been hard on her and she really doesn't have friends. Taylor spends her free time with another teacher that is gay. He's become her best friend. There are two popular girls, Evangeline and Lucy, that rule the school. The most popular boy, Galen, is loved by almost everyone. Evangeline is mean to Taylor in person, but spends private time with her. Taylor just accepts this for some reason. When Kat shows up at school, she ends up rooming with Taylor. They were friends when they were kids, but their parents both told them stories about why Kat and her mom left. So they aren't friends anymore. Kat starts hanging out with the popular kids. She starts becoming someone she's not.
When a teacher is found dead, Taylor and Kat start looking into the death. The teacher was a revolutionist. He believed that humans and vampires could live together. But the high up people, including the creator or Hema, believe that vampires are superior and they want to be separate. As Kat and Taylor spend more time together, they quickly fall back into their old friendship. But Taylor has kept a secret for a long time. She's been in love with Kat since they were kids.
I gave this book 4 stars.
Thank you to the publisher for Netgalley for both my earc and my finished copy for review.
I did see a couple reviews about problematic things in this book.  I honestly don't remember them, so I apologize for that.  I need to pay attention more when I'm reading.  It does need some content warnings like blood, racism, homophobia, classism, and more.
Have you read this?