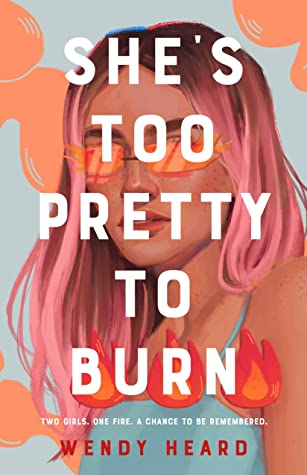 She's Too Pretty To Burn by Wendy Heard
An electric romance set against a rebel art scene sparks lethal danger for two girls in this expertly plotted YA thriller. For fans of E. Lockhart, Lauren Oliver and Kara Thomas.
The summer is winding down in San Diego. Veronica is bored, caustically charismatic, and uninspired in her photography. Nico is insatiable, subversive, and obsessed with chaotic performance art. They're artists first, best friends second. But that was before Mick. Delicate, lonely, magnetic Mick: the perfect subject, and Veronica's dream girl. The days are long and hot―full of adventure―and soon they are falling in love. Falling so hard, they never imagine what comes next. One fire. Two murders. Three drowning bodies. One suspect . . . one stalker. This is a summer they won't survive.
Inspired by The Picture of Dorian Gray, this sexy psychological thriller explores the intersections of love, art, danger, and power.
I'll be honest and say that I bought She's Too Pretty To Burn because it was a mystery/thriller that took place in San Diego. I didn't really know anything else. While there is some murder and twists, most of the book is about kids being reckless. They're immature brains don't realize the consequences of their actions until it's too late. Some end up caring while others don't.
Mick is a swimmer that lives with her mom. Mick's mom is a model and Mick hates having her pictures taken. When Mick's mom wants her to model with her, Mick refuses and her mom kicks her out. Again. Mick grew up poor, but not on her own.
Veronica also lives with her mother, but the situation is the opposite of Mick's. Veronica's mom is great and supports her daughter's photography so much that she gave her the master so she can have a darkroom. Veronica lives in a nice house and has the type of money that Mick doesn't have.
Mick and Veronica meet at a party. Veronica is immediately attracted to her. They start talking and Mick leaves with her. They go hang out in the Gaslamp District. Veronica begs Mick to let her take a picture and she finally agrees. But it can't be around all these people. They get on an empty train and Veronica takes the picture. Once she develops it, she sees that it might be the best picture she's ever taken. She adds it to her instagram and the picture gets a lot of attention. Attention that Mick isn't comfortable with.
Nico is Veronica's best friend. He does installation art and Veronica takes Mick to the first show. But Nico has a bunch of them planned and they're not safe. Veronica isn't ok with what he's doing. But Mick is drawn into it and participates in things that she shouldn't.
People end up dead and there is a fairly large twist late in the book.
I gave this book 4 stars.
Have you read this yet?  Is it on your TBR?