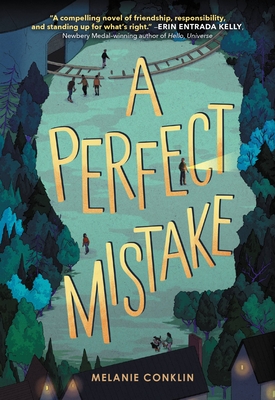 A Perfect Mistake by Melanie Conklin
A moving, voice-driven novel about friendship, responsibility, and fighting against unfair expectations, for fans of Rebecca Stead and Erin Entrada Kelly.
 
Max wishes he could go back in time to before he was diagnosed with ADHD, before he grew to be the tallest kid in his class, and before he and his best friends went into the woods in the middle of the night. Max doesn't remember what happened after he left his friends Will and Joey and the older kids who took them there. He's not sure if he wants to remember. Knowing isn't going to make Joey talk to him again, or bring Will out of his coma.
 
When the local authorities run out of leads, Max realizes that without his help, they may never know what really happened to Will. Charged by the idea that he may be the key to uncovering the truth, Max pairs up with classmate and aspiring journalist Sam to investigate what really happened that night. But not everyone in the community wants that night to be remembered.
This was really good.
The book starts with Max at the start of the school year. He's in 6th grade and almost 6 feet tall. He also got diagnosed with ADHD. His teacher asks him to write a letter to himself. She has the kids open them at the end of the year. Max's main focus is on his friend Will. Will is in an induced coma and they're not sure if he'll wake up. Max, Will, and Joey are best friends. They are at Joey's for his birthday when Joey talks them into going with two older boys (one is Joeys' brother) to this place they call the roundhouse. Will gets spooked by Jared and takes off to go back home. Will and Joey stay behind. Will was found by the side of the road and the neighbor takes him to the hospital. The boys all say that Will followed Max and they don't know what happened. But Max thinks he should have heard Will behind him. None of it makes sense. Max decides that he needs to find out the truth. Joey doesn't talk to him anymore. He feels alone until he becomes friends with Sam. Her family owns the bakery that Max's uncle is working at and she wants to be a journalist. They end up working together looking for clues are to what really happened that night.
I really liked the family part to this book. They were great, but they all made mistakes. I appreciated the ADHD aspect to the book, too. My husband got diagnosed about two years ago and we wonder if I have it. We both had a lot of the same issues with paying attention and losing thoughts. It was nice to read a book for younger kids that talked about it and not in a negative way.
I gave this book 4 stars.
Thank you to Little Brown for my review copy.
Have you read this?  Is it on your TBR?