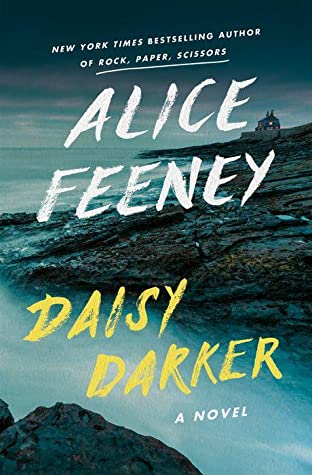 Daisy Darker by Alice Feeney
The New York Times bestselling Queen of Twists returns…with a family reunion that leads to murder.
After years of avoiding each other, Daisy Darker's entire family is assembling for Nana's 80th birthday party in Nana's crumbling gothic house on a tiny tidal island. Finally back together one last time, when the tide comes in, they will be cut off from the rest of the world for eight hours.
The family arrives, each of them harboring secrets. Then at the stroke of midnight, as a storm rages, Nana is found dead. And an hour later, the next family member follows…
Trapped on an island where someone is killing them one by one, the Darkers must reckon with their present mystery as well as their past secrets, before the tide comes in and all is revealed.
With a wicked wink to Agatha Christie's And Then There Were None, Daisy Darker's unforgettable twists will leave readers reeling.
I did not see all those twists coming.
I thought I knew where this book was going, but I was only right on one thing and it wasn't even the big surprises. This was my first time reading an Alice Feeney book and I already added more to my TBR. I'll try to best to write a few things, but I do not want to give anything away.
Daisy and her family go to Nana's home for Halloween. It's Nana's 80th birthday and she was told years earlier that she would die at 80. The house is on a small island. You can't go anywhere when the tide is high, so people are stuck for a good 8 hours (maybe it was more) with no where to go. Her mom, Nancy, was never close to Daisy. She loved daughter Lily the most. Lily has a 15 year old daughter named Trixie. Her father was always touring for his orchestra. His favorite daughter is Rose. The parents divorced 20 or so years earlier. Daisy knew she was Nana's favorite though. There is one more person invited to the party. Their neighbor Conor has been part of the family since he was a kid. He often stayed at Nana's and all three girls were in love with him.
Daisy has a heart condition which caused her to die multiple times. She had surgeries, but she knew her life would be short. Nana was going to read the will that night and Daisy was hoping she would get the house. It was the only place that felt like home. Everyone else in the family was either struggling with money or they were just super greedy. It's why they all decided to show up together.
Nana is found dead at midnight and there was a strange poem written on the wall. It was about the family and why each person was horrible. It sounded like they would all die that night. Each person was keeping secrets and things slowly start to come out that night.
I loved this one. My only small issue was the pacing. I expected a bit faster for a thriller, but I understood that the whole story needed to be told.
I gave this book 4 1/2 stars rounded up to 5 on Goodreads.
Thank you to the publisher and Edelweiss for my review copy.
Have you read this one?  Is it on your TBR?