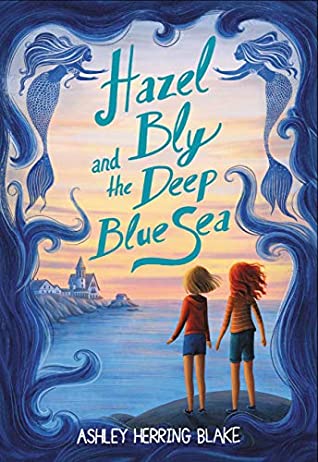 Hazel Bly and the Deep Blue Sea by Ashley Herring Blake
A novel about a girl navigating grief, trauma, and friendship.
Hazel Bly used to live in the perfect house with the perfect family in sunny California. But when a kayaking trip goes horribly wrong, Mum is suddenly gone forever and Hazel is left with crippling anxiety and a jagged scar on her face. After Mum's death, Hazel, her other mother, Mama, and her little sister, Peach, needed a fresh start. So for the last two years, the Bly girls have lived all over the country, never settling anywhere for more than a few months.
When the family arrives in Rose Harbor, Maine, there's a wildness to the small town that feels like magic. But when Mama runs into an old childhood friend—Claire—suddenly Hazel's tight-knit world is infiltrated. To make it worse, she has a daughter Hazel's age, Lemon, who can't stop rambling on and on about the Rose Maid, a local 150-year-old mermaid myth.
Soon, Hazel finds herself just as obsessed with the Rose Maid as Lemon is—because what if magic were real? What if grief really could change you so much, you weren't even yourself anymore? And what if instead you emerged from the darkness stronger than before?
I'm honestly shocked that I didn't cry the whole time reading this book. It's definitely an emotional one.
Hazel's mum died two years earlier. Hazel was with her and blames herself. Since then, her mama and sister Peach have been moving around a lot. Mama always promises they'll go back home to California, but it's never the right time. Hazel looks just like her mum and mama has been different with her since. She's not sure if it's because of how she looks or if she blames her for the accident. That accident left Hazel with scars on her face and she doesn't like to be around other people. Especially kids.
When they move to a small coastal town in Maine, mama's old best friend is there. They hadn't seen each other since they were very young and they had more than friend feelings at that time. Claire has a daughter named Lemon. Lemon is outgoing and is always talking. She keeps trying to get Hazel to join her with things. There is a local legend about a mermaid that Lemon and her friends are obsessed with. Hazel can't go into the water anymore and is terrified something will happen to mama or Peach. She doesn't want to make friends. To her, being close to someone ends up with hurt and anxiety. Lemon and Hazel start spending time together. They also hang out with Lemon's best friends, Kiko and Jules. Hazel even starts to feel something more for Jules, but she doesn't tell them. Or anyone. Throughout the summer, Hazel has panic attacks and starts to push everyone away. She gets upset with mama and is mean to her new friends. But she's dealing with ptsd and doesn't really know what to do.
The friendships were everything in this. I also felt for Hazel all the time. Grief and loss is hard enough to deal with, but to see it happen must be so much worse. I enjoyed the setting and the mermaid myth. Who doesn't want to believe that mermaids are real?
I gave this book 5 stars.
Have you read this one?  Is it on your TBR?