Goodreads Monday was hosted by Lauren's Page Turners.   It's now hosted by Budget Tales Book Blog.  All you have to do is show off a book from your TBR that you're looking forward to reading.
It's getting hard to remember which ones I've done already, so I'm sorry if you see a book pop up on these more than once.  It will happen.  Probably a lot.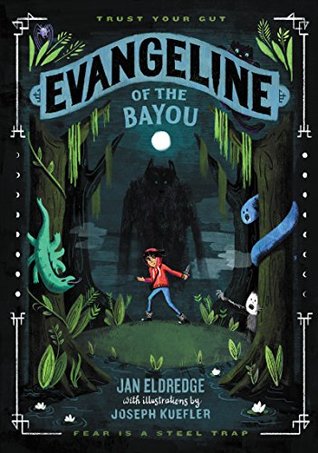 Evangeline of the Bayou by Jan Eldredge
A standout middle grade adventure with a sassy, memorable heroine and a charming Southern feel, perfect for fans of Kate DiCamillo and Natalie Lloyd.
Twelve-year-old haunt huntress apprentice Evangeline Clement spends her days and nights studying the ways of folk magic, honing her monster-hunting skills while pursuing local bayou banshees and Johnny revenants.
With her animal familiar sure to make itself known any day now, the only thing left to do is prove to the council she has heart. Then she will finally be declared a true haunt huntress, worthy of following in the footsteps of her long line of female ancestors.
But when Evangeline and her grandmother are called to New Orleans to resolve an unusual case, she uncovers a secret that will shake her to the soles of her silver-tipped alligator-skin boots.
Set in the evocative Louisiana bayou and the vibrant streets of New Orleans, Evangeline's is a tale of loyalty and determination, the powerful bonds of friendship and family, and the courage to trust your gut no matter how terrifying that might be.
Have you read this one?  Is it on your TBR?