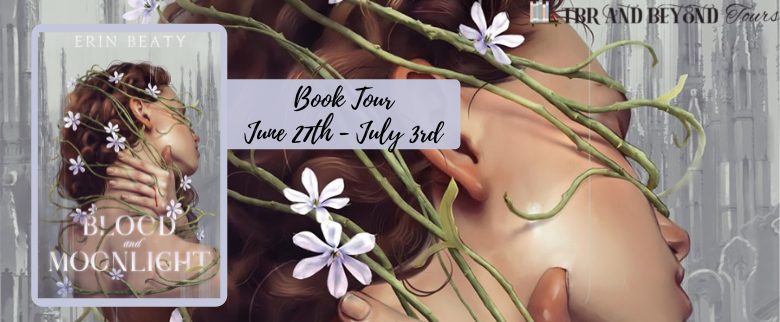 Welcome to my stop on the blog tour for Blood and Moonlight by Erin Beaty.  This tour is being hosted by TBR and Beyond Tours.
Blood and Moonlight by Erin Beaty
Genre: Young Adult Fantasy Thriller
Publishing Date: June 28, 2022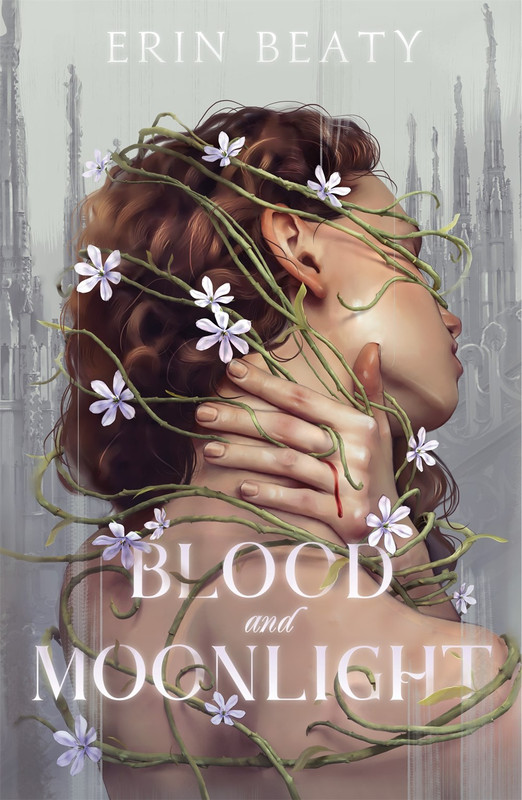 In this medieval YA fantasy thriller, an orphan with a secret, magical sight gets caught between a mysterious genius and the serial killer he's hunting.
Rising above the city of Collis is the holy Sanctum. And watching over its spires is Catrin, an orphan girl with unique skills—for she alone can spot the building's flaws in construction before they turn deadly.
But when Catrin witnesses a murderer escaping the scene of his crime, she's pulled into the web of a dangerous man who will definitely strike again. Assigned to capture the culprit is the mysterious, brilliant, and enigmatic Simon, whose insights into the mind of a killer are frighteningly accurate.
As the grisly crimes continue, Catrin finds herself caught between murderer and detective while hiding her own secret—a supernatural sight granted by the moon, destined to make her an outcast, and the only thing that might save her and those she loves from becoming the next victims…
Content Warning: graphic death, violence, incest, talk of mental illness
Book Links:
Goodreads: https://www.goodreads.com/book/show/49067834-blood-and-moonlight 
Amazon: https://www.amazon.com/gp/product/B08BKM9J4Y/ 
Barnes & Noble: https://www.barnesandnoble.com/w/blood-and-moonlight-erin-beaty/1137180723?ean=9781250755810 
Book Depository: https://www.bookdepository.com/Blood-and-Moonlight/9781250755810 
Indigo: https://www.chapters.indigo.ca/en-ca/books/blood-and-moonlight/9781250755810-item.html 
IndieBound: https://www.indiebound.org/book/9781250755810 
I loved both the magic and the mystery in this one.
Cat works with the architect and another young man, Remi, on the Sanctum in Collis. Cat has been living with them and Remi's mom. She was given to The Sisters of the Light as a baby and she has no idea who her parents are. She left the sisters because her background was being kept from her. But she loves her new family and loves inspecting the construction. While inspecting some beams, something weird happens to her. She can hear a woman screaming. She starts to see and feel as if she's in this person's body. Cat runs to find her and it's a local prostitute named Perrete. Perrete was just visiting Magister Thomas and she's afraid that he'll be the suspect. Especially when she sees that his hammer is missing. Perrete was murdered and her body was mutilated. When a young man, Simon, gets named Venatre, Cat starts to help him. She finds more bodies and while she wants to protect Magister Thomas, she also wants to find the killer. Cat also needs to figure out why she has this magick. She finds out that she's part Selenae. They are a group of people that get power from the moon. Cat goes there to try to figure out who she is and how to use her magick. Simon and Cat grow closer and their relationship starts to grow. She also has Remi and Lambert that seem to like her in the same way. Oudin is Remi's best friend and Lambert's brother. He was the first suspect and the whole reason why the murdered prostitutes are even being looked at. Simon is their distant cousin that lives with them. They also have a sister, Juliane, that suffers from mental illness. But she remembers everything and helps with the investigation. When other people closer to Cat are targeted, they have to look into who might want to hurt her. Cat learns to use her magick and it helps with finding the victims and eventually the killer. She can use blood of the recently deceased to hear their final thoughts.
Did I figure out who the killer was? Yes. But I went back and forth between two people and wasn't quite sure which one it was. The book is a little slower paced that I like, but the mystery kept me wanting to pick it up. I wish we would have gotten a bit more about Cat's magick and why it was different than most of the Selenae.
I gave this book 4 1/2 stars rounded up to 5 on Goodreads.
Thank you to the publisher and Edelweiss for my review copy.
Warnings: This book is pretty dark. The murders are gruesome and it's mentioned what the killer did to them when they were dead. There is serious mental illness and a mention of sexual abuse. I would definitely say that this is older YA.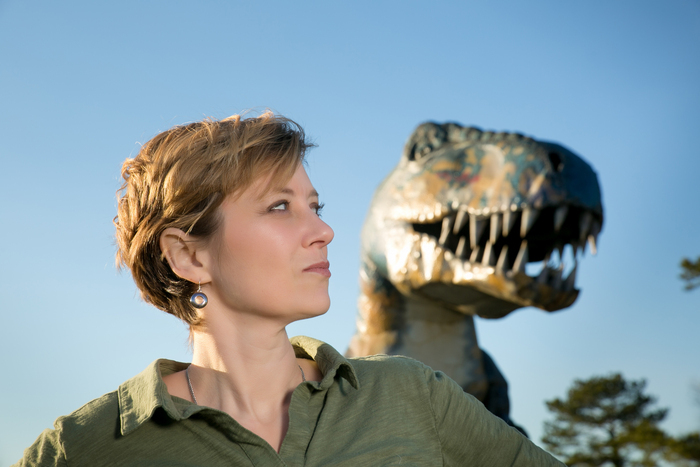 Erin Beaty was born and raised in Indianapolis, Indiana, which means she can't drive a tractor but won't eat veggies that come from a can.

She graduated from the U.S. Naval Academy in 2000 with a BS in Aerospace Engineering (Astronautics) and German, then served in the fleet as a weapons officer on a combat destroyer and later as an instructor the Center for Naval Leadership.

After a few years as a stay-at-home mother and navy wife with a casual family blog, Erin upped her game and started writing her first novel in the spring of 2014. She is now the author of the Traitor's Circle Trilogy published by Imprint, Macmillan and in several foreign languages.
She and her husband have five children, two cats, and a vegetable garden and live wherever the navy tells them to go.
Erin has taught classes at The Muse Writers Center in Norfolk and has also served on the advisory board of Hampton Roads Writers.
Author Links:
Website: https://www.erinbeaty.com/ 
Twitter: https://twitter.com/ErinBeatyWrites 
Instagram: https://www.instagram.com/erinbeatywrites/ 
Goodreads: https://www.goodreads.com/author/show/15038654.Erin_Beaty 
Facebook: https://www.facebook.com/ErinBeatyAuthor/ 
Follow The Tour:
June 27th
The Book Dutchesses – Promotional Post
The Bookish Coven – Review & Favorite Quotes
pluvioreads – Review & Mini Book Post
June 28th
Stuck in Fiction – Promotional Post
Sophie Reads YA – Review
Books Over Everything – Review
Lost Girl in Bookland – Review
June 29th
Midsummer Night's Read – Review
TheGeekishBrunette – Review
Justice For Readers – Promotional Post
Abigail's Lost in a Book – Review
June 30th
Confessions of a YA Reader – Review
Read With Serena – Promotional Post
The Ink Slinger – 15 Reactions While Reading Blood and Moonlight
Beauty & Her Books – Review
July 1st
The blind scribe – Top 5 Reasons to Read Blood and Moonlight & Book Look
The Clever Reader – Review
Stuck in the Stacks – Review
Sadie's Spotlight – Promotional Post
July 2nd
dinipandareads – Review & Favorite Quotes
Gwendalyn Book's – Review
Book Briefs – Review
& She Reads – Promotional Post
July 3rd
Nine Bookish Lives – Promotional Post
Reading Stewardess – Review
Kait Plus Books – Journal Spread
Instagram:
June 27th
jl_books – Promotional Post
biblio.jojo – Review
the_bookish_coven – Blogger's Choice
pluvioreads – Blogger's Choice
June 28th
thebookwebb – Promotional Post
feliciareads11 – Blogger's Choice
books_over_everything – Blogger's Choice
lost_girl_in_bookland – Blogger's Choice
June 29th
hooked.by.books – Review
wraithreads – Review
justiceforreaders – Blogger's Choice
abigailslostinabook – Blogger's Choice
June 30th
thisreadergirl – Top 5 Reasons to Read Blood and Moonlight & Favorite Quotes
sxnvi.b – Blogger's Choice
aamnaiswriting_ – Blogger's Choice
beautynherbooks – Blogger's Choice
July 1st
booksatlunch – Journal Spread & Top 5 Reasons to Read Blood and Moonlight
thecleverreader – Blogger's Choice
stuck.in.the.stacks – Blogger's Choice
sadiesspotlight – Blogger's Choice
July 2nd
tbrandbeyond – Promotional Post
gwendalyn_books_ – Blogger's Choice
bookbriefs – Blogger's Choice
and_shereads – Blogger's Choice
July 3rd
cozybooktraveller – Top 5 Reasons to Read Blood and Moonlight & Book Look
writingrosereads – Promotional Post
booking.with.janelle – 15 Reactions While Reading Blood and Moonlight
ninebookishlives – Blogger's Choice