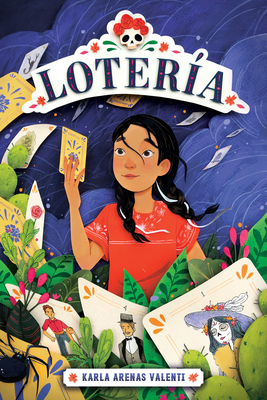 Loteria by Karla Arenas Valenti
Hailed as one of the best 2021 books for kids by Entertainment Weekly and People Magazine, LOTERIA is an exploration of free will vs fate packaged as an enthralling magical realist adventure.
It is the hottest hour of the hottest day in Oaxaca City when Life and Death walk into town, ready to begin a new game of Lotería. But first, they need a pawn, a child whose fate will be determined by the winner of the game: a long and prosperous life or an untimely death. Fate finds this child in a robin-egg blue house, tucked beneath a massive jacaranda tree. And so, the game begins.
Every card reveals a new twist in Clara's fate: a tree, a scorpion, a fateful arrow, a mermaid, a deer, a treacherous rose. But Clara knows none of this. All she knows is that her cousin Esteban has vanished, and she'll do whatever it takes to save him, travelling to the mythical Kingdom of Las Pozas in her search. And although it seems her fate was sealed as soon as the cards were dealt, Clara just might have what it takes to shatter the game and choose a new path.
This book was pretty sad, but I still enjoyed it.
We are going to Oaxaca City in September, so when I saw that this book took place there, I new I had to buy it. Clara was chosen for la Loteria. Life and Death play a game with cards. Each card has a clue and they see if their card has it. They need a row for the game to end. This game will decide if Clara lives or dies. Clara's family owns a restaurant and the food in the book made me so hungry. She had a family with boy cousins. The youngest was Esteban. He was only 8 and Clara felt extra close to him. When something happens to his mom, Clara promises to protect Esteban and make sure he's always safe and protected. When Esteban hears his mom singing, he leaves his house and finds the man in red. This man promises Esteban that he'll see his mom again if he follows him. They are going to another land to see the king. What Esteban doesn't know is that the man lies to get children to go with him willingly. Clara finds a way to follow and she ends up in the Kingdom of Las Pozas. In this kingdom, everything has a price. If you don't pay it, you don't get any help. Clara is desperate to save Esteban and risks her life over and over to find him. The game does end and Life and Death visit Clara. I won't ruin the ending for you though.
I gave this book 4 1/2 stars rounded up to 5 on Goodreads.
This book is a bit dark and there is quite a bit of death mentioned.
Have you read this yet?  Is it on your TBR?