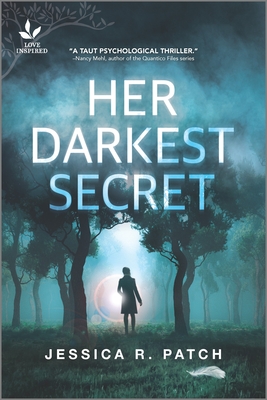 Her Darkest Secret by Jessica R. Patch
When a cold-case serial killer returns, FBI special agent Fiona Kelly has one last chance to stop him before he claims the prize he's always wanted—her.
The sight of a goose feather at a murder scene modeled after a children's poem is enough to make FBI special agent Fiona Kelly's blood turn to ice. Almost two decades ago, a feather was left with her sister's body—and with every subsequent victim of the Nursery Rhyme Killer. Now he's back. Only this time, his latest gruesome murder is a message to the only one who ever got away: Fiona.
Finding "Rhyme" is an obsession that's fueled Fiona's career—and destroyed her marriage to fellow FBI agent Asa Kodiak. Now Fiona and Asa have to put their past tensions aside and work together one last time. But Rhyme is watching, and catching this killer may force Fiona to reveal her biggest, darkest secret…the one only he knows.
"Her Darkest Secret by Jessica R. Patch grabbed me in the first scene of this edge-of-your-seat suspense and didn't let go until the end!"—Patricia Bradley, author of the Memphis Cold Case novels
Her Darkest Secret definitely kept me wanting to read more.
Fiona has been working in the Chicago Strange Crimes unit of the FBI. They take on the cases that involve things like religion or rituals. She left Memphis when she was getting divorced. Her ex husband, Asa, still works there. When Fiona was 17, she was taken by a serial killer. Her sister and her two friends were killed, but Fiona was spared. She's been keeping a secret about what really happened, but it's more out of shame. The killer poses his victims as nursery rhymes. Fiona believes he has two different personalities and she doesn't know if the one knows what the other is doing. One is obsessed with her. The other wants to kill her. Fiona just calls him Rhyme. She went into the FBI because of him and she wants to be the one to catch him. Rhyme knows how to get to her and is the main reason why her marriage fell apart. She would drop everything when Rhyme hit again, even her honeymoon.
Rhyme sometimes doesn't kill for years. But there is a new murder and Fiona goes back to Memphis. She has to work with Asa who has been going to church and dating someone new. He's different than he was when he and Fiona were married, but there is love still there. He's protective of her and she's reckless. Their team gets back together to start on the new case. They have to go back through all of them and interview people again. The killer is after Fiona though and he gets angry when she's near Asa. His plan is to get rid of Asa and Fiona be with him. He thinks they are in love and that it's only Asa holding her back.
I gave this book 4 stars. I didn't realize how much religion would be in it and that's really not my thing. But I liked the characters and the case itself. The pacing was great and it was hard to put down.
Thank you to the publisher for my review copy.
Have you read this yet?