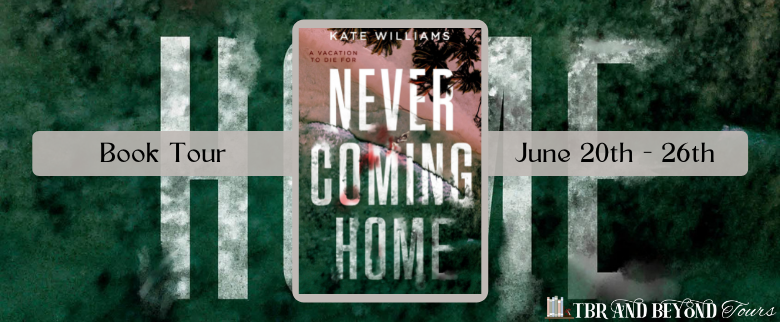 Welcome to my stop on the blog tour for Never Coming Home by Kate Williams.  This tour is being hosted by TBR and Beyond Tours.
Never Coming Home by Kate Williams
Genre: Young Adult Thriller
Publishing Date: June 21, 2022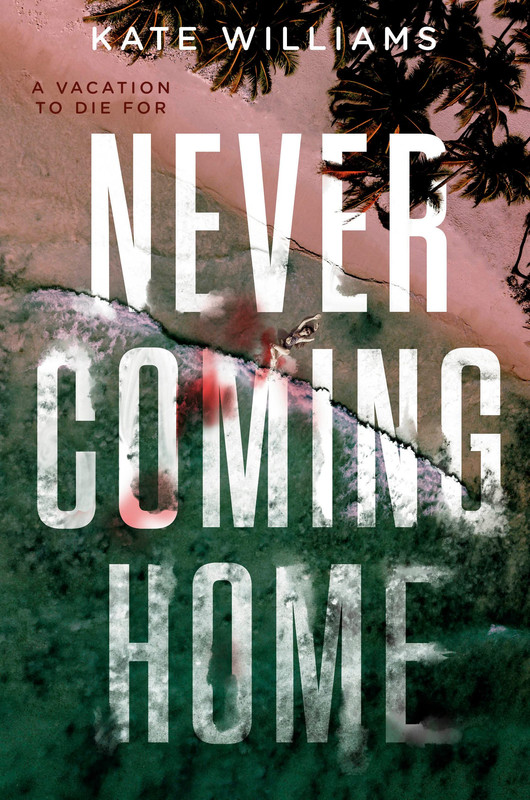 The beach read you have been dying for! When ten of America's hottest teenage influencers are invited to an exclusive island resort, things are sure to get wild. But murder isn't what anyone expected. Will anyone survive?
Everyone knows Unknown Island—it's the world's most exclusive destination. Think white sand beaches, turquoise seas, and luxury accommodations. Plus, it's invite only, no one over twenty-one allowed, and it's absolutely free. Who wouldn't want to go?
After launching with a showstopping viral marketing campaign, the whole world is watching as the mysterious resort opens its doors to the First Ten, the ten elite influencers specifically chosen to be the first to experience everything Unknown Island has to offer. You know them. There's the gamer, the beauty blogger, the rich girl, the superstar, the junior politician, the environmentalist, the DJ, the CEO, the chef, and the athlete.
What they don't know is that they weren't invited to Unknown Island for their following—they were invited for their secrets. Everyone is hiding a deadly one, and it looks like someone's decided it's payback time. Unknown Island isn't a vacation, it's a trap. And it's beginning to look like the First Ten—no matter how influential—are never coming home.
Book Links:
Goodreads: https://www.goodreads.com/book/show/52329752-never-coming-home 
Amazon: https://www.amazon.com/gp/product/0593304861/ 
Barnes & Noble: https://www.barnesandnoble.com/w/never-coming-home-kate-m-williams/1140394027?ean=9780593304860 
Book Depository: https://www.bookdepository.com/Never-Coming-Home-Kate-M-Williams/9780593304860?ref=grid-view&qid=1649084824321&sr=1-4 
Indigo: https://www.chapters.indigo.ca/en-ca/books/never-coming-home/9780593304860-item.html 
IndieBound: https://www.indiebound.org/book/9780593304860 
In Never Coming Home, there are ten people invited to an unknown island. No one knows who owns it, but it's going to be free. It's remote and there isn't anything else around. The people range in age from 16 to early 20's. Each of them has a fairly large social media presence, but some are much smaller than others. That seemed a little odd because this first group of ten were to be the influencers. None of them really had anything in common. Or so they thought. After breakfast, the group is given an envelope that tells them that they are all murderers. After talking, they all realized that the person that set this up had different names. There was only one person there to welcome them and he wasn't supposed to run anything. The "woman" was supposed to be there, but was running late. But no one was coming. There was no way to leave the island and people start dying quickly. The people there realize that it must be one of them. So who can they trust and how are they doing it? No one can access the internet or have any phone coverage. But there is a board with the island's social media page and it's been updating with photos and little clues.
The pacing of this one was good. I thought I knew who it was early, then thought I was wrong, but ended up being right. So it was pretty fun to read. The deaths were kind of brutal, but I liked the idea of this.
I gave this book 4 stars.
Thank you to the publisher and Netgalley for my earc.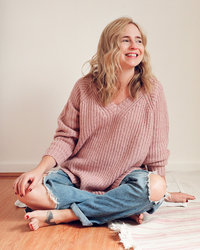 Kate Williams has written for Seventeen, NYLON, Cosmopolitan, Bustle, Vans, Calvin Klein, Urban Outfitters, and many other brands and magazines. She is the author of The Babysitters Coven trilogy: The Babysitters Coven, For Better or Cursed, and Spells Like Teen Spirit. Kate lives in Kansas. To learn more about her and her books, go to heykatewilliams.com or follow @heykatewilliams on Instagram.
Author Links:
Website: http://heykatewilliams.com/ 
Instagram: https://www.instagram.com/heykatewilliams/ 
Goodreads: https://www.goodreads.com/author/show/18681662.Kate_Williams 
Follow The Tour:
June 20th
The Book Dutchesses – Promotional Post
Cindy's Love of Books – Review
Anjali Writes And Reads – Review & Mood Board
June 21st
Stuck in Fiction – Promotional Post
Reading Stewardess – Review & Playlist
June 22nd
Kait Plus Books – Promotional Post
The Girl Who Reads – Review
June 23rd
Jen Jen Reviews – Review
Boys' Mom Reads! – Review
The Bookish Coven – Promotional Post,
June 24th
Phannie the ginger bookworm – Review & Playlist
Mallory Books – Review & Playlist
June 25th
Nine Bookish Lives – Promotional Post
Confessions of a YA Reader – Review
June 26th
What Irin Reads – Review
The Nutty Bookworm Reads Alot – Review
Whispering Stories – Review
Instagram:
June 20th
tbrandbeyond https://www.instagram.com/tbrandbeyond/ Promotional Post
studio_anjali https://www.instagram.com/studioad_anjali/ Blogger's Choice
June 21st
manis.and.manuscripts – Top 5 Reasons to Read Never Coming Home
feliciareads11 – Blogger's Choice
June 22nd
justa.gal.andherbooks – Review
bookstagramofmine – Blogger's Choice
June 23rd
writingrosereads – Promotional Post
gryffindorbookishnerd – Review
readergirlie – Playlist
June 24th
musfira._ – Promotional Post
bookdreamr – Blogger's Choice
June 25th
booksatlunch – Top 5 Reasons to Read Never Coming Home & Mood Board
ninebookishlives – Blogger's Choice
June 26th
biblio.jojo – Review
whatirinreads – Blogger's Choice