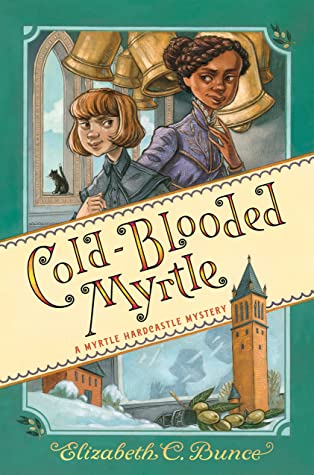 Cold-Blooded Myrtle by Elizabeth C Bunce
Twelve-year-old Young Lady of Quality and Victorian amateur detective Myrtle Hardcastle returns, and now she's on the trail of a serial killer in her hometown of Swinburne.
When Mr. Leighton, proprietor of Leighton's Mercantile, is found dead on the evening his annual Christmas shop display is to be unveiled, it's clear a killer had revenge in mind. But who would want to kill the local dry-goods merchant? Perhaps someone who remembers the unresolved, long-ago scandal that occurred when he was a professor and archaeologist. When the killer strikes again, ­­­each time manipulating the figures in the display to foretell the crime, Myrtle finds herself racing to uncover the long-buried facts of a historical scandal—and the motivations of a modern murderer.
This series is so much fun and I don't think it gets the attention it deserves.
In Cold-Blooded Myrtle, it's almost Christmas. When the local store owner's shop display was revealed, there was something weird by the college. Very few people knew what it meant, but Caroline's mother did. The shop owner's wife went inside and found her husband dead. At first, it looked like it could be natural causes. But the scene was weird and there was a strange note in Latin. Myrtle later finds out what the display was about. A young college girl, Olive, went missing one night. It was said that she fell from the bell tower, but no body was found. While investigating, Myrtle finds a connection to her mom and archaeology. When another body is found murdered, Myrtle gets the help from all her favorite people (and cat) and start to investigate. Not only are they trying to find the current murderer, but she also wants to find out what really happened to Olive.
I gave this book 4 1/2 stars rounded up to 5 on Goodreads. I'm very much looking forward to the next book later this year.
Have you read this yet?  Have you read any of the Myrtle Hardcastle books?