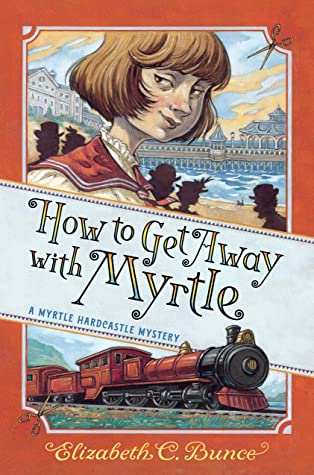 How To Get Away With Myrtle by Elizabeth C Bunce
The next installment of the Edgar Award–winning series!
Before the train has left the station, England's most accomplished new detective already is on a suspect's trail, and readers will be delighted to travel along.
 
Myrtle Hardcastle has no desire to go on a relaxing travel excursion with her aunt Helena when there are More Important things to be done at home, like keeping close tabs on criminals and murder trials. Unfortunately, she has no say in the matter. So off Myrtle goes—with her governess, Miss Judson, and cat, Peony, in tow—on a fabulous private railway coach headed for the English seaside.
 
Myrtle is thrilled to make the acquaintance of Mrs. Bloom, a professional insurance investigator aboard to protect the priceless Northern Lights tiara. But before the train reaches its destination, both the tiara and Mrs. Bloom vanish. When Myrtle arrives, she and Peony discover a dead body in the baggage car. Someone has been murdered—with Aunt Helena's sewing shears.
 
The trip is derailed, the local police are inept, and Scotland Yard is in no rush to arrive. What's a smart, bored Young Lady of Quality stranded in a washed-up carnival town to do but follow the evidence to find out which of her fellow travelers is a thief and a murderer?
Another fun Myrtle book!
Myrtle and Miss Judson as stuck going on holiday with Aunt Helena. Miss Judson stresses to Myrtle that this could be fun and that there will be no investigating. They are taking a new fancy train owned by Aunt Helena's friend. They are transporting a very expensive tiara. There is an investigator on board whose company insures the tiara. Her name is Mrs. Bloom and Myrtle likes her right away. Ignoring all rules, the train owner's daughter wears the tiara to sing one night. The lights go out and the tiara is gone. Everyone has to be investigated. Mrs. Bloom was supposed to meet Myrtle at breakfast and she never showed up. Miss Judson still wants Myrtle to relax and have fun, but even she's curious as to what's going on. Then Myrtle finds Mrs. Bloom murdered. She has Aunt Helena's scissors in her back. Once they arrive at the hotel, Myrtle starts looking into everything. She finds that Mrs. Bloom is connected to the town from a boat accident 15 years earlier. There seem to be multiple motives and suspects. Myrtle goes full in on the investigation and Miss Judson finally agrees with her. But again, Myrtle puts her own life at risk to solve a murder.
I gave this book 4 1/2 stars rounded up to 5 on Goodreads.
Have you read this yet?