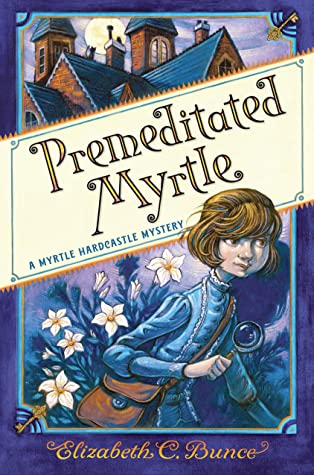 Premeditated Myrtle by Elizabeth C Bunce
Winner of the Edgar Award!
Finalist for the Agatha Award and Anthony Award!
Twelve-year-old Myrtle Hardcastle has a passion for justice and a Highly Unconventional obsession with criminal science. Armed with her father's law books and her mum's microscope, Myrtle studies toxicology, keeps abreast of the latest developments in crime scene analysis, and Observes her neighbors in the quiet village of Swinburne, England.
When her next-door neighbor, a wealthy spinster and eccentric breeder of rare flowers, dies under Mysterious Circumstances, Myrtle seizes her chance. With her unflappable governess, Miss Ada Judson, by her side, Myrtle takes it upon herself to prove Miss Wodehouse was murdered and find the killer, even if nobody else believes her — not even her father, the town prosecutor.
Premeditated Myrtle was such a fun read!
I adored Myrtle and would love to spend time around a kid like that. Myrtle is sort of obsessed with crime. It doesn't matter that she's 12. Luckily her governess, Miss Judson, encourages her. Mostly. Myrtle spies on her neighbors and knows their schedules. When the mean old lady next door isn't seen, Myrtle calls the police. Luckily she did because Miss Wodehouse was dead. She was found in her bathtub. Myrtle starts looking for clues and finds things that don't make sense. When the death is ruled natural, Myrtle is outraged and wants to see the autopsy report. She just knows she was murdered. Especially when a niece and nephew both show up. Myrtle didn't even know Miss Wodehouse had family, so why were these two suddenly there. Myrtle's father somewhat encourages her mind, but he also pushes for her to be a proper lady. He believes that it wasn't a murder. But Myrtle has a lot of clues that point away from natural death. She and Miss Judson start putting all the clues together to not only prove it was a murder, but who did it and why.
I gave this book 4 1/2 stars rounded up to 5 on Goodreads.
Have you read this yet?