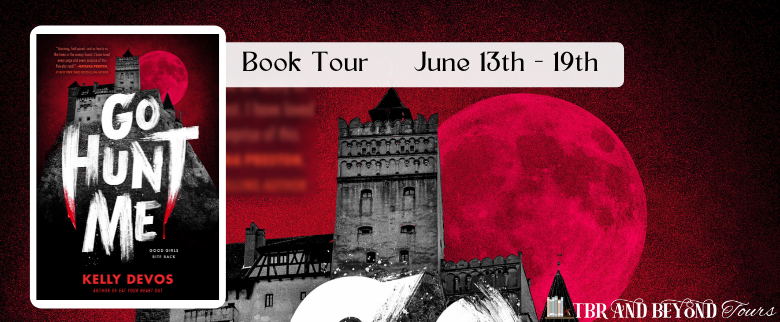 Welcome to my stop on the blog tour for Go Hunt Me by Kelly deVos.  This tour is being hosted by TBR and Beyond Tours.
Go Hunt Me by Kelly deVos
Genre: Young Adult Horror
Publishing Date: June 14, 2022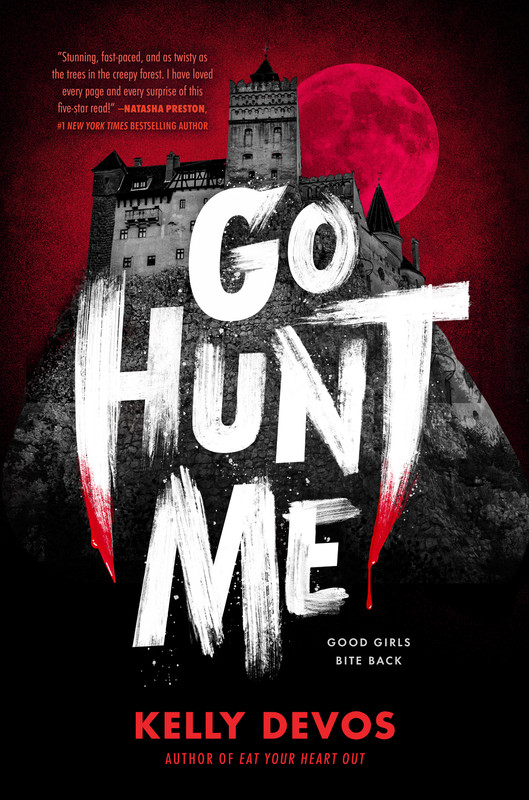 For Dracula lovers and fans of Diana Urban's All Your Twisted Secrets, this spine-tingling thriller follows seven horror buffs as their dream trip to a remote Romanian castle turns into a nightmare when they begin to be killed one by one.
Alex Rush is ready for the trip of a lifetime.
She and her friends have made some creepily awesome films together throughout high school, so with only a few months left before they go their separate ways for college, they're determined to make the best one yet: an epic short film that reimagines the story of Dracula, filmed on location at a remote castle in Romania.
But when they get there, it's not quite the majestic setting they planned for. Menacing weapons line the walls, the twisted halls are easy to get lost in, and with no connection to the outside world, the group is unexpectedly off the grid. After just a few hours spent under its roof, Alex and her friends have no trouble imagining how this dark, terrifying castle inspired one of the most enduring horror novels of all time.
Only soon they no longer have to use their imaginations to understand the location's terrifying history—just as they get the film's first shot rolling, one of Alex's friends disappears, and she's nearly certain she saw a cloaked stranger lurking in the shadows. As more members of the group begin to meet an untimely demise, Alex is desperate to stop the bloodshed, even if it means facing a monster she never thought would be let loose.
Content warnings: Some discussion of sexual harassments and abuse, death, violence, gore
Book Links:
Goodreads: https://www.goodreads.com/book/show/58303850-go-hunt-me 
Amazon: https://www.amazon.com/gp/product/B09HRK9K6R/ref=x_gr_w_bb_sin?ie=UTF8&tag=x_gr_w_bb_sin_ca-20&linkCode=as2&camp=15121&creative=330641 
Barnes & Noble: https://www.barnesandnoble.com/w/go-hunt-me-kelly-devos/1140285397?ean=9780593204856 
Book Depository: https://www.bookdepository.com/Go-Hunt-Me-Kelly-deVos/9780593204856?ref=grid-view&qid=1648673500056&sr=1-1 
Indigo: https://www.chapters.indigo.ca/en-ca/books/go-hunt-me/9780593204856-item.html?ikwid=go+hunt+me&ikwsec=Home&ikwidx=0#algoliaQueryId=e68cda8ba6d1c2ab0801d10e7a33eebc 
IndieBound: https://www.indiebound.org/book/9780593204856
Go Hunt Me was such a fun read. I already knew I liked Kelly's writing and I was definitely sold with Romania and Dracula.
Alex and her friends are all into making movies/arts. They had been working on Alex's movie to use for college admissions. But Alex doesn't get in and is waitlisted. Her dad is sick and they're hurting for money. She doesn't know what to do. When she runs into her friend's neighbor that is an actress, things start to maybe fall into place. There is a Go Fund Me set up and the actress sees it and shares. She visits Alex's family and tells them that her cousin owns a castle in Romania, one that was Vlad the Impaler's. She agrees to take the kids there so that they can film something better. She has equipment and they have plenty of funding thanks for an anonymous donor. They're all excited. But the actress leaves them alone. The castle is creepy and has no internet or phone service. The cousin who owns it is weird and leaves. Alex feels like something is wrong. One of the friends goes missing and Alex sees someone in one of their Dracula masks. Lights that were on are turned off. They find random things like a lit cigar. When Alex goes to look for her friend, she finds blood on the door. The kids start to split up with different missions, but it doesn't go the way they hoped.
The book is told with investigation tapes and with Alex's story. It goes back in time and then goes forward quite a bit. The whole story unfolds with some pretty big twists. I thought I had it figured out, but I was wrong this time. I love when that happens.
I gave this book 4 1/2 stars rounded up to 5 on Goodreads.
Thank you to the publisher and Netgalley for my earc.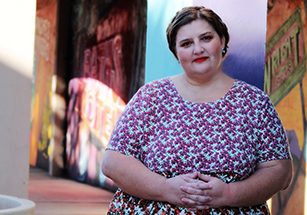 Kelly deVos is from Gilbert, Arizona, where she lives with her high school sweetheart husband, amazing teen daughter and superhero dog, Cocoa. She holds a B.A. in Creative Writing from Arizona State University. When not reading or writing, Kelly can typically be found with a mocha in hand, bingeing the latest TV shows and adding to her ever-growing sticker collection.
Kelly is represented by Chloe Seager of the Madeleine Milburn Literary Agency in London. Her work on body positivity has been featured in the New York Times as well as on Vulture, Salon, Bustle and SheKnows. Her debut novel, Fat Girl on a Plane was named one of the "50 Best Summer Reads of All Time" by Reader's Digest magazine. Her second book, Day Zero, is available now from Inkyard Press/HarperCollins.
Author Links:
Website: https://www.kellydevos.com/ 
Twitter: https://twitter.com/KdeVosAuthor 
Instagram: https://www.instagram.com/kellydevos/ 
Goodreads: https://www.goodreads.com/author/show/15236443.Kelly_deVos 
Pinterest: https://www.pinterest.com/kellydevos/ 
Tumblr: https://kellydevosauthor.tumblr.com/ 
Follow The Tour:
June 13th
Stuck in Fiction – Promotional Post
Twirling Book Princess – Review
June 14th
Rae's Reading Lounge – Review & Favorite Quotes
The Bookish Coven – Promotional Post
June 15th
Cindy's Love of Books – Review
Nine Bookish Lives – Promotional Post
Reading Stewardess – Review & Playlist
June 16th
Kait Plus Books – Interview
The Book Dutchesses – Promotional Post
Forthenovellovers – Review
June 17th
The Literary Huntress – Top 5 Reasons to Read Go Hunt Me & Mood Board
I Can Has Books? – Review
Read With Serena – Promotional Post
June 18th
Whispering Stories – Intervie
Confessions of a YA Reader – Review
June 19th
The Clever Reader – Interview
bookloversbookreviews – Promotional Post & Tik Tok
Instagram:
June 13th
feliciareads11 – Blogger's Choice
emmreadsbooks – Review
June 14th
fangirlpixiebooks – Promotional Post
booksatlunch – Review & Favorite Quotes
hturningpages – Top 5 Reasons to Read Go Hunt Me
June 15th
daniereads87 – Review
ninebookishlives – Blogger's Choice
skygoddess1 – Blogger's Choice
June 16th
writingrosereads – Promotional Post
bookstagramofmine – Review & Favorite Quotes
following.fantasies – Review
June 17th
my.bookish.mind – Review & Favorite Quotes
carrieicanhasbooks – Blogger's Choice
sxnvi.b – Blogger's Choice
June 18th
tbrandbeyond – Promotional Post
justa.gal.andherbooks – Review,
June 19th
theenchantedshelf – Review
bookloverbookreviews – Blogger's Choice