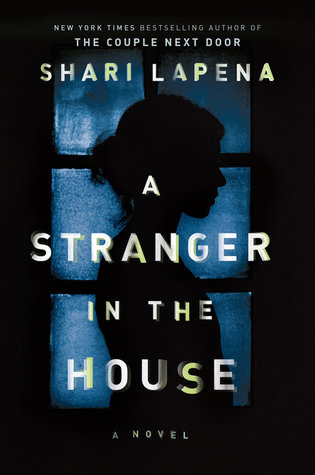 A Stranger in the House by Shari Lapena
In this neighborhood, danger lies close to home. A domestic thriller packed full of secrets, and a twisty story that never stops—from the bestselling author of The Couple Next Door
He looks at her, concerned. "How do you feel?" She wants to say, Terrified. Instead, she says, with a faint smile, "Glad to be home."
Karen and Tom Krupp are happy—they've got a lovely home in upstate New York, they're practically newlyweds, and they have no kids to interrupt their comfortable life together. But one day, Tom returns home to find Karen has vanished—her car's gone and it seems she left in a rush. She even left her purse—complete with phone and ID—behind.
There's a knock on the door—the police are there to take Tom to the hospital where his wife has been admitted. She had a car accident, and lost control as she sped through the worst part of town.
The accident has left Karen with a concussion and a few scrapes. Still, she's mostly okay—except that she can't remember what she was doing or where she was when she crashed. The cops think her memory loss is highly convenient, and they suspect she was up to no good.
Karen returns home with Tom, determined to heal and move on with her life. Then she realizes something's been moved. Something's not quite right. Someone's been in her house. And the police won't stop asking questions.
Because in this house, everyone's a stranger. Everyone has something they'd rather keep hidden. Something they might even kill to keep quiet.
This was a pretty fast paced book. I knew one thing pretty quickly, but I wasn't sure how everything was going to play out. I should have seen the last twists at the end, but for some reason, I didn't.
Karen and Tom have been married for two years. They live in a nice house and the neighbor across the street, Brigid, is Karen's best friend. Things seem great until Tom gets home one night and Karen isn't there. The door was unlocked and she left her purse and phone. He started calling her friends and no one knew where she was. He finally calls 911. The police arrive quickly, but not because of the call. There was an accident and the car was Karen's. The woman had a bad concussion and couldn't remember what happened that night. It was Karen. The cops started to look into the accident more. Karen was in a dangerous part of town that she shouldn't have been in. There was also a murder nearby that might or might not be connected. Karen still has no memory, but most things go back to normal. Except that things are being moved in the house when no one is there. Someone has been coming inside the house. Brigid also saw a strange man around the house one day. The police start putting a case together, but it seems that everyone is lying about everything. The perfect neighborhood isn't so perfect after all.
I enjoyed this one. There were some things that annoyed me, but overall, I read it quickly and didn't want to put it down. I needed to see if I was right and how things got to be the way they were.
I gave this book 4 stars.
Have you read this yet?  Is it on your TBR?