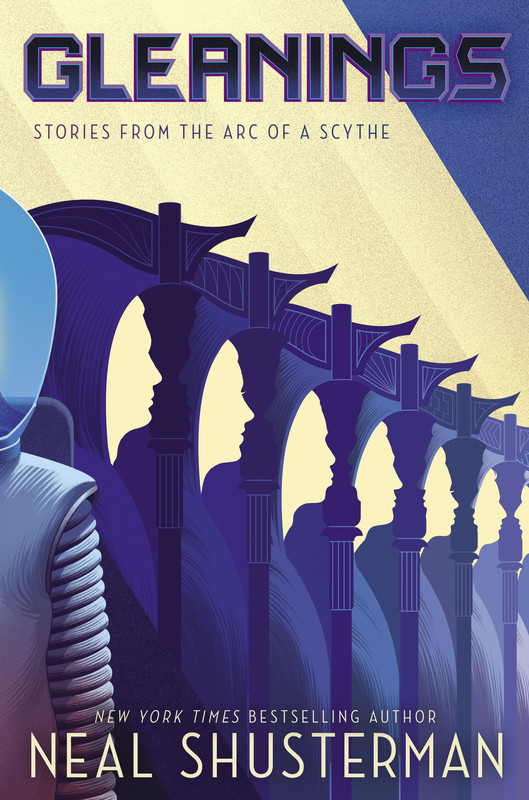 Written by National Book Award winner NEAL SHUSTERMAN Featuring contributions by DAVID YOON, JARROD SHUSTERMAN, SOFÍA LAPEUNTE,  MICHAEL H. PAYNE, MICHELLE KNOWLDEN, and JOELLE SHUSTERMAN  
Simon & Schuster Books for Young Readers is thrilled to publish GLEANINGS by  Neal Shusterman (on sale November 8, 2022; ages 12 and up). The New York  Times bestselling and popular adult crossover Arc of the Scythe series continues  with thrilling stories that span the timeline. Storylines continue. Origin stories are revealed. And new Scythes emerge! 
There are still countless tales of the Scythedom to tell. Centuries passed between  the Thunderhead cradling humanity and Scythe Goddard trying to turn it upside  down. For years humans lived in a world without hunger, disease, or death with  Scythes as the living instruments of population control. 
Neal Shusterman—along with collaborators David Yoon, Jarrod Shusterman,  
Sofía Lapuente, Michael H. Payne, Michelle Knowlden, and Joelle Shusterman— 
returns to the world throughout the timeline of the Arc of a Scythe series. Discover  secrets and histories of characters you've followed for three volumes and meet  new heroes, new foes, and some figures in between. 
GLEANINGS shows just how expansive, terrifying, and thrilling the world that began with the Printz Honor– winning Scythe truly is. Shusterman's exciting, page-turning plots and tight, fast prose make him a popular choice  among tween and teen readers of all genders. 
What is the Arc of a Scythe series? The series is set in a futurist dystopia where humans have ended death, but  death still comes in the forms of reapers called Scythes—who are empowered to take peoples' lives in order to  maintain a balanced population. Since no one dies unless a Scythe mandates it, Citra and Rowan are chosen to  learn the "art of killing" in preparation for the scythedom. What follows is a thrilling adventure where the two  must work together to uncover the corruption in their supposed utopian society. With GLEANINGS, a fervent and multigenerational fanbase of readers will be excited to return to the world of Scythes—especially after its  breathtaking finale! Scythe is also currently being produced as a feature film by Universal.  
Barnes & Noble Edition: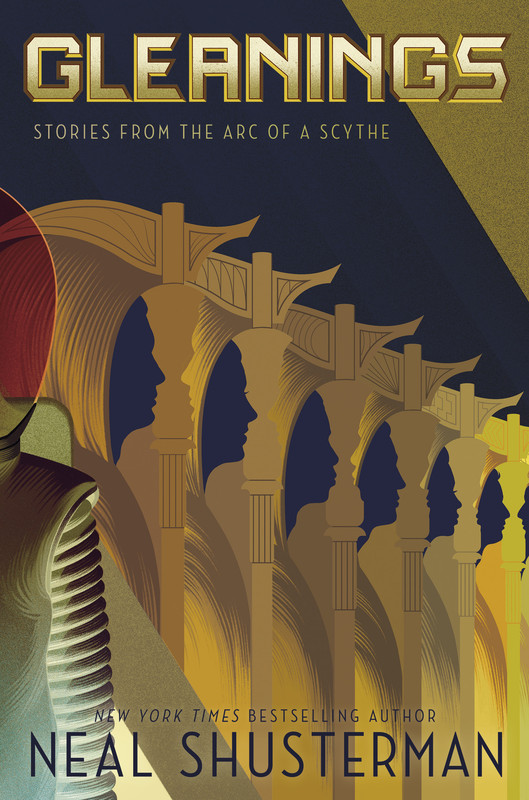 ACCLAIM FOR THE ARC OF A SCYTHE SERIES  
PRAISE FOR SCYTHE 
Scythe was awarded the Printz Honor, has spent multiple weeks on the New York Times bestseller list, and has six starred reviews.  The paperback was also a National Indie Bestseller. Scythe was also a Winter 2016-2017 Indie Next List title for Teen Readers. In 2021, it was selected as a Time Best YA Book of All Time. 
★ "Shusterman's dark tale… raises deep, philosophical questions. A thoughtful and thrilling story of life, death, and meaning." – Kirkus Reviews, starred review 
★ "Few endeavors ask the questions Shusterman faces head on: in a world without death, what becomes  of life? … This deals in what happens to men when there are no monsters." – Booklist, starred review 
★ "A truly outstanding, unputdownable read and a fast paced beginning to an excellent sci-fi series."  – School Library Journal, starred review 
★ "Forces readers to confront difficult ethical questions… This powerful tale is guaranteed to make  readers think deeply." – Publishers Weekly, starred review 
★ "Shusterman's dystopian utopia… offers forbidden love, mass murders, cool philosophical musings,  and a well-developed, futuristic society." – BCCB, starred review 
PRAISE FOR THUNDERHEAD 
★ "This sequel digs deeper into Shusterman's complex world and complicated characters… relish this  intelligent and entertaining blend of dark humor and high death tolls." – Kirkus Reviews, starred review 
★ "Shusterman widens the already impressive scope of his near-future utopia while also keeping a deft  finger on the pulse of our own turbulent times. Exceptionally clear-eyed and brutal in its execution." – Booklist, starred review 
★ "Interweaving heady questions of morality, responsibility, loyalty, and power, Shusterman builds to a  devastatingly intense conclusion that sends the characters and larger world into terrifying new  
territory." – Publishers Weekly, starred review 
PRAISE FOR THE TOLL 
"A furiously paced finale that reaches for the stars." – Kirkus Reviews 
★ "Gripping." — School Library Journal, starred review 
★ "Stellar." — Publishers Weekly, starred review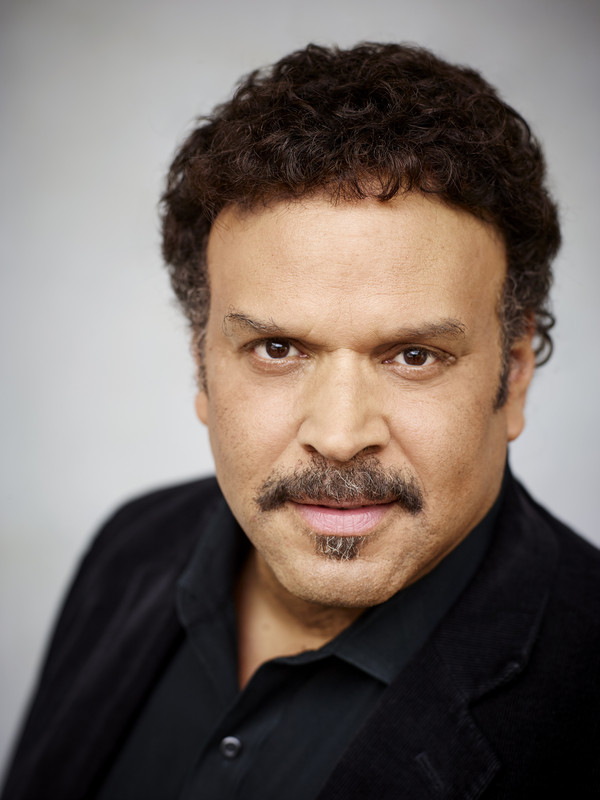 Neal Shusterman is the New York Times bestselling author of more than thirty award winning books for children, teens, and adults, including Dry, Roxy, the Unwind dystology,  the Skinjacker trilogy, Downsiders, and Challenger Deep, which won the National Book  Award. Scythe, the first book in his series, Arc of a Scythe, is a Michael L. Printz Honor  Book. Neal has earned the respect and recognition of the library community; three of his  books have been ALA Best Books for Young Adults and all of his books have been  consistently well-reviewed. He's a popular speaker on the IRA/NCTE circuit, and at schools  all over the country. He also writes screenplays for motion pictures and television shows.  Neal is the father of four, all of whom are talented writers and artists themselves. Visit Neal at StoryMan.com and Facebook.com/NealShusterman.

Neal Shusterman  (by Gaby Gerster)
MEET NEAL SHUSTERMAN ON HIS IN-PERSON GLEANINGS TOUR! 

11.08.22 at 6:00pm ET 
The BookMark (Jacksonville, FL) 
11.09.22 at 6:00pm ET 
Books of Wonder (New York, NY) 
11.10.22 at 6:00pm ET 
RJ Julia Booksellers (Madison, CT) 
11.14.22 at 7:00pm CT 
Anderson's Bookshop (Naperville, IL) 
11.15.22 at 6:30pm CT 
Red Balloon Bookshop (St. Paul, MN) 
11.16.22 at 7:00pm CT 
Blue Willow Bookshop (Houston, TX) 
11.17.22 at 7:00pm CT 
Barnes & Noble (Frisco, TX) 
11.19.22 at 4:00pm PT 
Mysterious Galaxy (San Diego, CA) 
11.20.22 at 2:00pm PT 
Vroman's (Pasadena, CA) 
11.28.22 at 7:00pm MT 
The King's English (Salt Lake City, UT) 
12.01.22 at 7:00pm MT 
Changing Hands Bookstore (Phoenix, AZ) 
12.02.22 at 7:00pm PT 
Barnes & Noble (Irvine, CA)